The advantages of gambling on the internet
Playing online has countless advantages over a normal casino such as Holland Casino. Just think of the time and money you save by not having to drive your car to the casino, park it, fill up with gas, etc.
You're sitting in your own living room playing with all the comfort that comes with it, at the moment you want to. Because that's one of the advantages, a casino is bound to opening hours. An online casino, on the other hand, is "open" 24 hours a day.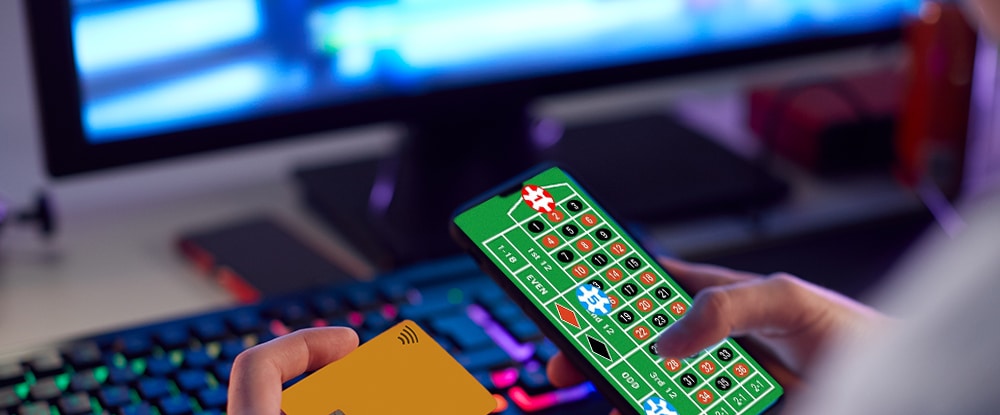 You don't have to travel with your money in your pocket. You will say, I don't have any money with me but a debit card. That's right, but if you win you get paid in cash. Money is of a different order in an internet casino anyway. You can bet from a few dimes at an internet table game provider while at Holland Casino the minimum bet on a table game is €5.
There are also advantages in terms of game selection. For example, an online casino has a much larger game selection and thus much more variety. But that's not all, there's always room for you too!
Another point that most people don't know about is that online games have higher payouts than the games in a 'normal' casino. Holland Casino pays out around 93% of the wagers and at the gambling halls those payouts are limited to around 85% . Online casinos pay out an average of 97%. Quite a difference.
Are there any disadvantages?
Unfortunately there are. Players can lose control in the anonymity of playing alone at home and lose significantly larger amounts than they intended. In a Holland Casino or a gambling hall there is still some social control.
Besides, in a real casino with people and noise around you, it is much more sociable. Watching other players, without betting yourself, is also exciting.
The welcome bonus
What we haven't mentioned yet as a benefit is the so-called "welcome bonus". When a new player signs up at an online casino he gets a bonus over his first real money deposit.
For example: an online casino gives a bonus to new players of 100% up to $100. This means that if he registers and deposits $100 he will get $200 in his account. Double the amount of money to play with.
But beware, there is a catch. In the terms and conditions of such a casino bonus there are often restrictions on the payout of winnings that have been made with the bonus amount. Such an amount must first be 'cleared' and this can be tricky. For these reasons many experienced players refuse the welcome bonus when playing at a new casino.
What do I do with complaints about an online casino?
Are you not satisfied with the online casino you are playing at? You think you weren't treated fairly, you didn't get the right bonus, you have to wait too long for a payout or whatever. In that case you can contact the helpdesk of the casino itself. This is usually by phone, via chat on the website or by email.
If you can't resolve the matter with the casino itself you can submit your complaint to the Gaming Authority. They will assess whether your complaint is justified and may take action against the online casino.
Tips for the online casino
Make use of a no deposit bonus if you are not familiar with playing at an online casino. This way you can discover what it's like online without risking your own money.
Often it is possible to play for free at an online casino with practice money. This is educational and also a fun pastime without costing you any money. In the Netherlands, however, you must have an account to play for free. You don't have to deposit any money yet.
Learn the rules of the games you want to play. The house advantage puts you behind the casino. You can minimize your disadvantage if you play a game the right way.
Play table games like roulette and blackjack. These games give the casino less house edge than slots and video games.
Read the bonus terms carefully before accepting a bonus. Some casinos have made it virtually impossible to clear the bonus. As you will understand, it has little use for you then.
Get yourself registered in the CRUKS register (Central Register of Exclusion of Gambling) if you are too much involved in gambling and lose control or risk losing it. You can then no longer play anywhere in the Netherlands, not even in Holland Casino or a gambling hall. Prevention is better than cure. Exclusion is for a period of at least 6 months.
Do not drink or use drugs if you are going to gamble. The reason for this tip seems obvious.
Finally, read our casino reviews before you decide to play at a casino. A small effort and it can prevent a lot of misery.
Frequently Asked Questions 🎯 How do I find the best online casino?
That's actually a simple question for us. You can find the best online casino by looking at the various casino reviews and opinions on our site.
We've made it easy for you by creating a comparison page. At a glance you can see which casino is best for you. Click here!
Can I pay with iDeal?
If a casino has a Dutch license it is possible to pay with iDeal. Unlicensed casinos are not allowed to use this payment method.
🎯 How do I cash out?
If you want to cash out the money that is in your account this is possible. There is one exception. If the money in your account is from a received bonus you will have to clear it first.
If your account has been verified the withdrawal process will take up to three days and you will receive the money in the same account it came from when you made your deposit.
🎯 Can I play on my mobile?
No problem at all. All games are made so that you can play them on mobile as well as on a desktop computer in any browser.
🎯Is Holland Casino online?
Yes, Holland Casino is one of the parties with a Dutch license. They received it on October 1, 2021.
🎯How old do I have to be to play?
In the Netherlands, you must be 18 years or older to gamble. This applies to online gambling as well as a Holland Casino or gambling hall.
🎯What games are available?
Besides the usual games like slots, blackjack and roulette, there are a whole bunch of other casino games on offer. These include Baccarat, Sic Bo, Craps and video poker. The live casino has taken off in the last few years. At a live casino, real live casino games are played from a studio You can participate and bet with a live connection.
🎯What is an online live casino?
If there is a live casino category at an online casino, you will also be able to gamble against real dealers. That is, the popular games like Roulette, Blackjack, Baccarat and Casino Hold'em Poker, can be played as if you were at a real casino.
Important to know is that you can only access the live casino with real money. Moreover, there is often a minimum bet of €1 per round and a time limit to place a bet is present.
Live casinos offer you an experience that cannot be found anywhere else in the gambling industry. Playing with live dealers makes you feel like you're in a land casino near you. The atmospheric live casino studios and charming dealers make for a fun time and you get interactively involved because you can also communicate with others at the table.
When it comes to games with live dealers, Evolution Gaming stands out head and shoulders above all other software developers. They offer the most innovative games like Lightning roulette or Immersive roulette.
🎯 How do I get in touch with an online casino?
The online casino helpdesk offered on a website makes it easy to get in touch. For example, you can easily reach an online casino via live chat, phone or mail.
The frequently asked questions (FAQ) pages are packed with information regarding problems that may arise at a casino. Contact the helpdesk for questions or try one of the alternatives. Keep in mind that not every helpdesk is available 24 hours a day, as some reputable online casinos are.
🎯 Does every Dutch casino have a bonus?
In the Netherlands, this varies from casino to casino. At the moment, Batavia Casino is one of the few that does not have a casino bonus.
Online casinos in the Netherlands
In 2006, the first 100% Dutch casino came online, soon followed by a whole bunch of others. Most of these companies were based in Malta, the epicenter of online gambling. In 2012, the Kansspelautoriteit (KSA) was established in the Netherlands. From the beginning of its existence, it tightened the reins on the rules within which the casinos could operate in the Netherlands. Casinos that would not listen received a fine.
On April 1, 2021, the new law KOA (Kansspelen op Afstand) finally went into effect and from October 2021 the first truly legal Dutch online casinos came online. These will hold a license issued by the Dutch government. This concludes a long period of ambiguity and uncertainty with only losers. Consumers were not protected and the Dutch State received no gambling tax on the amounts gambled online.