All about the Lotto in the Netherlands
The first Lotto draw was held in 1974. Within a very short time, the lottery became very popular from then on. In fact, it became so popular that they had to move to another location in The Hague in 1975.
As much as 173 million guilders were converted in 1976 alone. an incredible amount for a new gambling game at the time.
Lotto on television
In 1981, the Lotto began its first television lottery. Willem Ruis was the presenter of this program. In 1985 the show was taken over by Ted de Braak, and that year Lotto gained their 100,000th member. A total of 18 charities are supported that contribute to Dutch sports, social welfare & public health.
Fifty percent of the revenues of the lottery go to the above mentioned charities. Thanks to the Lotto, if you don't win any money in the lottery, half of your money still goes to a charity of your choice. In any case, your money is well spent.
The Lotto Prizes
It is easy to participate in the Lotto. All you have to do is choose 6 numbers between 1 and 45. Every Saturday, right after Hart van Nederland, at 18:15, you can take a weekly chance on the 1 million jackpot prize of the Lotto. Over 100,000 participants win a small to large prize every week. This depends on the number of numbers you guessed correctly.
What prizes have been won with Lotto?
Lotto announces more than 100,000 prize winners every week. This includes winners who have become millionaires with a $2 stake.
The biggest win was on 16 October 2010 with the Lotto. The record amount of $36 million was won by 20 participants.
Biggest top prizes Lotto (over $10 million)
10 March 2018, a player from Hellevoetsluis wins a Lotto jackpot of $18.8 million. The numbers 40, 25, 24, 23, 20 and 8 were correctly guessed, with 15 as the reserve number.
27 June 2015 a jackpot of $23.9 million falls on numbers 38, 25, 22, 19, 7 and 3 and the color green. The lucky winner is from Eindhoven.
6 September 2014 3 players managed to correctly guess 6 numbers and the color. With this they won $9.3 million each. The total jackpot was 27.9 at that time. Two of the winners are from Zoetermeer and Groningen. Of the third winner the place of residence is not known.
13 July 2013 a Lotto jackpot ($10 million) falls with the numbers 42, 30, 26, 15, 7 and 4 and the color orange.
14 October 2012 the Lotto jackpot falls with an amount of $13,5 million on numbers 23, 18, 12, 11, 7 and 1 with the color orange. This jackpot amount is divided among 9 winners from both Limburg, North Holland, South Holland & North Brabant. This included 5 Lotto subscribers and 4 in-store players.
16 June 2012 a participant wins an amount of $11.5 million with numbers 43, 37, 30, 6, 3 and 1 with the color blue.
17 March 2012 the jackpot falls in Drenthe with an amount of $11.5 million with numbers 36, 21, 18, 16, 6 and 5.
25 October 2011 saw the high Lotto jackpot of 26 million with numbers 45, 36, 28, 17, 14 and 13. Nine winners got 5 numbers and the color right, winning almost $3 million each.
11 December 2010 $11 million jackpot falls in Limburg with numbers 43, 38, 37, 11, 10 and 8.
4 June 2009 a family from Hellevoetsluis won $16.5 million with numbers 41, 26, 11, 8, 5 and 1.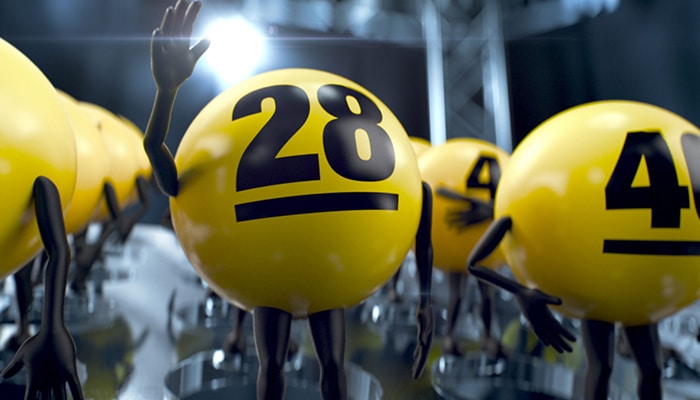 Balls became dolls in commercials
Payouts based on number of correct numbers
6 correct numbers

Win a minimum of $2,500,000. An additional $200,000 is added weekly if the jackpot is not won. If several winners get all the numbers right then the jackpot will be divided equally.

5 correct numbers + reserve number

Win an amount of $25,000 by guessing 5 (plus extra) numbers correctly.

5 correct numbers

Win the amount of $1,000

Correct 4 numbers + reserve number

Win an amount of $50.

Correct 4 numbers

Win an amount of $20.

Match 3 digits + reserve digits

Win an amount of $10.

Correct 3 numbers

Win the amount of $ 7.50.

2 correct numbers + reserve number

Win the amount of $5.

Correct 2 numbers

Win $2 credit (new ticket).
Please note that gaming tax is deducted by the Lotto on prizes over $449.
Popular online casinos New Casino!
Casino777
Welcome bonus 100% up to $250 Jacks Casino Online
100% Welcome Bonus up to £100
bet365
Deposit min $10 and receive 100 free spins
Grab the bonus
BetCity
Welcome bonus up to $100 free spins
Our best bonus! Circus
Get a bonus up to $250
Win JACKPOT with 6 correct numbers
You can jump in the air the moment you get all 6 numbers right. The amount of money you win depends on how high the Lotto jackpot is. On 22 June 2019, a resident of Apeldoorn managed to win a huge amount of $4,100,000 by getting all 6 numbers right.
The Lotto has a new draw since 2017
A new added game by the Lotto is important the moment you guessed less than 6 numbers correctly. By also getting the reserve number right you can win bigger prizes. This is an extra draw that you can play in for $1 extra per ticket. Everything works the same as normally the lottery draw, only there you win prizes up to a maximum of $1,000,000.
How much does it cost to play the Lotto?
To take part in the Lotto, you can buy a ticket for $2.00. Would you like to play with 5 tickets? From the moment you start playing the game, you can take part in one weekly draw with your lot.
You will need a new lottery ticket for the next draw. By subscribing to the Lotto, the cost is automatically deducted from your bank account and you do not have to worry about forgetting a draw and missing out on a big prize when your numbers fall.
How can you become a Lotto member?
If you don't want to have to worry about buying tickets for a draw, you can play with 1 to 12 cards as a subscriber. By subscribing to the Lotto, you automatically play every week and can take advantage of an extra bonus. As a new participating player, you will receive a welcome gift from the Lotto.
More about gambling and jackpots
The 10 biggest jackpots ever!

Progressive jackpot

Online Gambling Legislation

Online Gambling How is the Lotto played?
It is not difficult to become familiar with the rules of the Lotto draw. In fact, all you have to do is fill in your 6 lucky numbers on a card (the appropriate entry forms) and then hope for those 6 numbers to fall in the next draw (every Saturday). All prizes in the Lotto are cash prizes.
There are no gadgets, technological gadgets, gifts, goods etc. raffled off like in the State Lottery. The only time you receive a gift is when you first become a member of the Dutch Lotto. Did you get all the numbers right, plus the jackpot color also filled in correctly on the form? Then you will win a jackpot prize of at least $7,500.00.
Every Saturday a notary draws the numbers and participants can win attractive cash prizes. In addition, you can decide whether you want to play the Lotto numbers game. In this game you can only enter 6 numbers. If you get all the numbers right in this game, you will be rewarded with an amount of $ 200,000.
How does the draw work and when is it?
As mentioned earlier, every Saturday a Lotto draw takes place and is performed by a notary public. At 18:15 the draw takes place. From 20:00 the results can be found on the website of Lotto or NOS Teletekst (page 555).
Other ways to find out if your numbers are correct is to go to the store and hand in your ticket. You can contact a Lotto employee for more information about a specific draw via telephone number 0900-9525 for $0.25 cents per minute.
Because a notary acts as an intermediary, you can be sure that every draw is fair and that all the results are 100% correct. The draws can be seen on SBS6 at 22:30 on television. See with your own eyes how balls are drawn to guarantee fairness.
Lotto application
The Lotto has developed a special app for players. The application shows exactly how high the current Lotto jackpot is and when a draw will take place again. The app is useful for checking winning lottery tickets. You can scan lottery barcodes to check whether you have won. The app is compatible with Android and iOS systems (iPhone & Samsung).
How do I cancel the Lotto?
Many people win the Dutch lottery every year. There are plenty of them who win little to nothing every year. It depends on the balls that are drawn whether you win a good prize. Not everyone is always lucky. If you are tired of playing the Lotto because you think you are the luckiest person in the Netherlands, it is possible to easily cancel the Lotto via customer service.
The Lotto customer service can be reached at telephone number 0800-1501. Choose option 2. The Lotto is open on working days from 09:00 in the morning until 21:00 in the evening. On Saturdays, customer service is open from 10:00 to 16:00.
When cancelling, you must have the correct information to become a member. This includes the account number where the money is automatically debited weekly.