ZEbet, a bookmaker abroad for years, was also keen to get a Dutch license. And they got it from the Dutch Gaming Authority. This gives Dutch sports betting enthusiasts the opportunity to take a look at this bookmaker.
ZEbet was already familiar with the Dutch market, only under a different name: ZEturf. With ZEturf, the company only deals with horse betting, and has had a Dutch license for years.
ZEbet welcome bonus
In order to conquer a share of the Dutch market ZEbet comes with a great welcome bonus for new players.
Welcome bonus of 100% on your first deposit with a maximum of €50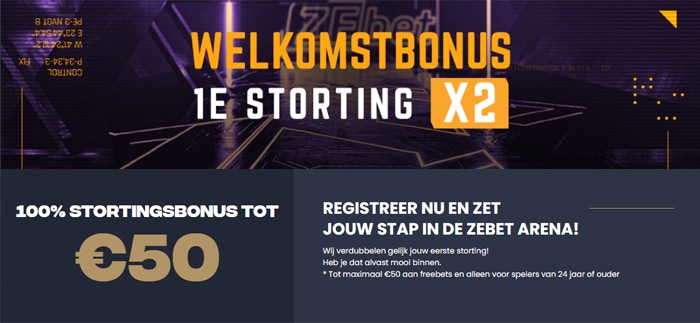 Welcome bonus on ZEbet
Conditions
The ZEbet welcome bonus also comes with conditions. We list the most important conditions.
Doubling is only valid for your first deposit. Even if the first deposit is lower than €50.
Freebets are not the same as cash. When you have wagered freebets, you will receive – in case of a successful bet – the net profit credited to your player account.
The welcome bonus is only available once per player and household.
Only for players 24 years or older
Players who have previously received a ZEturf welcome bonus are not eligible for a ZEbet welcome bonus
You do not have to take the welcome bonus
Getting free money from a bookmaker or an online casino through a casino bonus sometimes seems nicer than it actually is. How nice such a bonus really is for you as a player should be clear from the conditions that come with the bonus. Let it be clear that you are never obliged to make use of the welcome bonus. Always read the terms and conditions attached to a specific bonus first. If the conditions appear to be unreasonable, it is advisable to simply ignore the bonus. In that case you play nicely with your own money and you know immediately where you stand. If you do make use of the bonus, make sure you meet the conditions of the bonus.
If we look at this particular ZEbet bonus, it is one that you can safely accept. You get extra freebets worth your deposit with a maximum of €50. You can't withdraw those freebets immediately, you have to use them to place bets. If you place a winning bet, the amount you win will be credited directly to your account.