Spanish reporter Natalia Escudero brought the report of El Gordo (literally the "fat" lottery) to television for her job. During the draw around Christmas and doing the report at a location in Valencia for RTVE, the prize fell on lottery number 26590.
This was her lottery number with which she won a prize of €400,000. At least it seemed that way. This led her to announce on live television that she would no longer be coming to work and that she would be resigning.
Resigning did not turn out to be convenient
Escudero has been working as a journalist for more than 25 years but because of her statement and the celebration of the win during the live broadcast, her career is currently hanging by a thread. Partying hard and shouting that she stopped working was not exactly appreciated by her employer. Moreover, there is a catch to this lottery.
Much less profit than initially thought
Depending on what part of a lottery ticket you bought, your price is determined. So the smaller the portion the less you win with it. In the case of Ecscudero this meant that with her winning lottery number she had won a prize of about €5,000 but certainly not the thought of €400,000.
The amount of money won was therefore a major setback and not enough to make her quit her job and retire on her winnings, as it was obviously far too little for that.
These casinos have great live casino games New Casino!
Casino777
Welcome bonus 100% up to €250 Jacks Casino Online
100% Welcome Bonus up to £100
bet365
Deposit min €10 and receive 100 free spins
BetCity
Welcome bonus up to €100 free spins
Our best bonus! Circus
Get a bonus up to €250
Grab the bonus
How does El Gordo work?
To better understand how this lottery works we will give you a short explanation. El Gordo is a lottery which is held every year in Spain around Christmas time. This lottery is therefore the biggest prize won in the Spanish lottery world every year. As a player of this lottery, you cannot choose your own numbers but they are assigned to you. You buy a ticket (or more) from a shopkeeper who has been given a number of tickets with matching numbers which he or she may offer.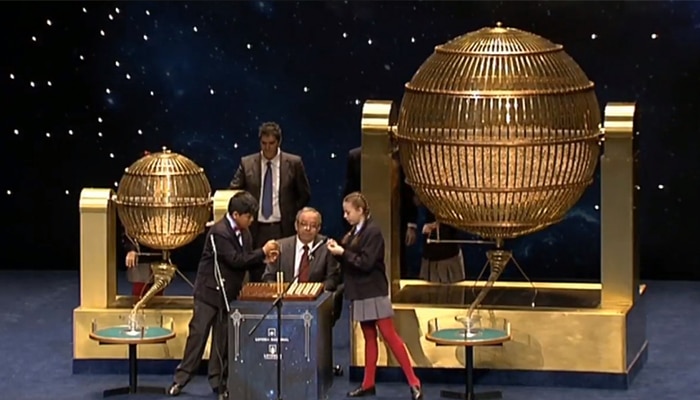 The draw of El Gordo, Spain's biggest lottery
Lottery tickets can be shared more than once
Each number that can be played with can be shared. Since a full lottery ticket costs €2000, that is too much for most people to spend. If you divide this by ten, a tenth of a lot thus still costs €200 but it is often divided even further. So you get lottery tickets of €20 each that are well affordable for most people. Even smaller parts can be made. These cost less and less to buy.