Not everyone is always so lucky when they win. Moreover, some people are always lucky while others never manage to win anything. Until the moment when luck turns against the winner and their luck suddenly turns into deep unhappiness.
This was also the case with waitress Cynthia Jay-Brennan. She managed to win $35 million on one of the slot machines in Las Vegas but only a week later she was hit by a drunk driver at a traffic light. Her sister who was also in the car died and Cynthia herself was crippled for life. Very sad all around.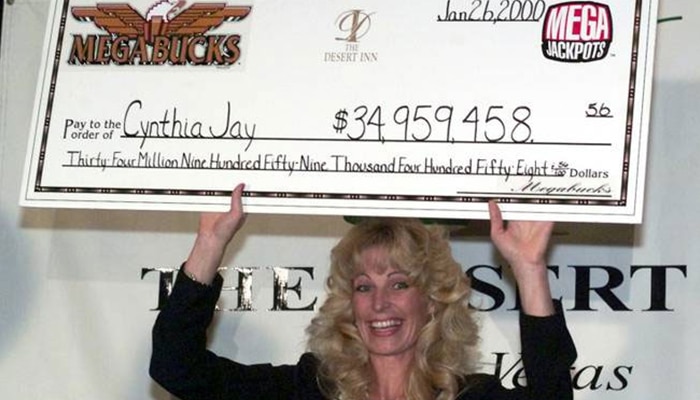 Jackpot did not bring luck
Money is not always happy
In addition, it was not even the first time that the driver who collided with them had got into the car with drink on. He had already been charged with sixteen drunk driving offenses and was sentenced to 28 years in prison. Many people call this accident a curse that is placed on gamblers, while Cynthia herself would hand over all the money she had won if she could get her sister back.
Huge cash prize cost him everything
Another example of someone with a lot of bad luck and misery after winning a large amount of money is that of Michael Carroll. He managed to win £9.7 million in the national lottery but certainly didn't get much pleasure from his winnings. Well, maybe fun while spending the money on drugs, gambling and visiting prostitutes but the money was completely rushed through within eight years.
In addition, his life was completely destroyed by the extreme lifestyle he led and it also cost him his marriage. In the end, he even went back to work when the winnings could have given him a carefree and happy life without money worries if he had spent them wisely.
Winning lottery ticket lost
Martyn and Kay Tott had bought a ticket for the big lottery. What a coincidence. Their lottery number hit the jackpot of over three million pounds! However, neither of them realized it. However, a call from the lottery after several months to the unknown winner rang a bell.
However, there was a big problem. Their lottery ticket was nowhere to be found. They could show that they had bought it but the lottery refused to pay out because they could not show the ticket itself. Three lawsuits and a divorce later, Martyn was left penniless and his health was not helped.
These casinos have good bonuses New Casino!
Casino777
Welcome bonus 100% up to €250 Jacks Casino Online
100% Welcome Bonus up to £100
bet365
Deposit min €10 and receive 100 free spins
BetCity
Welcome bonus up to €100 free spins
Our best bonus! Circus
Get a bonus up to €250
The Millionaire Who Won a Jackpot
Andrew Whittaker may be the richest man ever to win a major lottery jackpot. The 55-year-old president of the West Virginia construction company was already good for about $17 million. In December 2002, he also won the Powerball jackpot of $315 million. At the time, the biggest jackpot ever with a single ticket. And Whittaker knows how to distribute his new mega-wealth. He promises to donate 10 percent of his fortune to Christian charities. He also donates $14 million to his Jack Whittaker Foundation. He even gives a $123,000 house, a new Dodge Ram Truck and $50,000 in cash to the strange woman. The woman who works in the shop from selling the lottery ticket.
The misery begins
But even Whittaker can't escape his own demons. He gets into legal trouble as well as personal problems. He gets into drinking and visits strip clubs. On August 5, 2003, thieves steal $545,000 from his car in a parking lot of a strip club in West Virginia while he is inside. In January 2007, Whittaker reports to police that thieves had completely looted his bank accounts. On January 25, 2004, robbers again break into his car. This time they steal an estimated $200,000 in cash. Again, a series of personal tragedies follow.
On September 17, 2004, his granddaughter's boyfriend is found dead of a drug overdose in Whittaker's home. Three months later, the granddaughter also dies of a drug overdose. Her mother, Ginger Whittaker Bragg, dies five years later, on July 5, 2009. Whittaker himself is said to be broke – a claim he had already made in January 2007 for failing to pay a woman who had successfully sued him. He is also being sued by the Caesars Atlantic City casino for handing in uncashed checks worth $1.5 million to cover gambling losses. "I wish I had torn up that ticket," he sobbed to reporters at the time of his daughter's death.