Have you ever asked yourself the question whether it's better to play in a land casino or in an online casino? Then you're certainly not the only one. Many people wonder what the advantages of an online casino are and whether a land casino is still as beneficial.
At the moment it is not yet legal to gamble at an online casino in the Netherlands. But this is about to change. As it looks now, as of October 2021 it will be so. You will be able to play at a fully legal online casino with a Dutch license. So in anticipation of that, let's make some comparisons.
Of course, land casinos like Holland Casino offer a unique evening out, but online casinos also have a unique character and you don't have to leave your house. Which one prefers a land casino or an online casino depends on each individual.
Pros and cons of land-based casinos
Before we talk about the online casino, let's take a look at the pros and cons of land-based casinos. No matter how you look at it, everyone will probably agree that the perfect night out is more likely to take place in a land casino than in an online casino. Flashing casino lights, a snack and a drink, together with friends and the experience of people around you.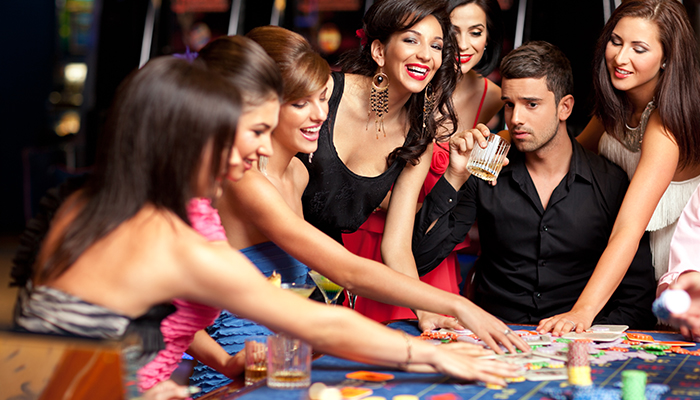 Night out at a land casino
All in all, in addition to the gambling experience, visiting a land-based casino is really a social affair. These are some of the benefits of a land-based casino:
More people around you who are also happy and enthusiastic
More casino experience through dealers and other casino staff
The real feel of money or coins in your hands
There are also disadvantages to a land-based casino. Many land-based casinos are located in the downtown areas of various cities. Before you can gamble you have to reach these places and often this is done by car. You then have to deal with parking costs. Another disadvantage is the crowds; on Friday and Saturday evenings a land-based casino can get quite crowded.
Ever experienced the annoyance of a full roulette table, where everyone is pressing against you? However, you can also see this as a happening and a positive thing. Finally, at land-based casinos you spend more money on a snack and a drink, while at home you can get your own drinks and food and often save money.
The online casino
Why are online casinos so popular around the world? Lately, more and more people around the world prefer online casinos over land-based ones, but why? The two biggest advantages, of course, are availability and convenience. Almost everyone has a computer at home these days, and with the wide range in terms of numbers of online casinos, it is not difficult to start gambling right away. All you need is your own account and an amount of money with which to play.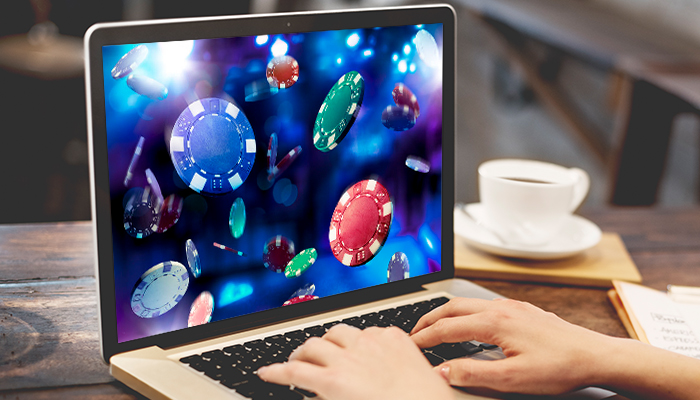 You can win chips online too
As an added benefit, with the developments in the mobile industry, you can now gamble on your mobile or tablet. This way you can gamble in the online casino anywhere and anytime.
The free option
What else does the online casino provide? Of course in the option to gamble for free. In land casinos you often have try-out packages for visitors, but even there you obviously pay a fixed amount. In online casinos, first-time gamblers get the chance to test all casino games for free and then choose what they want to bet on.
Also experienced players can try out new games online for free. Thus, the opportunities of online to try out new games are much greater than within a land-based casino.
Also read these articles about online casinos:
How to find the best online casinos?

Casino Strategy

Craps Strategy Both casinos have advantages
We said it before, but when it comes to atmosphere and ambiance, gaming fun and socializing, you can't ignore a land-based casino. Here you experience the real excitement, holding chips and collecting tangible money. However, for those who want to gamble privately, without other people standing around watching, an online casino is again ideal. Of course, you may find an online casino comfortable for that very reason and not need the experience of a land casino.
More variety
Have you ever visited a land casino? Chances are you will have been impressed by the enormous possibilities, the various tables and the infinite number of slot machines.
Physical casinos give you an overwhelming feeling and the physical casino atmosphere is unsurpassed.
Bonuses
Both loyal, active players and new players get bonuses at online casinos. If not an attractive welcome bonus, then it's a nice no deposit bonus for active players. These bonuses, apart from fixed bonus systems on tables or slots, are unfortunately not available at land-based casinos. You can play at land-based casinos with a discounted tryout package, but it doesn't match the high bonuses you can find at online casinos. The attractive bonus structure of online casinos is a distinct advantage of online casinos.
For those who think that land-based casinos have a huge selection of casino games, haven't looked online yet. An online casino offers you even more slot machines, even more video slots, even more tables and even more betting options. In recent years many themed slots games have been added to online casinos that are not yet found in land casinos. Online casinos can adapt faster to recent developments and therefore offer more variety to their players. But wait until October 2021 so you can gamble safely at a Dutch licensed online casino.