The most obvious reason for people to bet on sports is of course the financial benefit, which you can get out of it. The chance to win money is always attractive.
However, money is not the ONLY reward that sports betting has to offer. You can also do it simply because you like it and to make the sporting events you watch even more exciting.
Benefits of betting on sports at a glance
There are quite a few advantages to betting on sports. We have put together the most important ones for you.
Financial progress
Like all forms of gambling, betting on sports involves some risk and there is a chance to win money. What distinguishes sports betting? It is possible to win money without it coming down to pure luck. Your fate is in your own hands and with the right approach it is possible to win money regularly and consistently.
You do have to remember that the bookies have an advantage overall. They make sure they have a profit margin left over in the odds they offer us, they do this in the same way as the casinos. The difference is: The house advantage of the casino cannot be overcome (unless you can count cards with blackjack), but the bookmaker's advantage can.
Unlike casino games, the outcome of sports games is not completely random. When you play roulette you are trying to predict what number the ball will land on, which of course is completely random. It's hoping for the best. When you bet on sports, however, you can use your sports knowledge to try to make accurate predictions. Sports can be unpredictable, but with the right knowledge, betting on sports is not completely random.
Now successful betting is more than just having knowledge of sports. There are also various skills that you should try to master. But the fact is that you CAN beat the bookies in the long run if you are willing to put in the necessary time and effort. The financial rewards are worth it.
Here you can place sports bets bet365
100% betting credit up to €100
BetCity
20€ Free Bet with your first deposit

Bingoal
100% bonus up to €250 + 100% Odds Boost
More about betting on sports:
Betting on soccer

Betting on horses

Betting on tennis

Betting on golf Fun
In the end, very few people actually make money from sports betting. This is partly because it is so difficult to be profitable, but also because most bettors don't even try. Or at least they don't put enough effort into it. Most gamblers are what we call recreational gamblers and the chance to win money is not what motivates them. They fully accept that they will lose money in the long run, and that doesn't bother them at all. Fun is what matters. They see sports betting as a form of entertainment like any other, and their losses are simply the cost of that entertainment.
There is nothing wrong with striving to be a successful gambler. However, it is important to also be realistic. There are no guarantees that you will make a total profit and it is extremely unlikely that you will win money when you are just getting into betting on sports.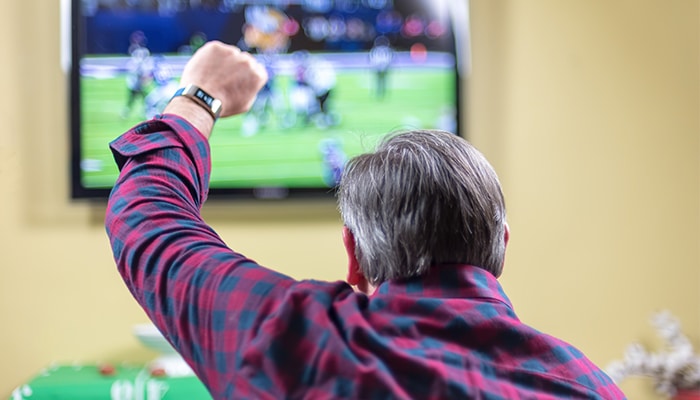 Betting on sports brings fun
With this in mind, we think it's a good idea to focus on the fun as a beginner. You can still have the goal of making a profit in the long run. Also, you can learn a lot over time. But in the end, you should do it to entertain yourself. Sports betting is a lot of fun and it can make watching your favorite sports a lot more exciting. That in itself is rewarding.
It should be highlighted that betting on sports is actually a relatively cheap form of entertainment. You can keep the stakes as low as you like and there's a good chance you'll win at least some of your bets. So even if you lose overall, you can still have a lot of fun without spending a fortune.
Challenge and satisfaction
Some people choose to bet on sports because they love the challenge and get satisfaction from it. They enjoy putting their sports knowledge to the test and seeing if they are as good as they think they are. Like those who bet for fun, they are not really motivated by the money. Instead, they appreciate the money they win from their successful bets, but they appreciate the feeling of accomplishment even more.
We can relate to this as well. Although we bet 'professionally', and profit is our ultimate goal, we love the FEEL we get when we win our bets. We won't deny that making money is important to us, but we also appreciate the simple joy of being proven right.
One final reason
Research shows that all of the above are reasons why people bet on sports. Added to that is the factor that it is very easy to place a sports bet.
Sports betting is perhaps the easiest form of online gambling to begin with. You don't need to have a great knowledge of sports and most of what you need to know is very simple. If you learn a few simple basics about betting on sports, you can start placing wagers right away.