Maybe it has happened to you before. You visit the casino with a wallet that is well filled and end up losing all your money. Of course, you hope to win when you visit a casino, but the truth is hard, you probably lose more often than you win.
Whether you've played on a promising slot machine that hasn't given for a long time, or a table game that you think will bring you luck, it was all to no avail. If this happens to you regularly then you should start thinking about a few things before you visit a casino again next time. It might be high time to approach the casino in a different way.
Maybe you chose the wrong casino games or didn't have a plan in advance for how much money you would bet or with how much profit you wanted to leave the casino. These are all things that factor into your overall casino experience, and most importantly, you feel it in your wallet.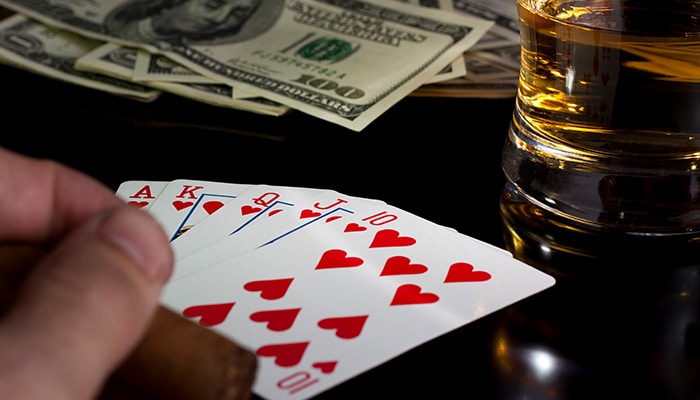 Booze and gambling do not mix well
Wrong online casino
Sometimes you may even find yourself playing at the wrong online casino. Take for example the blackjack tables with a 6 to 5 payout or the American roulette with worse odds than the European or French version. The rules of games differ from casino to casino, and at the same time one casino does offer extra privileges while others give nothing away. So there are plenty of reasons why you can lose too much money in the casino.
First of all it's important to know that the casino always has an advantage over you. This advantage is called the house edge, and they do have an advantage. Choose the right casino games with a low house edge for the best odds and check out the additional tips we give you in this article. The next time you play casino games, be aware of a few things that really matter to increase the odds of winning – and thus make you lose less in the long run.
Not playing the right casino games
The game you are about to play is one component you will always have to deal with. You visit a casino to play games. But are all casino games suitable for you as a player? Do you regularly lose a lot of money because you choose the same slots or spend your time on a specific table game? Then it's important to get rid of these nasty habits and choose a different game. While choosing the game, the house edge is something you should consider.
The house edge refers to how much money the casino theoretically takes away from each bet in the long run. For example, if the house edge is 95%, it means that the casino makes a profit of 5% per bet and the player loses 5%. While the house edge doesn't apply in the short run, it gets closer the more often you gamble. In the long run, it is always a good choice to choose casino games with a low house edge.
Play in moderation at these online casinos New!
Casino777
Welcome bonus 100% up to €250 Jacks Casino Online
100% Welcome Bonus up to £100
bet365
Deposit min €10 and receive 100 free spins
BetCity
Welcome bonus up to €100 free spins
Our best bonus! Circus
Get a bonus up to €250
Blackjack and video poker are good choices
One of the casino games with a low house edge is blackjack. Generally, the casino has between 1% and 2% advantage in this game. Do you use a blackjack strategy table? Then the house edge drops below 1%. The fact is that blackjack is a game that is not purely based on good luck. Your own choices influence the odds during play – and each good choice offers more chances of winning. Using the strategy table, you'll know exactly which choice to make in every situation.
Other casino games to choose from are the video poker games. During the first spin, five cards come into view. It's up to you to decide which cards you want to keep and which you'd like to exchange for other cards. A basic strategy is important to apply in order to know which cards are best to discard. The choice of variants is also important. For example, Jacks or Better and Dueces Wild are the best video poker variants to play. In the event that you use a strategy, the house edge is below 0.5%.
Avoiding Slot Machines and Keno
Slot machines are known for their poor odds of winning in the casino. The house edge increases dramatically compared to the table games. On some slots, the casino has an edge of between 8% and 15%.
Playing on a progressive jackpot slot machine? Then the house edge increases even more. Rather than change your entire playing style, do you want to play slot machines? Choose a slot machine that allows you to play at the maximum bet without spending too much money. There are plenty of slots out there that offer maximum winning chances since all the paylines are active at the maximum bet.
Furthermore, it is important to avoid Keno if you want to win money. You are a thief of your own wallet to pick numbers in the hope that they will be drawn. Keno comes with a house edge between 35% and 40% with some bets you can place at this game. And do you like Keno a lot? Then the best thing you can do is to play Keno with low stakes. This way you'll still limit your losses and have fun on your favorite casino game.
The casino you're playing at has nothing for loyal players
The moment you have to choose where to play, you don't pay attention to the house edge as we discussed in the section above. Especially if you plan to return regularly. Several factors come into play that will allow you to leave the casino with more money, or at least limit the losses. One is a good rewards program, also called a casino's loyalty program.
A loyalty program rewards existing players with extra bonuses based on their playing habits. At the Holland Casino they have all kinds of perks for loyal players the more they visit the casino. The first time you visit, you already become a holder of the "Favorites" card. This is called the Welcome Card.
After 4 to 11 visits you get a Black Card, after 12 to 24 visits you get a Platinum Card, and finally you receive the Diamond Card after 25 or more visits. Privileges you can take advantage of are special offers and invitations, free drinks and, for example, 20% off a three-course meal.
While playing you may feel like a snack or a drink. Normally this costs more money than if you were a member of a loyalty program. As you can see, you save money with this and can use it again at the gaming tables and try your luck.
Another thing to pay attention to are the betting limits of games. The minimum limit shouldn't be too high if you don't have a big budget to spend. In the Netherlands, you have a number of establishments of Holland Casino that come with an Experience Zone for players who want to get acquainted with gambling in a low-threshold way. It is recommended to have visited it once if you prefer to take less risks.
More articles about playing at casinos
All live casino games

Alternatives to Holland Casino

Facts about online casino You don't know the rules of the game
A big mistake beginning players make is not knowing the rules of the games they play. Let's take one of the easiest games to learn as an example: blackjack. Maybe you've played it with friends before and it was called "Unicorn" back then.
You know the rules of the game, you know that you can split, double the bet, and that the dealer passes on a soft 17 – but do you know basic strategy? Basic blackjack strategy is vital the moment you start playing blackjack. It increases the odds of winning and lets you make the right choices in any situation.
It is recommended that you first visit a reliable online casino through GamblingID.com before going to a land-based casino. Free gambling is possible so you never risk your own money while learning blackjack. Learn the rules of the game, practice basic strategy, and try to memorize it for the most part to make instant decisions.
It should become a kind of automaticity to know how to act after receiving the two cards and looking at the dealer's face-up card. Don't want to visit an online casino? No problem. Then it is highly recommended to visit the casino during less busy times. This way you can take more time to make a decision and other players won't be bothered.
While slots are purely based on luck, and any outcome is always random, it's also true that payout percentages play a big role in how much chance you have of winning prizes. Always take a good look at the pay tables to see what combinations you can form and how much money you can bet per spin.
We speak from experience when we tell you that slot machines with better graphics and/or sounds do not necessarily pay out more than a simple slot machine. In a simple slot machine the prizes in the basic game are often higher because there are no bonus features to win extra prizes with. In this way, even with a lower bet you can have a chance to win nice prizes compared to the one you place.
You're playing with limits that are too high
Try to resist the temptation of playing with too high limits. Based on your balance, you can agree this with yourself in advance. Let's say you take 200 euros with you to the casino and you play a game with a stake of at least 2 euros. This way you can play 100 rounds and probably have the time of your life (even if you lose). But what if you bet 20 euros per turn? Then it's quickly over if things get tough. After all, you only have 10 turns to play with 200 euros in total.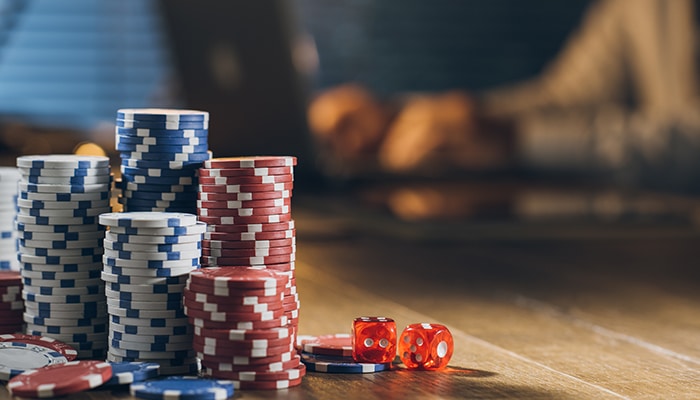 Watch out for high stakes when gambling online
Choosing lower-limit casino games is important if you want to play longer. Of course gambling with high limits is more exciting, and above all; the potential payouts are much higher. But at the same time you lose a lot more money if you play with too high limits. We think it's important that entertainment comes first at the casino, and then all winnings are a nice bonus. You should want the same.
You try to chase losses
During a gaming session at the casino, you may find yourself in the minus after a while. Many players think it makes sense to bet more money so they can turn losses into profits faster. However, the odds of winning are still the same because a game has no memory. The game does not know how much loss (or profit) you have. The important thing is to play with bets you feel comfortable with – and not suddenly increase the stakes to chase those losses.
Still want to turn luck around and get on your side? Step up and try a different game. Choose casino games with better pay tables or a lower house edge. It is inadvisable to increase the stakes and try to win back losses. And the worst part is, players want to do this in as short a time as possible. At the time, they are playing above the limits they can afford and thus risk losing control. Moreover, it can develop a gambling addiction that you can't get rid of.
Conclusion
GamblingID.com always recommends that you gamble with money you can afford to lose. Think of it as an expense for a planned outing. You should already consider the money you bring to the casino as lost. If you leave the casino with a profit in your pocket, that's a big windfall. Do you lose the money? Don't cash out. Set a profit and loss limit and stick to it. Think carefully about the previous times you lost too much money at the casino and change course.
Hopefully the tips and advice in this article will help you cut your losses on your next visit to the casino. And never forget: the casino is always ahead of players in the long run. It is impossible to beat the casino with their own predetermined game rules. Every rule that applies affects the odds, just like the payouts that are available.