The online gambling world offers numerous slot machine jackpots and can sometimes reach millions of dollars. Players looking to win a large jackpot therefore often look in the direction of slot machines. But some online table games can also win big jackpots. In some games you can even win up to several tons.
These jackpots may not compare to the millions that can be won on slot machines, but for players who prefer table games to slot machines, they're still tasty amounts. Below is a collection of table games where you can win some pretty nice jackpots.
Caribbean Stud
At almost any given moment you can find a big online Caribbean Stud jackpot somewhere. Realtime Gaming, NetEnt and Party Gaming often offer huge progressive jackpots. You don't really have to play at a particular online casino. As long as you know how to find the game and take advantage of the sidebets to compete for the jackpot.
For those who have never played Caribbean Stud before, below is a small basic of how best to play this game:
Place an ante bet of €1 (or higher) and an optional jackpot bet of €1. You receive five cards and must beat the dealer's hand with five cards to win. Now you can raise (2x the ante) or pass (lose ante and jackpot bet). Raise, and you and the dealer will compare cards. The dealer needs an A-K-4-3-2 or better to qualify. If the dealer does not qualify, then you make as much money on the ante and push on the raise.
Assuming the croupier qualifies and wins, he takes your ante and raise. Should the croupier qualify and you beat the dealer, you will even earn money on the ante. The payout for the raise depends on the casino's payout table.
Casinos may differ slightly on their pay tables regarding a raise. In general, however, you should expect to win the following:
Royal flush: 100 to 1
Straight flush: 50 to 1
Four of a kind: 20 to 1
Full House: 7 to 1
Flush: 5 to 1
Straight: 4 to 1
Three of a kind: 3 against 1
Two pair: 2 to 1
Everything else: 1 to 1
The jackpot bet does not depend on whether you beat the dealer. Instead, it revolves around a separate payout table:
Royal flush: 100% of the progressive jackpot
Straight flush: 10% of the progressive jackpot
Four of a kind: €100
Full House: €75
Flush: €50
You have only a 1 in 649,740 chance of getting a royal flush. This means that you usually have to play a lot of hands before you can look forward to receiving a progressive jackpot. But with some payouts exceeding well over €250,000, it's well worth it.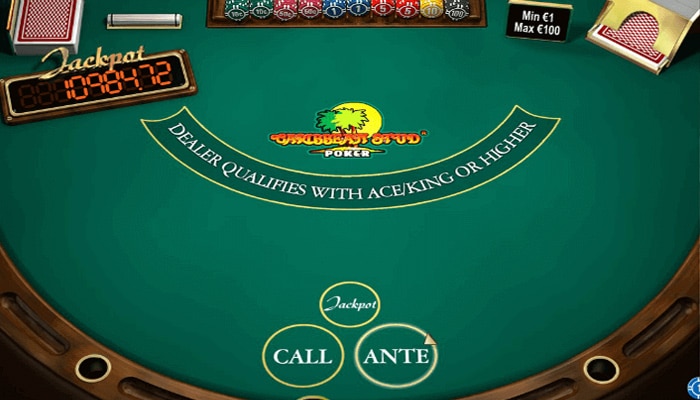 A Caribbean Stud Poker jackpot is something you'll come across frequently. However, casinos may differ with the payout table.
Let It Ride
The size of online Let It Ride jackpots can vary greatly from provider to provider. Realtime Gaming often offers very high jackpots for the Let It Ride game. While these are usually smaller amounts than the highest jackpot ever, they are still nice to have.
Like Caribbean Stud, Let It Ride is a different poker variant. However, they are quite different from each other in terms of rules.
Here are the basic rules of Let It Ride:
You place a standard bet along with an optional jackpot bet of €1. The standard bet must be placed in three equal proportions (e.g. €1, €1, €1). After betting, you receive three closed cards and have the opportunity to withdraw a third of your bet after seeing these cards.
A community card is then dealt. You have another chance to withdraw a third of your bet at this time. A second community card is dealt. The software evaluates your hand of five cards (three holes + two common cards) to see if you win.
At most casinos, you must have at least a pair of tens to win. In such cases, you lose with a pair or nines or something worse. Here are the standard payouts in Let It Ride (based on the money you have on the table):
Royal flush: 1,000 to 1
Straight flush: 200 to 1
Four of a kind: 50 to 1
Full house: 11 to 1
Flush: 8 to 1
Straight: 5 to 1
Three of a kind: 3 to 1
Two pair: 2 to 1
Pairs of 10 or better: 1 to 1
All other outcomes result in a loss
The main feature of Let It Ride is that it allows you to withdraw a portion of your bet. Assuming you leave all three portions on the table, you "let it ride. With the optional side bet of €1, you can play for the following prizes:
Royal Flush: 100% of the progressive jackpot
Straight flush: 10% of the progressive jackpot
Four of a kind: €500
Full House: €100
Flush: €75
Be sure to check out one of these casinos as well New Casino!
Casino777
Welcome bonus 100% up to €250 Jacks Casino Online
100% Welcome Bonus up to £100
bet365
Deposit min €10 and receive 100 free spins
BetCity
Welcome bonus up to €100 free spins
Our best bonus! Circus
Receive a bonus credit up to €250
Pai Gow Poker
This card game, which is based on Chinese dominoes, you play with 53 cards. The deck contains 52 standard cards and a semi-wild joker, which can complete straights, flushes, straight flushes and royal flushes. Like Let It Ride, Pai Gow poker is quite unique from other poker variants and asks you to form two separate hands, including a "low" and "high" hand.
Online Pai Gow jackpots typically don't get as big as payouts from Caribbean Stud or Let It Ride. But they can still be worth playing for.
Herewith the Pai Gow poker rules:
Place a standard bet and an optional jackpot bet of €1 (if available) and you will receive seven cards. These seven cards must be separated into a high hand of five cards and a low hand of two cards. The five-card hand must be stronger than the two-card hand.
The dealer also divides his seven cards into two hands using the structured "house way." You and the dealer compare high and low hands to see who wins. You beat the dealer by winning two hands. There is a push when you win one hand and lose the game round when you lose both hands.
In a tie on the low or high hand are won by the dealer. This aspect gives the house an advantage in Pai Gow poker and the jackpot bet can be based on several variations. Fortune Pai Gow poker, a common variation, bases the progressive jackpot on your hand of seven cards.
Here is a standard Fortune Pai Gow poker jackpot payout table:
Seven card straight flush: 100% jackpot (with/without joker)
Five aces: 10% of the jackpot
Royal flush (5 cards): €500
Five card straight flush: $100
Four of a kind: €75
Full House: €5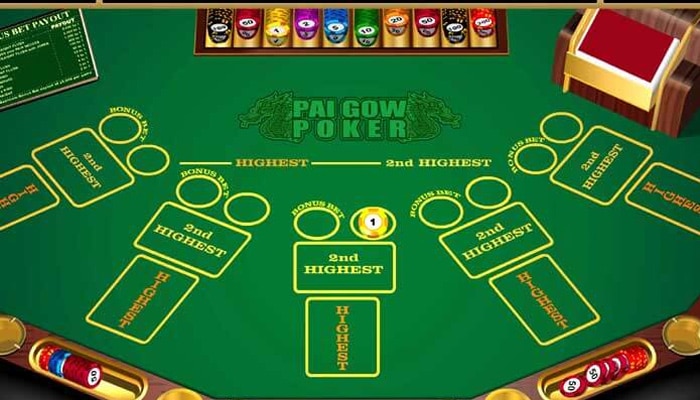 However, the jackpot of Pai Gow Poker is not as big as the one of Caribbean Stud Poker
Roulette Royale
Roulette Royale is the only non-poker game on this list. Developed by Microgaming, this has a European roulette wheel and a progressive jackpot as a sidebet. This game has paid out a whopping €440,353 as the highest jackpot, making it attractive if you want to win a lot at roulette.
But again, the Roulette Royale jackpot has never been higher than €440,353. It will take some time before such a high jackpot will fall again. Assuming you have played European roulette before, you should have no trouble playing this game.
You can make the following standard bets:
A bet on 1 number
A bet on 2 numbers
A bet on 3 numbers – street
A bet on 3 numbers – trio
A bet on 4 numbers
Bet on 6 numbers
A bet on 12 numbers
A bet on a column
A bet on red or black
A bet on even or odd numbers
A bet on high numbers or low numbers
To play you need to place a minimum of €1. There is also the option to bet a jackpot of €1.
With this you qualify for each of the 4 prizes below:
15x your bet (bet €1; win €15)
200x your bet (bet of €1; win €200)
3,000x your bet (bet of €1; win €3,000)
The ultimate progressive jackpot (minimum €60,000)
To win this, however, you must then land the bullet on an identical number 2 to 5 times in a row.
These are the required qualifications behind each jackpot:
15x = same number for 2 spins in a row
200x = the same number for 3 spins in a row
3,000x = the same number for 4 spins in a row
Jackpot progressive = same number for 5 spins in a row
The chance of the same pocket coming up five times in a row is only 1 in 69,343,957. Therefore, you have little chance of winning the jackpot. However, you can take advantage of the other payouts until you are (hopefully) lucky enough to win a lot.
Conclusion
Slots are not the only games that give you a chance to make serious winnings. Various table games also give you the chance to win a big jackpot. Online Caribbean Stud is on average the best option if you are looking for the biggest non-slots jackpots. Let It Ride and Roulette Royale can also bring in a lot of money. Pai Gow Poker doesn't usually reach the same heights as the other games, but it can still include some valuable payouts.