In order to regulate the online casino market in the best possible way, there are not only gaming authorities that issue licenses. There are many more authorities that will see to it that you can make your winnings in a fair way while gambling. Among the many authorities that are present, eCogra is certainly important. The name of eCogra is Commerce and Online Gaming Regulation and Assurance. So what exactly is eCogra and what do they mean to the online casino world? We will explain that to you directly in this post. After all, everyone wants to make a profit at an online casino with their money in the fairest way possible.
How does eCogra get involved?
Today, it is mandatory for every casino to be subjected to scrutiny by an organization. This applies not only to the sites available for online gambling, but also to establishments like Holland Casino. On the other hand, gambling halls also have to comply with all kinds of issues that are strictly monitored.
The eCogra is one of those bodies that keep a strict eye on the fairness of casinos. One of the ways they do this is by regulating the odds of winning by means of a Random Number Generator.
Thanks to the addition of a Random Number Generator to gaming software, your chances of winning are determined at random. It's a random code that is capable of generating results on all casino games. No casino will be able to influence your chances of winning. Reliable gaming is therefore always guaranteed. How can you tell if the eCogra has also investigated a casino and is working with the Random Number Generator? You'll always find the eCogra logo at the bottom of an online casino's website. This is usually next to the logos of the gambling authorities that have issued a license.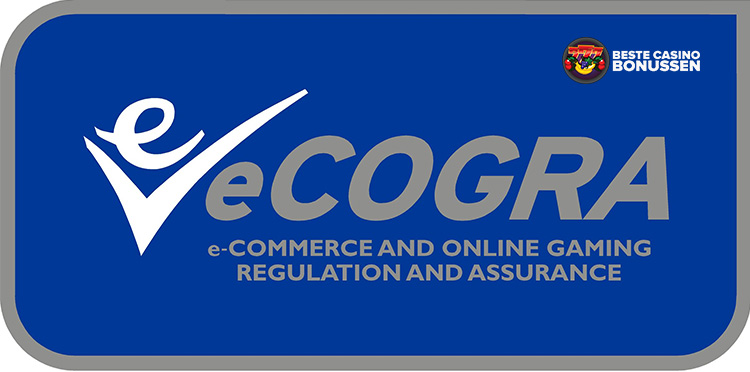 Training and certificates for live dealers
When you gamble at an online casino it's obviously not just about the casino software games. Gambling at a live casino is also very interesting these days. If you're going to play at a live casino you can't use a Random Number Generator. This is due to the fact that everything is handled live through a camera connection. In order to ensure the reliability of live casinos eCogra acts as a testing authority. Before a live dealer can play Roulette, Blackjack, Baccarat or Poker with casino players they must complete a training course. Only after they have obtained a certificate may the casino put the dealers to work.
Logically, it's nice to know that even at the live casino there is advance supervision, but what about once the dealers are at the gaming tables? Even then they are monitored. Online casinos are required to keep the gaming sessions and hand them over to the eCogra. They will randomly scrutinize the sessions played live and do so very strictly. As soon as there is a suspicion of cheating at a live casino it will be reported to the gaming authority. They will also look at the evidence and apply sanctions.
Don't think that only fines will be given because in cooperation with the eCogra it has been agreed that in case of cheating the license will be revoked immediately. A casino, and its management, will never be able to get a new license from the gaming authorities.
Important things eCogra checks
When the eCogra starts investigating a casino, it goes without saying that a lot of things are taken into consideration. The tax system of the country where the casino is registered is always an issue and even that's not all. For example, a casino must always clearly state the minimum age required to be allowed to gamble. In addition they must be able to prove that your data is securely stored and that there is a duty to identify yourself. The identification requirement is obviously intended to prevent fraud at online casinos. If you didn't have to identify yourself fraud would be much easier.
Furthermore, it is obviously important for casinos to have a policy against gambling addiction. This is usually done in cooperation with agencies that can help people with a gambling addiction. If you have become a gambling addict, you can get yourself help through such organizations. In addition, the eCogra also insists that players should be able to close their accounts. This should be possible temporarily, but also permanently at a player's request. Moreover, at an online casino you can never be in the negative. Should a player have a balance left when closing an account? Then of course this will be paid out nicely.
To play at online casinos in the Netherlands you need to choose a casino that has a Dutch license. If all goes according to plan, these will be in place from September 2021.