Slot machines are a very big revenue generator in both land-based casinos and online casinos. These fun games typically take up 70% of the floor space of a standard Las Vegas casino. They are responsible for generating a huge amount of casino revenue.
Slot machines are divided into 3 basic categories: classic slots, video slots and slots with a progressive jackpot. The latter category is powered by a network of players on connected slots, either online or at a casino. A percentage of all revenue goes to the progressive jackpot prize pool, making these games a great draw for players.
How do slots games with a progressive jackpot work?
The name says it all: progressive jackpot. That is, with each press of one of the connected slots, the jackpot rises a little bit. There are different networks of slot machines possible. Sometimes it is a cluster of 10 slot machines, but it can also be that slot machines in different casinos are connected to each other by a jackpot. Holland Casino, for example, has a number of Mega Millions slot machines in every establishment and they are all linked by a common progressive jackpot.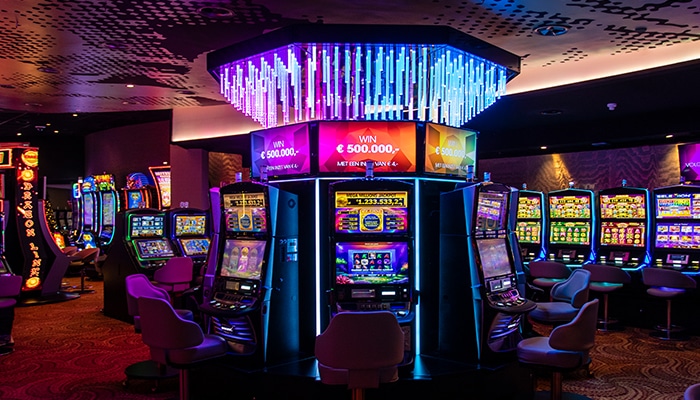 Mega Millions at Holland Casino is super popular
Technological advances in slot machines have been nothing short of phenomenal in recent years. Gambling companies are investing millions in improving and developing games. Top providers like NetEnt, Random Logic, Evolution Gaming and Merkur Gaming are raising the bar with fascinating games.
These casinos have slots with a progressive jackpot New!
Casino777
Welcome bonus 100% up to €250 Jacks Casino Online
100% Welcome Bonus up to £100
Grab the bonus
bet365
Deposit min. €10 and receive 100 free spins
BetCity
Welcome bonus up to €100 free spins
Our best bonus! Circus
Get a bonus up to €250
How big are these progressive jackpots
It is important to note that jackpot slots are not the same as progressive slots. A jackpot is simply that a stash of money waiting for players to make the right combinations on the spinning reels. A progressive jackpot is built up incrementally through each spin.
The size of the progressive jackpot is not to be sneezed at. Jackpots of seven figures are very common. The largest progressive jackpot that has been hit online is on the Mega Moolah slot machine. Over $20 million with a simple push. In Las Vegas, the Megabucks is the most famous slot machine with progressive jackpot. This one already paid out over $27 million to one lucky player once.
Where can you find slot machines with a progressive jackpot?
Virtually every reputable online casino with a Dutch license has them in its assortment. For players who prefer not to play online there are of course the Mega Millions at Holland Casino.
What's great about these slot machines is that the outcome of each spin is 100% independent of all previous results. You just have to hope for that little angel on your shoulder to strike at one of the button presses. It's almost always life-changing amounts you win.
What are the odds of winning the progressive jackpot?
Fair is fair, the chance of winning such a jackpot is extremely small. But it is still occasionally won by an unsuspecting player. Progressive slots are connected to major player networks and are programmed with lower RTPs than traditional slots. One thing is for sure, if you don't play then you can never win the jackpot either. When playing a slot machine with progressive jackpot, always maximize your bets and play on maximum paylines. That way, you're guaranteed big wins if the right combinations of symbols land on the spinning reels. Unlike the lottery which you can only play a few times a week, your chances are much higher with progressive slots because you can win on every spin.