tombola, the legal online provider of online bingo has a nice welcome bonus for new players. To welcome new players they offer players a doubling of their first deposit, up to a maximum of €50 bonus. So deposit €25 and you get an extra €50 from raffle.
An online casino likes to offer new players a bonus to lure them in. A welcome bonus with free money is very common.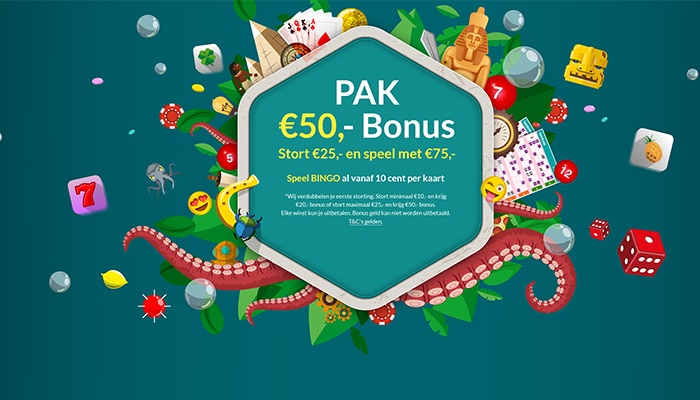 Welcome bonus raffle for new players
Welcome bonus raffle
Get a €50 bonus on your first deposit of €25 and play with €75
TOLLOBOLA doubles your first deposit. Deposit at least €10 and get €20 bonus or deposit up to €25 and get €50 bonus. Any winnings can be cashed out. Bonus money cannot be cashed out.
Terms and conditions:
Players receive a 200% bonus on top of their first deposit up to a maximum of €25. The minimum initial deposit is €10. For example, a player who deposits €10 will receive €20 bonus money from tombola. A player who deposits the maximum amount of €25 will receive €50 bonus money from tombola.
Players can deposit more than €25, but bonus money is applied only to the first €25.
Real money is wagered first until it is all used, then bonus money is applied.
This offer is only available to new players who make a deposit.
This offer is only awarded on a player's first deposit.
Players MUST accept the bonus while making an initial deposit.
Bonus funds can never be withdrawn.
Any unused bonus will be cancelled upon account closure.
This promotion is limited to one per raffle account.
The organizer reserves the right to refuse an offer to a player for any reason or to withdraw an offer at any time. No correspondence will be entered into.
Standard bonus money terms and conditions apply.
Click here to go directly tombola
The welcome bonus is not an obligation
Free money through a casino bonus naturally sounds like music to your ears. But you are in no way obligated to make use of the welcome bonus. It's a gesture from the casino but there are some conditions attached to it. If you don't like the conditions and just want to play bingo, that's your right. Just don't take the bonus, play with your own money and you'll know where you stand. If you do take advantage of the bonus, make sure you read the conditions of the bonus carefully. This way you know what the rules are for example regarding the release of the bonus which allows you to cash out any winnings.
Some people like to get free bonus money to play with. The other doesn't like that and goes off to play without conditions. The choice is entirely up to you. So never feel obligated to take the bonus. We advise you to think carefully if a bonus has playthrough requirements that exceed 35x. This is very difficult to achieve. It might be better to ignore this kind of bonus. The bonus from tombola is very good in that respect. The bonus itself cannot be paid out, but you can pay out any winnings you make with it.