It's hard to look into the future, but we'll give it a try. We expect LeoVegas to do everything possible to get a Dutch license in 2022, so they can offer their online casino games legally in the Netherlands.
That they have not yet received a license is due to the fact that LeoVegas has not been following the rules for the past 2 years. But they have been on the right track lately and we expect they will indeed receive a Dutch license in the near future. That's good news for the Dutch players.
Welcome bonus LeoVegas
Looking at other countries where leoVegas is active, we can estimate what the welcome bonus will be for new Dutch players. Obviously, this only becomes relevant the moment LeoVeags actually gets a Dutch license. Currently, Dutch players cannot play at LeoVegas.
Welcome Bonus of 100% on your first deposit with a maximum of €200
In many countries LeoVegas gives away a No Deposit Bonus to new players. This means that you do not have to deposit money immediately and already receive a bonus when you register. However, this is prohibited in the Netherlands. The Kansspelautoriteit sees this as incitement to gamble.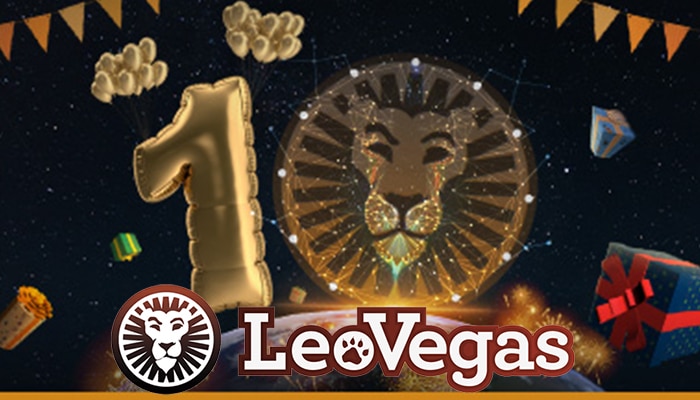 LeoVegas celebrates their 10 year anniversary this year
If you decide to deposit after all you will also receive a bonus on your first deposit of 100% up to a maximum of €200. So two nice bonuses at LeoVegas. LeoVegas also has conditions for both bonuses.
Conditions
Valid only for new players of 24 years or older
Redemption requirements 35x
All bonuses are subject to LeoVegas terms and conditions
Anniversary year for LeoVegas
It would be great for LeoVegas if they would indeed get a Dutch license this year. This year the online casino celebrates its 10th anniversary. Chances are they'll do it extra big with nice bonuses for the players. For now it is still uncertain but we are looking forward to it.
You don't have to take the bonus
A welcome bonus is often a nice casino bonus. In a way it is a gift from the online casino. However, there are always conditions attached to such a bonus. How nice such a bonus really is for you as a player should be clear from the conditions attached to the bonus. Let it be clear that you are never obligated to make use of the welcome bonus. It is a gesture from the casino. Therefore you should always read the terms and conditions attached to a specific bonus. If the terms prove to be unreasonable then it is advisable to simply ignore the bonus. In that case you play nicely with your own money and you know immediately where you stand. If you do use the bonus, make sure you meet the conditions of the bonus.
We are of the opinion that a bonus which has a playthrough requirement above 35x is not interesting. This is because it is very difficult to achieve. Perhaps it is better to ignore this type of bonus. A No Deposit Bonus also has terms. Often it is very difficult to earn anything from it in the end. But on the other hand, it is completely free. As soon as it is clear exactly what LeoVegas is going to offer when they are licensed we will give our final verdict on this.