Millions of people gamble or play lottery or other casino games every day. If you can afford it, a risky bet or a few gambles on a slot machine can't hurt.
However, some people sometimes feel a little guilty for just gambling away a lot of money. If you recognize this, then this article was written especially for you.
Before reading, however, ask yourself why you feel guilty. Is it because you gambled away money that you could have used for other fun things or is it money that is needed for the rent, your insurance or daily groceries.
In the first case, there is not much to worry about. In the second case, however, you may rightfully feel guilty. Never gamble with money meant for essentials like rent, mortgage or daily groceries. Those who do should seek help immediately.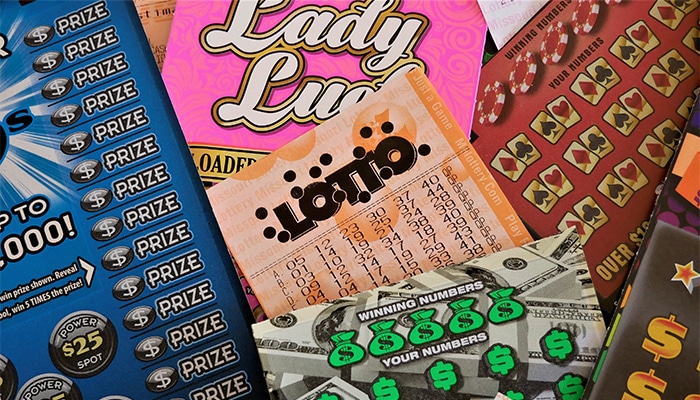 If you have any money left over besides all the monthly expenses, then you can buy lottery tickets to go for chance to win
The entertainment budget strategy
Do you know how much money you spend on average each week on entertainment? Entertainment can include watching television, going to the movies, eating out, shopping and much more.
Most people spend money on entertainment every week. And there is nothing wrong with that if you can afford it at least. Strangely enough, many people don't see gambling as a form of entertainment.
The truth is that gambling is a form of entertainment. You use money to do something you enjoy. It distracts your mind from the daily hustle and bustle and problems.
Those who set aside a special budget to gamble with even have a chance of winning more money. Although, of course, the reality is that you usually lose your money. But the fact remains that after a dinner party you will always come home with less money than you had when you left.
Set an entertainment budget for each week or month and use part of it to gamble with. You're going to spend the money on entertainment anyway, so you might as well use some of it for gambling entertainment.
You don't have to feel guilty if you gamble for entertainment. At least, as long as you were planning to spend the money on some form of entertainment anyway.
The Lottery Strategy
When it comes to gambling, the lottery is not the best option. The payback rate for the lottery is much lower than for almost any game in a casino. But the lottery offers two advantages that most casino games do not.
The first advantage is that you can enter the lottery for as little as €1. You can also buy tickets for some major lotteries for as little as €2 or €5. This brings us to the second advantage the lottery has over casino games.
The big lottery draws of the national jackpot sometimes run into the hundreds of millions. Although some casino jackpots exceed the million, they don't come close to the amounts you can win in the lottery.
Many people never think twice about spending €4/€5 a day on coffee or €10/€20 on lunch every day. If you feel guilty about gambling, spend a little less on other things.
Set aside the money saved and buy a lottery ticket for it. Instead of spending money on coffee every day, make coffee at home for less than €1. You can then use that money to buy a lottery ticket.
You can buy a €2 ticket every day and spend only €14 per week. But that gives you seven chances to win a big jackpot. This lottery strategy gives you the chance to gamble every day without feeling guilty.
Also take a look at one of these casinos New!
Casino777
Welcome bonus 100% up to €250 Jacks Casino Online
100% Welcome Bonus up to £100
bet365
Deposit min €10 and receive 100 free spins
BetCity
Welcome bonus up to €100 free spins
Our best bonus! Circus
Get a bonus up to €250
Winning with a good strategy
This is the best way to gamble without feeling guilty. If you learn to play with a strategy, you will win more than you lose in the long run.
It is not easy to learn how to be a gambler, but it is certainly not impossible. You just need to follow the same steps that other winning gamblers have followed.
The first step is to choose the right game or area to specialize in. You have a number of options, but not every gambling activity offers long-term profit opportunities. For example, you can't play most table games or most slots.
Your main options for gambling with a strategy are blackjack, poker, sports betting and possibly video poker. Some gamblers make money playing blackjack or poker and betting on sports.
Video poker has a small chance of playing with an advantage. But the game does have a very low house edge. Blackjack is the easiest to start with because it is mechanical. You have to use strategy, but the steps are simple.
Poker has some advantages over blackjack, but learning the best poker strategy is not that easy. You can make money gambling on sports, but it is probably the most difficult gambling area to master.
The important point is that you don't have to feel guilty about gambling once you learn how to use a strategy.
Low stakes online
Gambling in casinos can be expensive. Usually, you need to bring at least a few hundred euros to play. This, because the minimum bets on table games in most casinos start at €5/€10.
You can play slots for less per spin, but even then €100 can disappear in a very short time. Online casinos can offer much lower gambling limits than land-based casinos because they don't incur as many costs.
You can find online casinos with minimum table stakes as low as €1. If you like to play poker, you can play online at micro-limit tables with stakes as low as a few cents. At some online betting shops you can bet on sporting events for as little as €1.
Depending on what you play online and how good you are, you can have a lot of fun for €20 a week. If you're a good poker player, you can bet €5 or €10, but always watch your budget.
Playing online is a great way to gamble with a low bankroll. Just make sure you don't use more money than you are willing to lose.
Free access
It's not always easy to find them, but there are opportunities to gamble for free. By this we don't mean the free poker tables or free slots you can play online.
While these are good ways to play for free, you can't win real money from them and that obviously doesn't shoot. The most common form of free gambling where you can win real money are free-roll poker tournaments.
Some online poker rooms offer tournaments that are free to enter and where they have a cash prize available for the best players.
The prizes are usually small, but a little is better than nothing. The other problem with these types of tournaments is that they usually attract a large group of players. So you will often have to play for several hours and then win only a small amount.
However, poker tournaments are not the only gambling events with free entry. Sometimes casinos run promotions and offer discount coupons or free bets. This is to attract players and this is especially true for online casinos.
A common online free play promotion is free spins on a slot machine. You can also occasionally find a no deposit bonus offered by an online casino.
However, you should always read the terms and conditions of these casino bonuses so that you know what you are getting into.
Conclusion
If you use money for any kind of entertainment, you can skim some of it and reserve it for gambling. The advantage of this is that you have a chance of ending up with more money than you started with.
The best strategy for gambling without guilt is to learn how to use a strategy. This will allow you to win more than lose in the long run. This in turn means that there is nothing to feel guilty about.
You can also use one of the cheap gambling strategies in this article to gamble without feeling guilty. The lottery strategy, free entry strategy and cheap online play are all ways you can gamble with just a few dollars a day.