One of the big names in the online casino world has attracted negative publicity several times in recent times. The reason for this is the spreading of fake news and famous Dutch people are used for this. This fake news has taken on such proportions that even TROS Opgelicht has brought it to the attention of the public.
Casino in the light
As most people know, fake news is one of the words of the year and social media is used repeatedly to spread fake news effectively. They did this in an underhanded way by having newsreader Dionne Stax supposedly tell how she could become a millionaire in a month in an advertisement.
Fake News
Fake news, that's the general verdict on the message supposedly put out by Dionne Stax. It said that there were impossible jackpots to be won, with which you could become a millionaire quickly and easily. These messages via social media seem almost true to life, but are based purely on fake news.
Fake news by online casinos and other institutions seems to have been on the rise since the fall of 2015; thus, identifiable examples of this have been found. Through an active social media channel, they try to entice new gamblers to come to the online casino to wager money with such fake news messages.
What does the ad look like?
In the news item that has been changed, we see Dionne Stax with an NOS logo in the picture telling that someone has won the jackpot, of course with a mention of the logo of the casino in the background and a happy winner. Above that we can read the text "If you are Dutch, you are about to become very rich". Also, the message mentions Bitcoins and gives the representation that this online casino is a kind of money printing machine, where gamblers "make exceptionally high profits. Sharp-eyed viewers can certainly see that this is fake news, but the design of the ad is not wrong and therefore very misleading.
Everything has been thought of
The winner of the mega jackpot was also thought of. Jeroen de Jong is said to have won millions and even appears in an image. However, the person in the advertisement was soon recognized and it turned out to be an English actor, known, among other things, from the film Homeless.
At the side of the ad you, as a potential customer, are triggered to join this online casino, where, according to the makers, pots of gold are waiting. This is certainly not the case.
Scam by online casinos
The influence of online casinos on social media and other parts of the Internet is increasing. By now tens to hundreds of online casinos can be found and about the reliability of all these casinos there are in some cases quite a few doubts. The online casino presents itself in several ways as an online casino with huge winning chances and opportunities. Similarly, the welcome bonus, a common way to attract customers at all online casinos, is almost impossibly high. It's in the fine print of the terms and conditions that people only find out about the tricky wagering requirements and the period in which you have to wager the bonus.
Although the welcome bonus is generally an effective and reliable means of attracting new people, online casinos also often abuse it to their own advantage.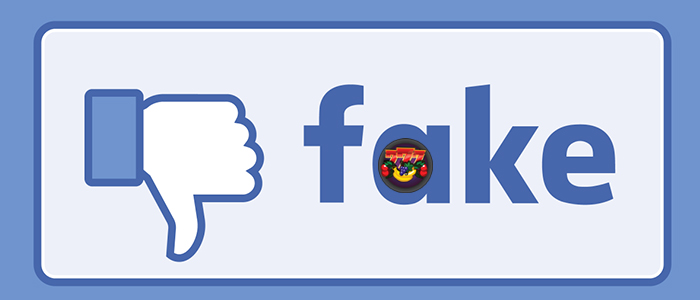 Even more fake news
More and more fake news about online casinos is appearing on the Internet. Every time the impression is given that as a beginner gambler you can become a millionaire within a short time. Photos of ignorant social media users or well-known foreigners are misused to advertise the "great possibilities" of an online casino. Also, the impression is created that the winning strategy exists. Again, this is not the case; casino games remain games of chance, although some strategies can cause a higher chance of winning.
Recognize fake news from online casinos
The casino in question has come up more often in recent times when it comes to fake news via social media. What can you recognize this fake news from? In the case of an online casino, this is not so difficult. There is often an impression of unlimited opportunities to become a millionaire quickly, while you are sitting in your lazy chair in front of a computer.
This is certainly not true! Also shown are clear pictures of winners of these huge jackpots. This is another clear indication that it is fake news. Winners of high winnings always want to remain anonymous and this is also mentioned in the terms and conditions of online casinos. Finally, the amounts mentioned in this fake news are so unprecedentedly high that it's almost unbelievable.
These are examples of what you can recognize in fake news:
Photo and name of the winner of a jackpot
Millionaire within a month (almost impossible)
Famous Dutchman/foreign actor used
Misuse of public logos
Advertisement for the winning tactic (it doesn't exist!)
This is an online casino without a coincidence factor. That's not possible either
So don't be fooled by fake news. Always look critically at such (fake) news posted on social media, even if it is done by a seemingly independent person. And look critically at content terms and texts. This way you can be sure that you are not the one who got caught in fake news from online casinos.
If you really want to gamble safely on the Internet, then it's better to wait until 2021 because from then on online casinos with a Dutch license will be on the market.