tombola bonus
The welcome bonus of tombola is the most interesting one they have. The bonus will be automatically credited to your account when you make your first deposit as a new player. The content of the bonus is listed below:
Bonus: 200% bonus up to €50 – deposit €25 and play with €75
Minimum deposit: €10
Wagering: the bonus does not have to be wagered
In addition to the regular casino bonus, there are also various promotions available at tombola. For example, you can participate in free bingo every week. All you have to do for this is create an account and verify your phone number. At this bingo you can win up to €5,000, so it's worth a try!
Furthermore there are promotions and bonuses available on special days during the month, but these vary from month to month. So keep an eye on when and how you can make use of these promotions.
How to create an account with tombola? 1. Go to tombola.co.uk and click on 'Register'.
Open the site tombola.co.uk and click on 'Register' in the top right corner.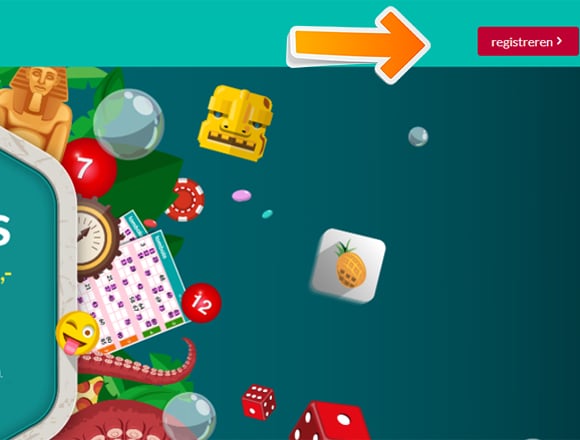 2. Enter your email address
First, you need to fill in your email address. The idea is to fill in your own details as you will also need to verify your email address afterwards.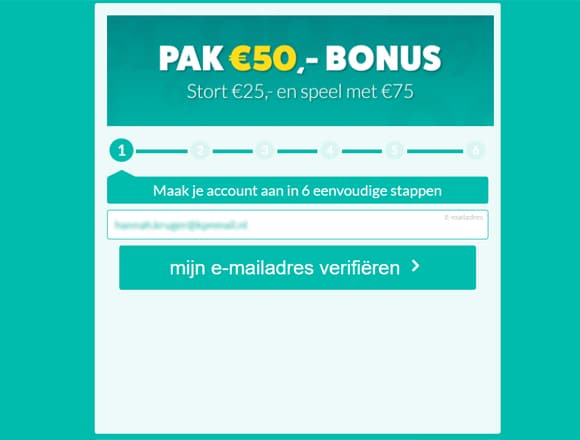 3. Enter further details
After you have verified your e-mail address you will have to enter further data. It is important to fill in your real details, as you will have to add your ID later. So take your time to fill in everything correctly.
When you have filled out everything, click on 'Continue' to continue.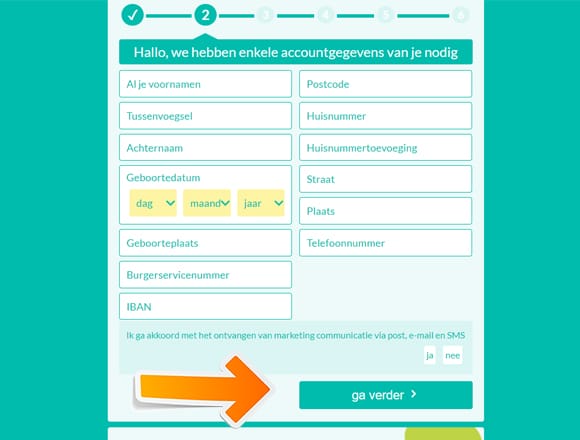 4. Checking your age
After you clicked on 'Continue', your bank will check if you are older than 18. This is done via IDIN. The QR code you see on your screen can be opened on your bank, and that way it is checked whether you are the right age.
So don't cheat with this, because tombola checks this strictly.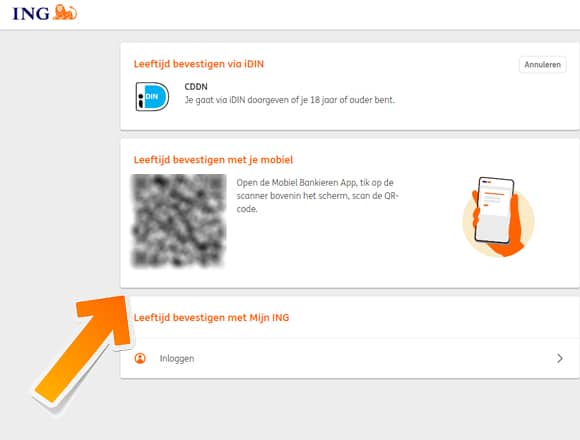 5. Upload an identity document
Choose which document you want to upload. You can choose between an ID, passport or driving license. Take a picture of the front and back of your document. Make sure these photos are sharp and not overexposed.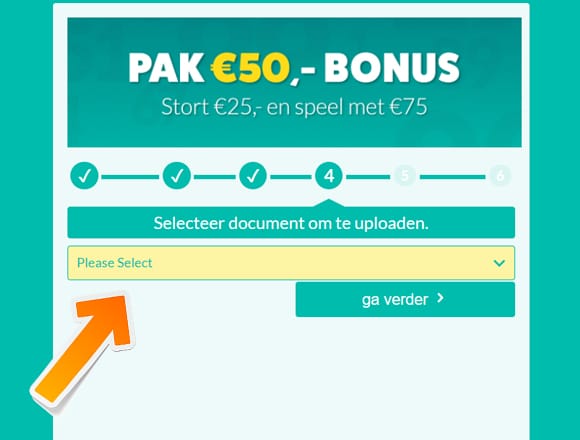 6. Checking your ID.
After you have sent the two photos, your ID will be checked. This may take several minutes, so do not close the page. If it is accepted, click 'Continue'.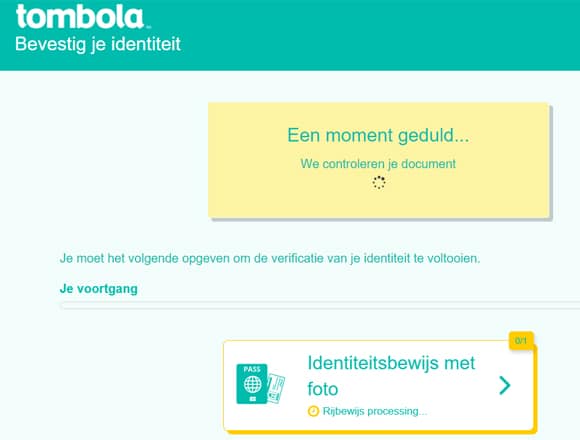 7. Accept the terms and conditions
After clicking 'Continue', you will be redirected to the tombola site. Here you must accept the terms and conditions to continue.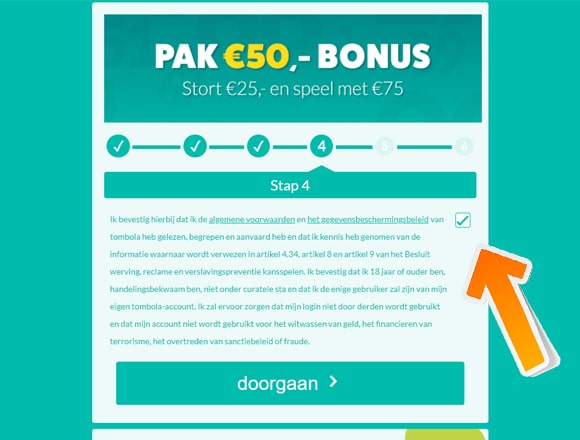 8. Set your personal limits
To gamble safely and responsibly it is important to set your own limits. First choose your wallet limit, the maximum amount you want to have in your wallet. Then you choose your deposit limit and choose whether this limit will be per day, week or month. Finally, you choose the maximum time you want to spend on the raffle site.
If you deviate from these limits the casino will see that something is wrong and they might intervene.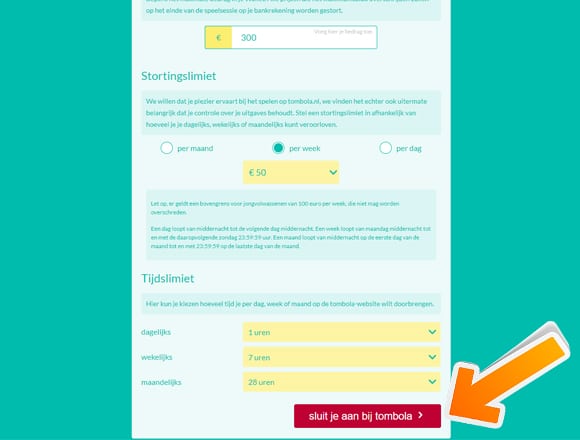 9. Create your own username and password
Choose a personal username and create a password. Once you have done this your registration is complete and you have created an account on tombola! Have fun playing!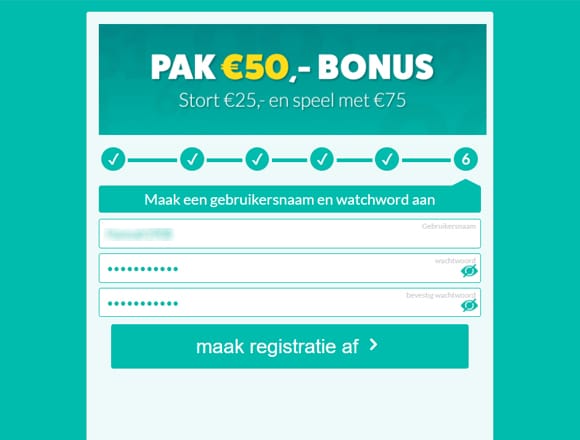 Hide explanation
More instructions about tombola
How to deposit on tombola?

How to play bingo on tombola? tombola games
At tombola they started out as suppliers of bingo cards. They then set up the largest bingo in the UK in a partnership with the newspaper "The Sun". Later they were the first to make the step to online. True bingo pioneers in other words!
If you like bingo games, tombola is the place to be. From 10 cents it is already possible to buy a bingo ticket. This makes tombola accessible for many different players.
In each bingo room there are 10 games played in one hour. So each bingo round lasts 6 minutes. At the moment there is only the game Bingo90, a classic bingo variant. There are 15 numbers on each bingo card between 1 and 90, which is where the name of the game comes from.
In the UK, but also in the Netherlands now, they have never been tempted to become an online casino with high stakes games or to offer for example the popular sports betting. The only thing they offer besides online bingo are slot machines. These slots currently consist of: Phoenix, Las Vegas, Gold Rush, Bubble and Poker, and by the way, are all developed by the company itself.


Game offer tombola
New: Bingo75!
Since 17 January 2022, bingo75 has been added to the tombola range!
Bingo75 is played with, you guessed it, 75 balls. A playing card consists of a 5×5 grid. A winning combination can be made by crossing off a full horizontal row of numbers.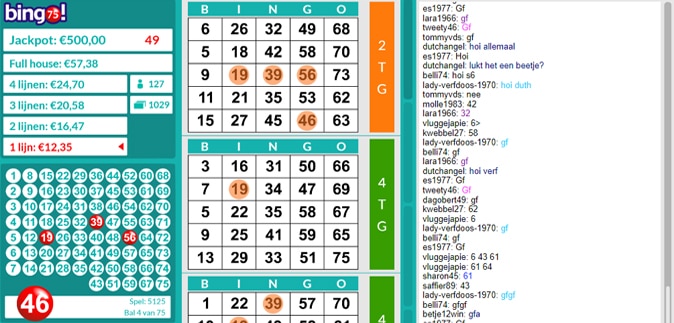 A bingo card costs €0.20 each. You can also buy strips, which are 3 bingo cards. This costs €0,50. A maximum of 4 strips can be purchased, which makes 12 bingo cards. The game will start after the previous game is finished and the winners are known.
The numbers drawn are displayed on the left. A number can only be drawn once. There is also a jackpot attached to Bingo75. This jackpot is worth €500 and can be won by getting a full bingo card within 53 numbers drawn. The jackpot is in addition to the prize for a Full House.
If there are multiple winners the prize is divided among the number of players. You will find the prize directly in your wallet.
Play Bingo75!
There are five prizes to be distributed in each game. These are the following prizes:
1 Line
2 Lines
3 Lines
4 Lines
Full House: one full card
The size of the prizes depends on the number of players who participate and have bought bingo cards. The RTP at Bingo75 is at least 85%, but is often higher.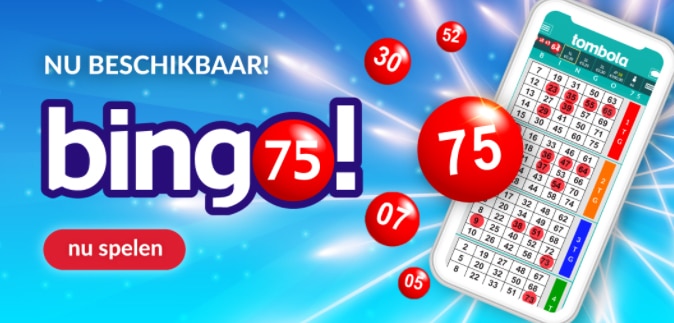 Bingo75 at tombola
Bingo chatroom
Something that tombola is very well known for is the sociability that prevails on the site. This is mainly due to the chat room where a lot of people talk. Especially in the Bingo90 chat room there is a lot of talking.
There is a moderator who can answer questions and make sure the atmosphere in the chat room is pleasant. You can recognize this person by the red color and the CM (chat moderator) in front of his or her name. There is a nice atmosphere, everyone wishes each other a win and the winners are always congratulated. The abbreviation "gf" stands for congratulated and is very commonly used.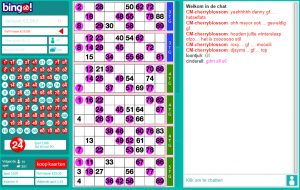 Facts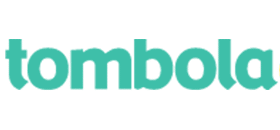 | | |
| --- | --- |
| Founded | 1999 |
| Founder | Phil Cronin |
| Offering | Bingo |
| Copied by | Flutter |
| Acquisition Price | €477 million |
| UK Turnover | €195 million per annum |
| Originally | British online casino |
Grab the bonus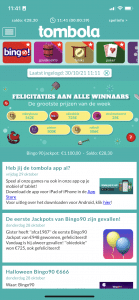 The "tombola App"
Once you are registered with tombola the easiest way to play is through their app, this can be downloaded from the Google Play store or Apple App store. All types of bingo and the slots can be played easily through the application. Social chatting with other players is also easy through the app. The convenient thing about the app is that you can play games not only when you're at home. In fact, you can play through the app wherever you are.
However, the biggest advantage of the app is that it is very user friendly. The games are automatically resized. It is also very easy to find the games and they load quickly. This makes using the app definitely worthwhile!
Responsible gaming
Responsible gaming is at the forefront of tombola's mind. They have several ways that ensure players' gambling doesn't get out of hand.
At the end of the registration process, you will be asked to fill out a few things regarding responsible gaming. You will be asked to set a deposit limit, this amount you may choose up to an upper limit of €100. In addition, you can also set a time limit, with this you decide how much time you want to spend on the raffle site. It is possible to change this limit. Reducing the time limit is immediate, increasing it requires 7 days for the change to take effect.
After you have created your account there are several other ways to keep your gambling responsible. For example, you can set a Cool Off period from 24 hours to a maximum of 5 months. This immediately restricts your account to read-only play. This means you can no longer play games there. If you want to lock yourself out for a longer period you need to check the self-exclusion section. Here you can exclude yourself for 3 months, 6 months or indefinitely. If you are considering self-exclusion it is also wise to sign up for CRUKS. For more information and to sign up for CRUKS, go to https://cruksregister.nl.
Finally, you can also choose to have one specific or all games blocked. Here you can choose to block a game for an indefinite period of time, a specific time slot or a specific number of hours.
Safeplay
Below is a pop-up from raffle Safeplay that shows what your limits are and how long you have been on the site. This pop-up often appears while you are on tombola's site. This is another way for tombola to ensure that you, the player, continue to play responsibly.