Getting started with Three Card Poker is easier than you think. It is a version of poker played against a bank.
You could compare it as a combination between poker and blackjack. Traditional poker games are not played by a bank, but players play against each other. Three Card Poker is popular at Holland Casino but you can also play it at an online casino.
Three Card Poker
In 1994 Derek Webb invented the game Three Card Poker and patented it in 1997. The game has the advantage of coming with easy rules, high payouts available and comes with a reasonable house edge. This makes it a suitable poker game for both beginners and experienced gamblers.
Of course, you can't really patent a game, only its specific implementation. Hence, Three Card Poker is capitalized when you play it in a casino. It is trademarked.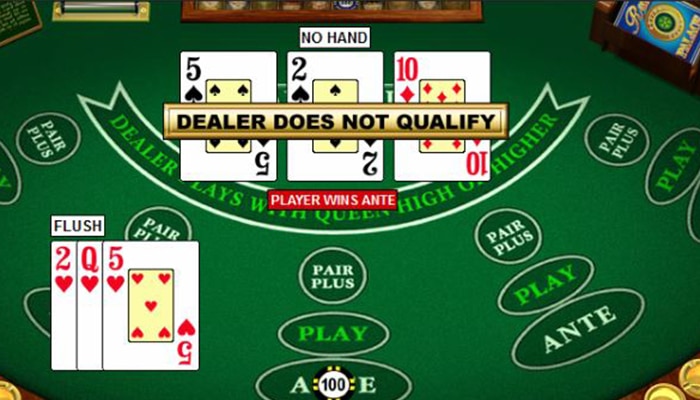 Three card poker in online casinos
It is also the reason why some variants can be found under other names in online casinos. Shuffle Master bought the rights to this game in 1999. 3 Card Poker is a fun game that can be easily learned within a few minutes. This article contains all the information you need to start playing Three Card Poker.
How to play Three Card Poker
Three Card Poker begins the moment you have placed an Ante or Pair Plus bet. Both you and the dealer are dealt three cards. You can look at your own cards, but the dealer's are face down.
If you have placed an Ante bet, you are given the option to discard your cards (Fold) or raise your bet (Raise). If you "Fold", you lose your entire bet. If you choose "Raise", you make a "Play", this means that you place an additional bet, which is equal to your original bet.
Now it is up to the dealer to reveal his/her cards. The dealer only qualifies the moment he has a Woman or higher. If the dealer does not qualify, then you receive 1:1 payout on your Ante, but the "Play" bet remains (no win or loss). Think of it as a tie.
If the dealer does qualify, then both hands are compared. The better hand wins both the Ante and the raise. The bets are paid out as "Even Money." This means that you double your bet. If you have the same value as the dealer, then this results in a tie and is considered a "Push".
The Pair Plus bet on the other hand, pays money based on how good your hands are. It has nothing to do with comparing your own hand to the dealer's. See below the possible hand values you can form in Three Card Poker, ranked from best to worst.
Straight flush
Three of a Kind
Straight
Flush
Pair
Ace High (or lower)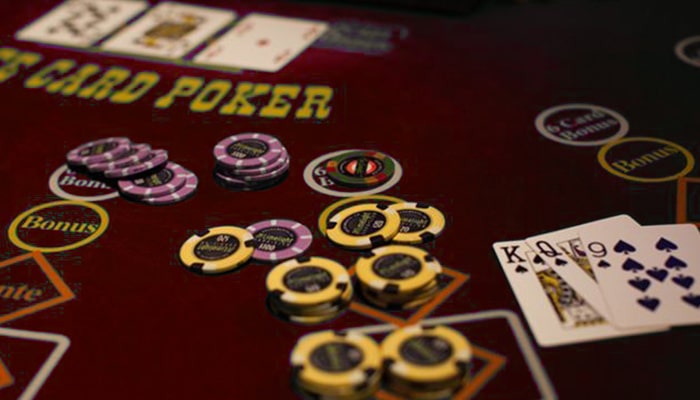 Flush in Three Card Poker is good
The Ante Bonus and Pair Plus bet payouts are both based on a payout table. Per casino, these payouts may vary. The usual payouts of an Ante are 3x the bet for a Straight Flush, 2x the bet for a Three of a Kind and 1x the bet for a Straight.
Should you play along with the Pair Plus bet, you can have a chance at higher payouts with specific combinations. For example, receive 40x the bet for a Straight Flush. A Three of a Kind pays out 30x the bet. For a Straight, Flush and Pair you will receive payouts of 6x, 3x and 1x the bet.
The house edge for the Pair Plus is just over 7%, so we don't recommend betting money on this. Some casinos however, sometimes have a jackpot for a "Mini Royal Flush" formed with an A-K-Q of the same suit. In cases like this, the house edge for this bet can drop to 2% to 4%.
Try one of these online casinos New!
Casino777
Welcome bonus 100% up to €250 Jacks Casino Online
100% Welcome Bonus up to £100
bet365
Deposit min €10 and receive 100 free spins
BetCity
Welcome bonus up to €100 free spins
Our best bonus! Circus
Get a bonus up to €250
The house edge at Three Card Poker
In all casino games, the casino has an advantage over the players, so too in Three Card Poker. The casino expects to earn an average amount from each bet you place. It is expressed in percentages, so if you were to bet 100 euros per hand with a 3% house edge, this would mean that you would lose about 3 euros each time you place this bet.
The house edge in Three Card Poker varies from table to table and the Ante Plus Bonus. On average, the house edge is between 3% and 4%, but then you have to use a good strategy for this game. Compared to blackjack, this house edge is very high. In blackjack, you can bring the house edge down to as low as 0.5% by using a basic strategy.
As mentioned, the aforementioned house edge is based on the fact that you play with an optimal strategy. The only strategy is that you make the right decisions whether to raise or not. And whether you play along with a Pair Plus bet. We've already indicated to you that you're better off avoiding the Pair Plus bet, but there's more. You need to get a certain minimum hand value each hand to choose to raise. Read more about that below.
Three Card Poker strategy and advice
You should raise the bet if you have a better hand than a value of Q-6-4. With hands that are worth less do nothing. You fold and lose the bet. This does not mean that the third card in your hand must be a 4 or higher. It means that the poker hand must be at least good enough to beat a Q-6-4. A hand like Q-Q-4, for example, can beat a hand like Q-6-4. A hand of Q-3-3 just as well.
In fact, even a Q-J-3 is better than a Q-6-4. When you are playing a hand where the highest cards in your hand make the difference between winning and losing, you should get to your next highest card and only then get to the next highest card. In Three Card Poker, this is a total of three cards.
Should you blindly raise on any hand you are dealt in Three Card Poker, the house edge increases to as much as 8%. It is advisable to always discard the cards in a situation where you have less than Q-6-4. In fact, the more you deviate from optimal strategy, the higher the house edge becomes. Make sure you follow the guidelines to have between 3% and 4% house edge in this poker game.
More Poker Articles
Poker in Holland Casino

Poker

Poker Terms

Live Three Card Poker Conclusion
Three Card Poker is a simple game with an excellent house edge. It does require a bit more skill as a game like roulette, but that's not saying much either. You do get a better house edge for if you have these skills, namely between 3% and 4%, which is much better than the 5.26% you encounter at the American roulette tables in a land-based casino.
The basics are simple. You receive three cards and so does the dealer, and you only compete against a dealer if he has a queen or higher. You have the options to discard your cards or raise the bet – based on how good your hand is at the time. And there's a nice sidebet called "Pair Plus," which, by the way, is best avoided.
What you can do then is raise the bet with a hand that can beat a hand like Q-6-4. And otherwise throw away the cards and lose the bet. You'll often come across a wide variety of side bets at a casino. Many of the times these are related to a progressive jackpot or a bonus payout for a "Mini Royal Flush". Also try Live Three Card Poker.