Slot machines provide the bulk of a casino's income. This is part of the reason why the casino is full of them. When you visit the casino, they are often the first games you encounter. The chances that when you visit, you won't take a gamble on a slot machine are very small.
That's fine, as long as you know what you're getting into! This article will tell you everything you need to know before you take a gamble on a slot machine or video slot.
You can play slots for free
If you're a bit short on cash and still want to take a gamble, you can do so for free. This is because on hundreds of slot machines that you can find at an online casino a separate feature is available. With this feature you can play any video slot and any slot machine without having to deposit money. It is not even necessary to create an account at the casino.
As soon as you start this so-called practice mode of a game, a fictitious amount of money is added to the game. So you play purely for fun. You can't win anything, but you don't risk losing any money either.
If you just like playing slot machines, then this practice mode can earn you a lot of money on a yearly basis. Suppose you normally gambled away €50 a week on an online slot machine. You swap playing for real money for playing with fictitious money. On a yearly basis you can save yourself €2600,-. And that can be seen as pure profit.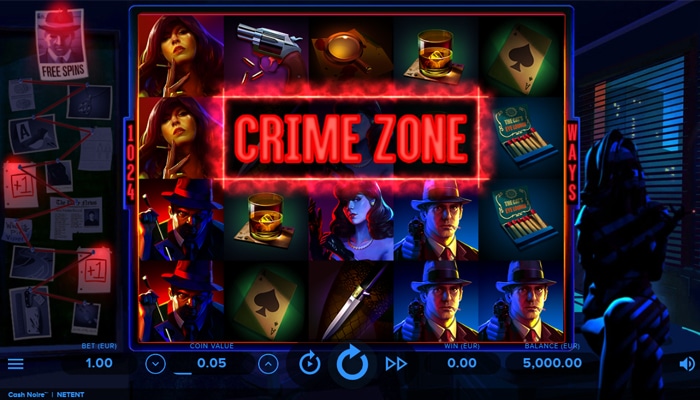 Video slots are graphically beautiful
Most slot machines nowadays are video slots
Playing a game without knowing the rule is never wise. A slot machine has spinning reels with a number of symbols on them. If you get a number of the same symbols on a win line, you earn a prize. In the old days, gears were used to make the reels stop randomly. Nowadays, this is done differently.
Modern slots use software to ensure that symbols fall randomly on the reels. In fact, on many slots, there are no physical reels at all anymore. The reels you see are displayed by a computer program. You can compare this to a video game.
Random Number Generator (RNG)
Even when a slot machine does have physical reels, they are controlled by the same computer program. The software used to display random symbols is called the Random Number Generator.
It is important that you understand how this RNG works. This is because this piece of software ensures that it is impossible to beat the house edge. There is no way to predict which symbol will appear on a reel.
Some symbols appear on average every 10 spins. Others may come up only once every 30 or even every 100 spins. And that in turn affects the payout percentage of the slot.
At these casinos you can find thousands of slot machines and video slots New Casino!
Casino777
Welcome bonus 100% up to €250 Jacks Casino Online
100% Welcome Bonus up to £100
bet365
Deposit min €10 and receive 100 free spins
BetCity
Welcome bonus up to €100 free spins
Our best bonus! Circus
Get a bonus up to €250
The payout percentage and the paytable
On the paytable you can read what the payout is for each combination of symbols. For example, if you get sevens across all three reels, you can win 100 to 1. If you get three jackpot symbols, you win a million euros.
The payout percentage for the game is an indication of the probability of winning a prize. Over time, you should receive payouts that are in line with the payout percentage.
Suppose you play 1000 games on a slot machine. Your bet is €1 and you win only once. The winnings table shows that your winning combination is worth 1000 times your bet. So you win €1000,- which is 100%.
However, a slot machine that only gives a prize once every 1000 times is very boring. And so you will win more prizes, only they will be lower. There's still that jackpot that will win you 1000 times your stake, but you'll also have smaller prizes.
The payout percentage is the house edge of the casino. The English term for this is Return To Player (RTP). In the long run, a slot machine never pays out more than it put in. Otherwise, the casino would not earn anything. The game's software ensures that the house edge is always guaranteed. If you're lucky enough to hit that winning combination, you should stop immediately. Continuing will always mean that you'll be playing your winnings again after some time.
Legal online casinos
In order to offer games of chance, whether in a casino, gambling hall or online, the operator must be licensed. Gambling halls and casinos in the Netherlands are subject to strict controls. This is different with online casinos.
Online casinos must have a license from a recognized authority. In the Netherlands this is the Kansspelautoriteit. The casino may also have a license from another country. When you play at an online casino, you should always check the license. If you want to play at an online casino in the Netherlands, then the casino must have a Dutch license.
Some countries, such as the United Kingdom are known to be strict licensors. Other countries, like Curacao for example, are known for a very lax licensing policy. As a player you have no guarantee that you will always get your winnings paid out. In case of conflicts with the casino you're on your own.
How likely is it that you will become addicted?
The chance of becoming addicted to slot machines is greater than you think. Not because you are taking something, like alcohol that makes you think differently, but because of a different kind of process. When you start gambling, the substance dopamine is produced in your brain. This substance can have the same effect as alcohol and drugs. When you have not gambled for a long time, your brain craves the dopamine again.
Extra dopamine enhances the effect of your addiction. An extra dose is produced, for example, when you win a prize. Even when you almost win a prize, some extra dopamine is produced. Slot machines have such a thing as "losses disguised as winnings". This makes it look like you won something, but in fact you made a loss. This is how it works:
You play on a game with 15 paylines;
You bet €1 on each payline, making you bet €15;
You get a winning combination on two of those paylines;
One win yields €5 and the other €3;
So you win €8, but because you bet €15, your loss is €7.
Even though you lost, your brain reacts as if you were winning. Game developers deliberately use this effect to get people to play longer. Because of this, gambling addiction has become a very big problem over the years.
So feel free to enjoy playing a slot machine, but stop when it's no longer fun. Anyone who does not enjoy playing a slot machine and cannot stop is probably addicted. Seeking professional help is definitely recommended in this regard.
Online slot machines are the same as those in land-based casinos
The operation of slot machines in an online casino differs little from that in a land-based casino. In both cases the outcomes are determined by the Random Number Generator.
The operation of such an RNG is not very difficult to understand. An RNG runs through hundreds or thousands of numbers per second. Then, when you press the start button, it stops on the number that is on that hundredth of a millisecond.
You have no way of following this cycle and thus cannot possibly predict which number will fall. Cheating is also quite difficult and, in addition, not attractive to casinos. After all, the built-in house edge is already fixed. The casino always makes a profit from the slots in the long run.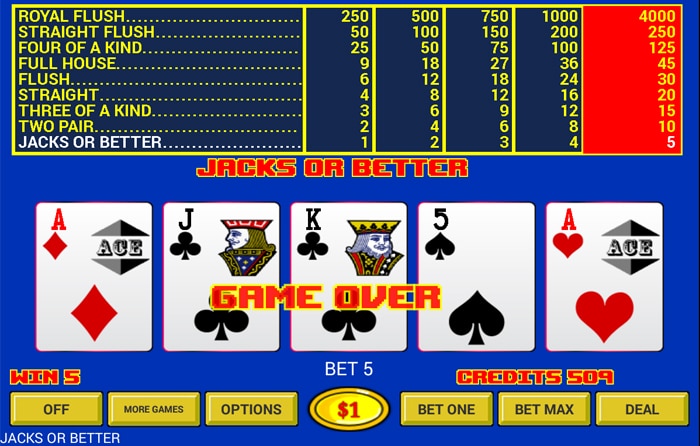 Also try video poker
Consider video poker or table games
The house edge in table games or the payback percentage on slots is the casino's expected profit. If you subtract the payback percentage of a game, you get the house edge.
Multiply the amount you bet per hour, and you get an estimate of how much money you lose on average per hour. The average slot machine makes 600 spins per hour. If you bet €3 per spin, that's a total of €1800 per hour.
An average slot machine has a payout percentage of 91%. So the house advantage is 9%. €1800 x 9% equates to €162 loss per hour.
Video poker usually has a much lower house edge than slots. This varies from game to game, but typically it will not exceed 4%. This means that your expected loss for the same amount is only €72. There are even games of video poker with a house edge of only 5%. That means an average loss of only €9 per hour.
Table games are also excellent when it comes to house edge. It's not hard to find a game with a house edge between 1% and 2%. In addition, you will also make far fewer wagers per hour at a table game. After all, the game moves a lot slower. If you make an average of 50 bets of €10 per hour at a table, that's only €500. This means that your average hourly loss on table games is between €5 and €10. And you'll have just as much fun as when playing slots.
Conclusion
Slot machines can be fun, but they really shouldn't be the focus of your gambling activities. Try to find games where you have a lower house edge and fewer bets per hour.
If you just want to enjoy the dynamics of slots, play the free variants available online. When playing table games or video poker, there are different strategies to apply. This is not the case with slots. Therefore, on a slot machine you have less chance of winning, than, for example, when playing video poker or table games.