If we look at the revenues of online and land-based casinos, we see that slot machines generate the most income. Slot machines have thus taken over the leading position when comparing revenues to those of card games or table games.
But will this continue to be the case in the future? After all, there are hundreds of types of games to be found in casinos. In addition, technology is not standing still either. New types of games will most certainly be introduced in the future. As long as they are player-friendly and can offer sufficient challenge, players will embrace those games as well.
Future of Slot Machines
Simply put, gambling is nothing more than a bet on the outcome of a particular event. That event can be the result of spinning virtual reels on a slot machine, a sports game or a game of poker.
From a casino perspective, a casino game must meet two conditions:
There must be demand for the game.
The casino must be able to make money.
In this article you will read more about what the future might look like with regard to the popularity of slot machines.
Card games on a slot machine
If you've ever played video blackjack or video poker, you know how similar these games are in design to a slot machine. Game results are displayed on a screen and the player presses buttons or touches the screen to make choices.
The results are based on randomly selected numbers. Slot machines and video card games operate under different rules, and slot machines have different rules among themselves. Video card games, on the other hand, are a different kind of slot machine.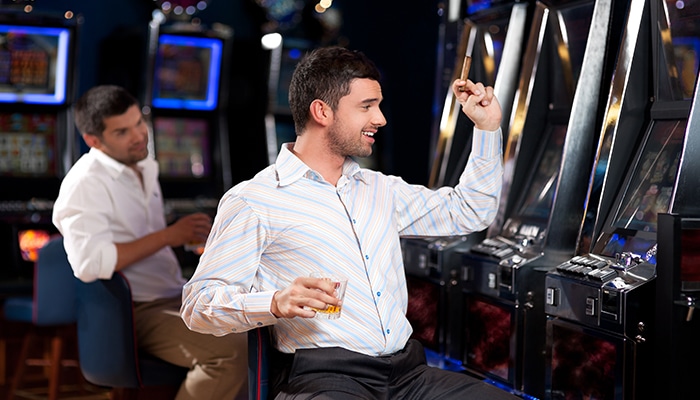 The results are based on randomly selected numbers and so it remains exciting until the very end.
Games inspired by other types of games
Any type of game that meets the two previously mentioned conditions can be turned into a gambling game. A good example of this is the bingo game.
There are two basic ways in which the results of a gambling game can be determined:
A single random number will determine which prize is awarded.
A random number is generated for each "wheel" that spins.
However, a few types of games, such as pachinko, that work slightly differently.
An important feature of a slot machine is that the result of each reel is independent. Game developers must take all possible combinations into account when developing a slot machine. They come in all shapes and sizes, from slot machines on which you can play roulette to those on which racing or sports bets can be made.
There are gambling games that use poker and roulette cards and terminology. There are also gambling games that are based on any kind of racing or sporting event. There are even slots and casino games based entirely on popular television programs and game shows. However, with any slot machine the basic premise is the same: there should be prizes ranging from a few cents to thousands of dollars.
Playing slots is easier than betting on sports
Usually, people who play slot machines do not engage in sports betting. After all, playing a slot machine is a lot easier than betting on sporting events.
In addition, only a few casinos offer the opportunity to bet on sports games. Conversely, some websites where one can bet on sports have added slots to their offerings, but sports betting remains the main activity.
In a land-based casino, one can play almost exclusively on slot machines and not sports betting. The learning curve for sports betting is quite steep compared to learning to play on a slot machine. After all, there you only have to click the start button.
Play This is what the future of slots looks like at: New!
Casino777
Welcome bonus 100% up to €250 Jacks Casino Online
100% Welcome Bonus up to £100
bet365
Deposit min €10 and receive 100 free spins
BetCity
Welcome bonus up to €100 free spins
Our best bonus! Circus
Get a bonus up to €250
Why is the popularity so important
Slot machines are very accessible, both online at the many casinos and offline, in the land-based casino or gambling hall. Sports betting, on the other hand, is a bit less accessible, especially if you want to bet on sports matches offline.
At an online casino, you can nowadays also very easily play on a slot machine from your smartphone or tablet. Of course, there are similar possibilities for sports betting, only they are less accessible. In addition, you really need know-how for it.
What does the future of slot machines look like?
Right now, there are two interesting technologies that might be able to answer that.
Augmented Reality
The first is augmented reality. Think of this as the technology used in the Pokemon GO game, for example.
Augmented reality is similar to virtual reality, where the player can use props to fully experience the digital world. Think for example of special glasses or gloves. Augmented reality can also use props, but these are not essential. You can buy a headset for your smartphone to watch 3D movies and games, but it's still a clunky product.
Pokemon GO is a better example of how we will play AR games in the future. People will remain aware of their surroundings and interact with the real world.
Google Glass product
The second technology is the Google Glass product. This allows people to view the world through lenses with augmented displays. It is much like the computer readouts that some characters see in science fiction movies.
Through technology, one day we can walk down any street anywhere and look up information about businesses we pass there. We can search for profiles of people we meet and dictate electronic voicemails to each other. In principle, this technology could also be used in the future slot machine.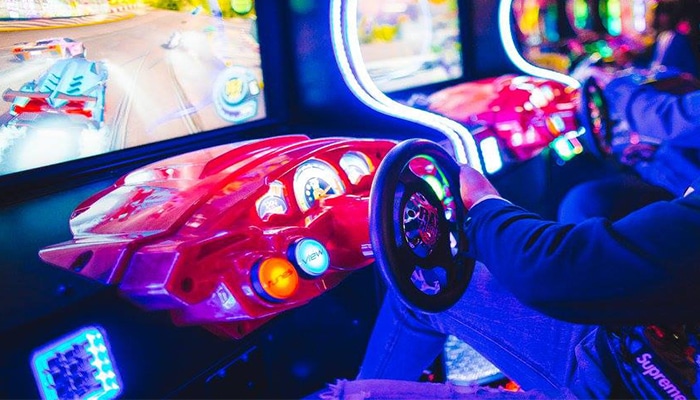 As a child, everyone may have visited a game hall at one time or another
Enclosed Game Kiosks create an immersive experience
As a child, you may have visited a game arcade. There you played on a large video screen and with speakers on either side of your head. The chair could vibrate or even tilt at certain times, depending on the game. This 4D player experience is not new.
The first slot machine with this technology has already been developed by International Game Technology (IGT). The chair and the console are then connected to each other. Gambling games are nothing more than computer programs. They can be used on different types of machines. It will probably only be a few years before you can simply install your own slot machine at home.
For a price that is expected to be around €500, you can then just download your own gambling games. With a universal 4D gaming kiosk in your home, you can then play any game. For example, you could be in a big flight or race car simulator. Or you could play League of Legends in an immersive experience.
Imagine feeling your chair vibrate every time your opponent hits you. Or imagine a bonus game on a slot machine where you have a 360-degree "choice screen." You virtually grab things and physically grab the prizes you win.
3D slot games simulate a deep visual experience
By using a special reality app, a slot machine can spin all around you. You would literally be inside the gambling game. The game does not have to look like a classic slot machine with reels. Imagine symbols and characters coming at you in a seemingly random order and when they stop you win or lose based on their pattern.
A variety of slot machines
Perhaps with the 4D slot, you can choose how many game screens you want to play at the same time and with how many levels you want to play. Your favorite horse racing slot game can then be replaced with a virtual horse race. Any expansion of the slot offerings will keep the game competitive with other varieties.
Conclusion
It may not be obvious that slots will rule the future. However, they do offer the most opportunities for evolutionary development. Innovations in sports betting will make it easier to bet on sports in the future. It won't be long before one day we will have voice interfaces that convert our desires into sports betting.
The revolution in slot machines may have only just begun. What we call gambling games today may grow into an immersive gaming experience. We can then probably bet on what happens in these games in the future. That's why slots will probably always be the most dominant games.