Have you seen Ocean's Eleven? The movie starring George Clooney and Brad Pitt, among others, revolves around a well thought out casino heist by a group of specialists gathered together. The blockbuster attracted thousands of people to the cinema and has perhaps unintentionally been used as inspiration for casino robbers over the years.
Committing a robbery is not easy!
Robbing a casino such as Holland Casino, for example, is incredibly difficult, because the security of a casino where millions of euros or dollars are handled is undoubtedly state-of-the-art. When one attempts to rob a casino in real life, it always causes a lot of attention and speculation.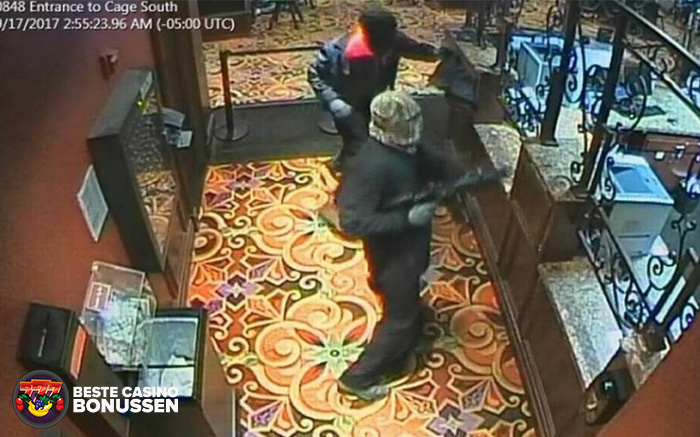 In 2017, too, there were several attempts to rob a casino worldwide. You can read more about the weirdest casino robberies here.
The biggest casino robberies so far
Raiding a casino is often preceded by a considerable period of time, during which one makes a perfect plan to make off with a hefty loot. In the past there have been some world-famous casino robberies.
Bellagio Hotel and Casino; Tony Carleo tried to steal $1 million worth of chips at the Bellagio and was caught on camera. He managed to escape, but was caught when he later tried to sell the chips. By the way, the Bellagio has been the victim of robbery attempts more often than not.
Circus Circus casino; Heather Tallchief had a job transporting money for the casino. In 1993, she drove almost $3 million across the border to a foreign country and stayed mostly in the Netherlands for years. In 2005, she turned herself in to the police. She regretted her robbery 12 years earlier.
The Soboba Casino; in 2005 this casino in Las Vegas was robbed by Eric A. Aguilera and Luda Ramos. This was a classic casino robbery, where employees were tied up and the loot was believed to be $1.5 million. However, the police were notified of the robbery early.
Many attempts in 2017
Although casinos are known for their high form of security, 2017 also saw frequent attempts to rob casinos around the world. Of course, Las Vegas was once again a victim, but casinos in the Philippines also had to suffer. Most of these robberies ended badly and perpetrators can look forward to long prison sentences in the new year. Below are the most famous robberies of casinos in the year 2017, an eventful year in the casino world.
Manila
In June of the year 2017, the Manila casino was hit by a violent robbery. A man penetrated the casino with a sturdy automatic pistol and penetrated the windowless second floor. Here he poured oil on the floor and set it on fire, causing panic. Although the perpetrator never fired, 36 people still died from smoke inhalation. Later, the perpetrator turned out to be a problem gambler. When the police arrived, he took his own life.
The Bellagio
Also in 2017, the Bellagio was the scene of a robbery. In November, a robber arrived at a poker table at a busy time of day and, under pressure from a handgun, asked for an unknown amount of money. Without any panic, the amount was handed over. The perpetrator is still without trace.
Robbed while playing
In January 2017, 52-year-old Kerry Johnson got himself into quite a bit of trouble. While playing blackjack, he left the table and asked the dealer to occupy a spot. He visited a local bank and told the bank teller he had a bomb. The bomb squad gave him $5,000 and he fled to a nearby location, where he continued gambling merrily at the Mardi Gras Casino. Even there he kept losing at blackjack. He was later apprehended by the police. He told the police that he was acting under the influence of drugs, but that probably won't help him much in court.
Belgium
Did you hear about the large-scale police theft in Belgium in 2017? An Antwerp cop there opened hundreds of casino accounts with the identities of unknown people, where he paid with fake and stolen debit cards. He would later withdraw the money from the online casinos, but has since been arrested. If found guilty, he could face several years in prison.
M Resort Casino – Las Vegas
Perhaps the weirdest casino heist of 2017 comes from Las Vegas. Two robberies were previously reported at the M Resort Casino, one successful and one less successful. In the third robbery, the perpetrator was finally apprehended. It turned out to be a pastor of the local evangelical community.

Gregory Bolusan held his services on weekends, but also made three visits to the M Resort Casino in the same clothing. He used a fake gun in his robberies. It was later revealed that his wife held a leadership position within the casino as a cashier supervisor. She was immediately removed from her position. The pastor is facing a hefty punishment.