When you go to Las Vegas you not only want to gamble and go out there but probably also want to stay there and maybe even stay for more than one night. You can, of course, do this in a hotel.
Because the city is so attractive to tourists there are countless hotels to be found but how do you find a good stay that is affordable but not disappointing? We have already listed the ten worst hotels in Sin City for you so you know where you better not go.
There are more good hotels than bad hotels to find
Keep in mind that there are many good hotels where you will lack nothing but you will pay for it. But then you have something and you can fully enjoy your stay there and the next day well rested after a good night's sleep.
Siegel Suites Tropicana
The first hotel you'd better avoid is the Siegel Suites Tropicana. This is because it is not really a hotel where people stay for a while but where people actually live. You can expect practices related to drugs and prostitution and the place is regularly visited by the police in connection with criminal activities. Unfortunately, the rooms themselves are also not very clean: they are ugly and not always clean. Think of present vermin and a broken inventory.
Diamond Resorst Intl.
Diamond Resorst Intl. is located on the second spot. If you read the reviews of people who have stayed there, you will find that the staff is not exactly reliable. There is even a story circulating about someone who was held hostage together with his wife, so this hotel is best avoided. Especially if you still want to go home with your won money or gamble again and make a nice trip out of it.
Flamingo Hotel & Casino
In spot number 3 is the Flamingo Hotel & Casino. A known problem there is that checking in takes a very long time, sometimes hours, so of course you're not really waiting for that after a long and tiring journey. There are stories about major problems with the drain and particularly unhygienic conditions and the cleaning itself is a big problem because little attention is paid to it so you do not exactly have a clean room at your disposal.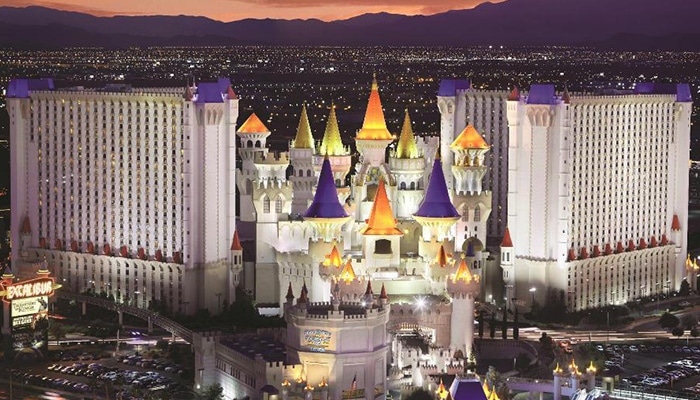 Excalibur is impressive on the outside but still disappointing
Excalibur Hotel & Casino
The Ecxalibur Hotel & Casino is on place number 4. The complex looks very impressive on the outside but on the inside they do not work very hard because clean is different. Not only are the rooms not particularly clean, but the view is lousy because you can't see outside through the filth. An unpleasant smell and also mold on the walls is unfortunately no exception. In addition, you run the risk that they don't even have a room for you, even if you have booked in advance.
Online there are also good and bad casinos. Here are some good casinos New!
Casino777
Welcome bonus 100% up to €250 Jacks Casino Online
100% Welcome Bonus up to £100
bet365
Deposit min €10 and receive 100 free spins
BetCity
Welcome bonus up to €100 free spins
Our best bonus! Circus
Get a bonus up to €250
On The Vegas Boulevard Hotel
At number 5 is the On The Vegas Boulevard Hotel. Dirty critters are plentiful (more than guests) and the presence of the porn shop across the street does most guests little good. Moreover, people who have difficulty walking are not treated very well and the rooms are not adapted or suitable, even though this is claimed.
Circus Circus Hotel & Casino
Number 6 is the Circus Circus Hotel & Casino. And you might have guessed it: there are clowns present in the hotel. Many people are scared or even panic-stricken of clowns so if you do not like clowns you better avoid this hotel. The whole hotel looks old and smells like an ashtray so that will not help you rest. If you love horror movies then this hotel is recommended but that is really the end of it.
Stratosphere Hotel, Casino & Tower
The Stratosphere Hotel, Casino & Tower. Very familiar to many people because of the tall tower that immediately catches the eye. The biggest problem experienced by many people is that it takes a long time to check in. If there is anyone at the desk. Even if you have made a reservation you still run the risk of not having a room because they don't even check if there are any available when you make a booking. Reason enough to book elsewhere so you do know for sure that you have a bed to sleep in at night.
Tropicana Las Vegas
Tropicana Las Vegas is ranked number 8. Even though the name suggests otherwise, there is little tropical about staying at this hotel. There is a swimming pool but it is closed half the time so that doesn't really help. The number of rooms is rather limited so finding a clean one between them is quite a task in itself.
Hotel Luxor
Hotel Luxor stat at number 9. It is named after the famous city in Egypt but other than that, it is hardly luxurious or amazing and doesn't exactly evoke the beauty and history of the ancient Egyptian Empire. Or it must be precisely that it is all too antique for words. There is no air conditioning and a fan is also not found while the temperature in Las Vegas can sometimes soar and these resources are not exactly superfluous there. It costs a little to stay there but you certainly do not get a clean room in return and the staff is not very involved with the guests.
Palms Casino Resort
The last hotel in the list is the Palms Casino Resort. This hotel sounds like a true paradise but it is not. The service is downright bad and the staff hardly knows what they are doing. So another hotel you better not go to in Las Vegas. Of course, reviews are personal and not everyone experiences the same problem but there is some truth in it. Where there is smoke, there is fire and if you don't believe what others before you say, you can of course try it yourself. Given the large number of hotels, however, we recommend you to choose another hotel because there are plenty that do meet all the requirements and where you can stay fine.