There are many different online slot machines. The variation is in the six reels, for example, while others have 243 win ways and others have extra bonuses. The popularity is therefore well spread. However, the Megaways are slowly starting to change this.
These slots have literally taken over the online gambling industry. All new games of these slots are also instantly popular. How exactly this came about you will read in this article.
More ways to win than ever before
Megaways got this name for a reason. There are many different ways to win. Some slots games have up to 117,649 winning ways. The number of ways to win is determined by the maximum number of symbols per reel.
As an example, we'll take a slot machine with seven symbols per reel, that's 7 x 7 x 7 x 7 x 7 = 117,649 ways to win. You may also have up to five symbols on a reel. This reduces the number of ways to win to 15,625 ways. However, this still gives you a lot of possibilities and you can expect numerous payouts in a round.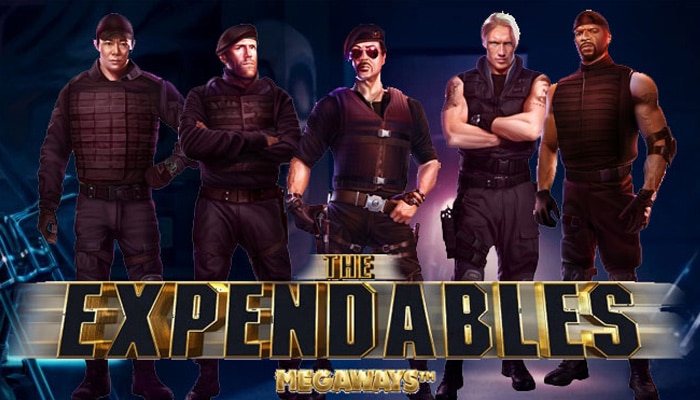 An example of a slot machine with Megaways is The Expendables.
A different experience offered
Most slot machines have a static number of win possibilities. For example, a slot machine with five reels and 30 paylines will never offer more than 30 chances. With Megaways, this is quite different. The chances of winning vary with every spin you make.
For example, in one spin you can have 5,040 ways, while in the next you can find 41,160 ways. It all depends on the number of symbols on the reels. Therefore, you always hope that you are going to get as many symbols on a reel as possible.
An example: the first reel contains five symbols, the second reel six, the third reel seven, the fourth reel four, the fifth reel seven and the sixth reel five symbols. In this case, you have 29,400 ways to win.
You will only start to get a bad result if the reels only contain two to three symbols. Because you're going to get the higher symbols more often, the game will still always bring a lot of excitement with it. Give the game The Expendables Megaways a try.
Lots of action
Megaways slots mainly attract players who like a lot of action. This is because these slots have a quirky format and there are countless winning opportunities to be found. The slots also have other features, for example, cascading reels, free spins and random wilds.
The avalanche effect on the reels is a feature that stands out mainly in Megaways. This removes the symbols from the random combinations, allowing you to get new chances for payouts again. This allows for new wins to be made over and over again in a single spin if the symbols fall in the right way.
In addition, at the online casino you can find slots that when you achieve a large number of wins in a row, you let the reels expand to a maximum and increase your chances even more.
Also play at these casinos New!
Casino777
Welcome bonus 100% up to €250 Jacks Casino Online
100% Welcome Bonus up to £100
bet365
Deposit min €10 and receive 100 free spins
BetCity
Welcome bonus up to €100 free spins
Our best bonus! Circus
Receive a bonus credit up to €250
Design possibilities are endless
So far in this article, only the Megaways slots with six reels have been named. This is one of the most common variations of the game. However, many more design possibilities are possible.
For example, you can have five reels with up to six or seven symbols on a reel, six reels with six or eight symbols and seven reels with five or seven symbols. It is yet to be seen that these possibilities will actually be developed. However, it does show that design does not have to stick to the standard.
Game developers can therefore start to develop a large number of Megaways slots. In the future, therefore, more and more styles will be found, which may also lead to an increase in winning opportunities.
Making your mark on Megaways
There are more and more providers who offer the Megaways in their product range. There are also plenty of providers that put their own spin on this innovation. Big Time Gaming started this by developing the slot machines. They applied for a patent, initially only for the standard variant.
Over time, the developer licensed it to several developers, with creativity coming to the fore and more slots being produced. One of the developers who put their own spin on the mechanism was Red Tiger Gaming.
Laser Fruit was produced and gave a whopping 60,466,176 ways to win. You can only reach this number when you unlock the bonus feature. There could be many more developers to come offering their own version of the Megaways.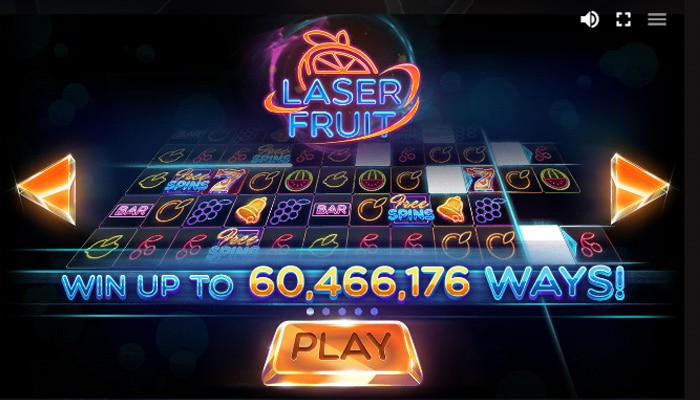 Red Tiger Gaming produced Laser Fruit and this slot gave a whopping 60,466,176 win ways
A pursuit of countless ways
In a standard slot machine, you can mainly pursue the bonuses and the winnings. Ultimately, your goal is to get the highest possible payout and land some nice casino bonuses. This is where Megaways adds an extra layer. So you can unlock more and more ways by playing more rounds.
On the other hand, you will be disappointed if you only have 64 ways. Only when you unlock more win opportunities are you actually going to have a lot of fun with it. In addition, your chances of getting payouts are getting more and more increased. The big prizes are more within reach as a result.
Play cheap Megaways slots
At first you will think that playing Megaways is an expensive affair when you start looking at the number of win options. After all, with most slots it is that you have to place higher bets in order to activate the win lines.
In doing so, this leads directly to a problem and so you can't always take a chance on the high payouts with your budget. However, Megaways will not cost you more than other slot machines. You often only need €0.20 per spin to have a good try.
On the other hand, with the low stakes, you shouldn't expect too much from the payouts either. It's a trade-off and should be based mostly on random chance. It is true, though, that with low bets you will win faster.
Conclusion
The large amount of opportunities to win is the reason Megaways slots are so popular. However, you rarely have a large number of winning opportunities. Just the idea that it might just happen brings enough excitement to take a gamble.
The unique experience is also one of the driving forces behind the popularity of these slots. After all, the different reels bring a certain mystery. You never know in advance how high your chances are going to be, because this can vary considerably from spin to spin. The action that comes with it is sure to draw more and more people to the slots.
Everything will ultimately improve your gaming experience and you don't even have to bet the highest amounts. The factors discussed in this article all make for a great slot machine and a more popular game than other slot machines. However, it remains to be seen for how long the popularity of Megaways will continue, as these trends come and go.
Megaways, however, will always have a power to stay afloat, even when new slots are developed that are going to rise sharply in popularity. After all, there are always people who will be drawn to these slots and the possibilities in terms of this format are endless.