Have you ever played baccarat and how long was this? And how long has it been since you started playing slots? For most gamblers, playing slot machines is less long ago than playing baccarat.
This is because slot machines are still more popular in the casino. Baccarat is less popular. Casinos therefore also place more value on the various slot machines than those players who do decide to sit down at one of the tables.
Plenty of reasons to give baccarat a try
There are several reasons why gamblers like slot machines so much. However, some of the advantages that will be mentioned can also be found in baccarat. If you take a look at these advantages and add to them what else baccarat has to offer. You'll find that your budget has a better chance of working out in baccarat. Then it seems strange that gamblers still prefer the slots.
Often this has to do with the lack of knowledge. Baccarat is also less likely to be tried because of this. This also applies to other games in the casino. This article therefore demonstrates why it is a better choice to start playing baccarat than any of the other games in the casino.
Easy to play
Of course, a slot machine remains the simplest game to play when you visit the casino. After all, you can sit down at one of the machines, throw money in and press the button. The reels begin to spin and you achieve a win or a loss. There is no need to come up with a strategy and most slot machines are not about having the right skills either. So you don't have to think about anything and your mind can completely wander for a few hours.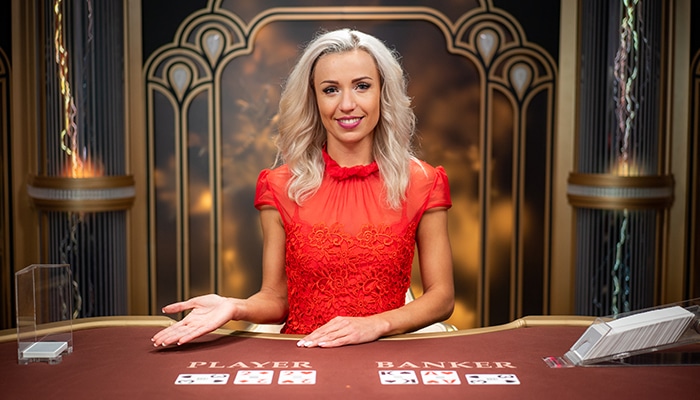 Baccarat can also be played live online
Casinos cleverly capitalize on this and can also benefit from it. Therefore they also benefit from the payback percentage. This is much higher with slots than with other games in the casino. The house edge will be discussed later. But did you actually know that baccarat is just as easy and even offers a much lower house edge?
Benefits
Baccarat actually has many of the same advantages. Especially when it comes to the ease with which the game can be played. You sit down at one of the tables and place your bets. The dealer does the rest of the work for you. However, baccarat does involve a strategy. This strategy is so simple that any beginner will understand it immediately. You only need to do one thing: bet on the banker's hand. This is the entire basic strategy in one sentence.
Baccarat doesn't require you to press a button. Also online you don't have to do much different than in a casino. In an online casino all you have to do is open the game, place the bet and press the button. You'll then immediately see whether you win or lose your bet. Although many gamblers feel the need to know how the hands work, you don't really need to know. The dealer will figure it all out for you. A lot of calculations are therefore no longer required.
Multiple variants
Technically speaking, you only need to know more if you play mini or midi baccarat. This is the version that is often found at land-based casinos. The table looks like a blackjack table, while one plays the original version at a larger table. You can recognize both versions by the wagering requirements. In the regular version, the stakes are often higher and the players take turns being the banker.
Once you've found the baccarat tables in the casino, it's a good idea to look for the mini-baccarat table right away. If you can't find it right away, you can ask the staff. Online, you only have the mini version. Even if the name is just baccarat, you are dealing with the smaller version. Should you want to know how to count the hands, you can watch a tutorial.
Basically, the values of the cards are always added together. If the total is more than 9, then the first number is removed. For example, if you have a ten or higher, then you subtract 10. If the value is 20 or higher, 20 is subtracted. So you are left with only the single digits. As an example, you get a king and a 4 in your hands. The banker's hand gets a 5 and a 3. For you, the player, the total is 14, from which the 10 is subtracted. You are left with 4. The banker has 8, so no new card is drawn. You, the player, can draw another card and this one comes out a 3. You have a total of 7. The banker's hand wins in this case.
You don't need to know anything else
This is basically all you need to know about baccarat scores. You should then look at the specific rules of the casino. There may be special rules for when the hand stands and when a new card is drawn. If the table doesn't have the rules, you can always ask for a copy. The rules at an online casino are often found in the help screen. Be sure to read them as well.
Baccarat is one of the simplest casino games you can play. It may not have the lowest house edge, but it's still very convenient. In addition, it doesn't take much time to learn the game. However, if you want to learn more about the basic strategies so you can bring down the house edge, you will have to spend some time doing so. Hours of play are in any case guaranteed with this casino game.
These casinos offer baccarat New Casino!
Casino777
Welcome bonus 100% up to €250
The low house edge
It has been mentioned before: the house edge of the casino. Every casino has to make a living at something and it's through this benefit that it does so. It's a percentage of every wager you place and it's retained by the casino as standard. All the games you see in the casino come with a different house edge. In addition, the games are designed in such a way that you can often use the strategy to lower the house edge.
Blackjack is a good example of this. As soon as something changes in the rules of blackjack, the house edge changes automatically. That is why you will always see different percentages in the different variants. For example, the house edge can be 0.5 percent in the game, as long as you as a player apply the right strategy. Without a perfect strategy, the advantage can rise to 2 percent or higher. Thanks to the strategy chart, you can always use a good strategy. You just have to start thinking carefully about what you are doing.
Video poker
With video poker you can also enjoy a low house edge. However, here too you need to play with the right strategies. The casinos profit mainly from the slots. This is because these have advantages for the house that can reach up to 10 percent. The table games, in this case, will always be the most favorable in order to get the most out of your budget. In the long run, however, you will always lose money when you visit the casino.
With baccarat, however, you're on the cheap. Not only is the game easy to understand, but if you bet on the banker's hand, you also benefit from a house edge of 1.06 percent. This is much lower than in other casino games, and you don't have to apply any strategy to it. All you have to do is place your bet. The house edge at the player's hand is 1.24 percent. As you can see, this is still much better than in other games. However, there is no reason to bet on it, because in many cases you are better off with the banker's hand. In addition, you can start betting on a draw. This one is virtually non-existent, making the house edge as high as 14.36 percent.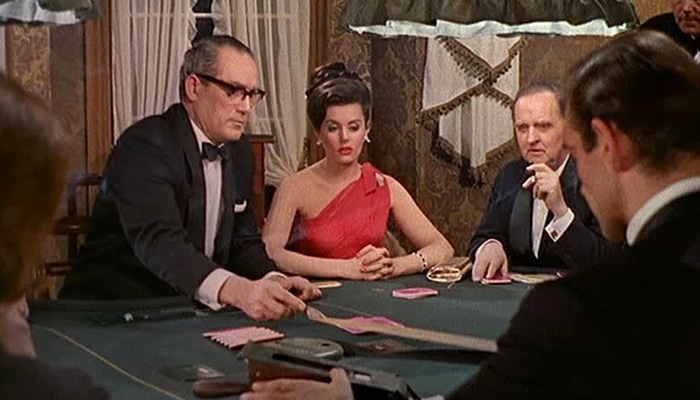 The original game at a large table was played by James Bond
Banker's commission
In addition, the casino has a 5 percent commission on winning banker hands. If you place your bet on this and win, you will have to pay the commission. Even though this commission also has to be paid, it is still the best option. One drawback is that every time the bankroll wins, you have to change it unless you go for a certain bet size. It can also slow down the game. The fewer hands you end up playing per hour, the less money you can lose. Therefore, you don't always have to see it as a disadvantage.
The house edge is always useful to keep an eye on. This way you know exactly which games to play in order to get the most out of your budget. If you also know how many bets you're going to place per hour, then you can already make a prediction of the expected loss you're going to suffer per hour. For example, if your bet is 20 Euros per hand and the average number of games is 100 per hour, then multiply this by the total bet. This becomes 2000 euros. You multiply this amount again by the house edge, so that you end up with a loss of 21.20 euros per hour.
You do a long time with your budget
With a budget of 500 euros, you can divide this by the expected loss rate. You have an average loss of 21.20 euros per hour. Eventually, with your balance, you will be able to play for about 23.5 hours. This does not take into account that the results may vary. In some hours of play you will lose much less than in others. You can make a profit, but in the long run you'll mainly lose.
Baccarat always has a minimum bet at land-based casinos. This is always between 10 and 20 Euros. This means that quite a bit of money has to be put in to play baccarat. Per hour the amount can increase significantly. In online baccarat you will often find lower stakes. For example, sometimes you can play from as little as $1 per round. However, most online casinos have a minimum bet of $5. If you can lower your stake, you can spend longer with your budget. Online, however, there will be more hands played per hour. You need to take this into account.
Translate this into your own budget. Again, the budget is 500 Euros. The minimum bet is 5 Euros per round. If you play online, you can place 100 bets per hour. Because the amount to be wagered is four times as low, in principle you can also play for four times as long. However, because of the volatility, you can still get as much done in one hour. It is therefore good to calculate for yourself what it takes to reach your goal.
The online bonuses
The above information was mainly about how to best play baccarat and what the house edge is at a casino. Also, you now know that you can increase, decrease or maintain your playing hours by changing the bets. However, there are many more advantages to playing baccarat.
At online casinos you also have to deal with the casino bonuses that are given. This bonus is often given when you make a deposit at the casino. Often this is a match bonus, which allows you to double your money and thus your playing time. At some casinos the bonuses are even higher, sometimes tripling the amount of your deposit.
Bonus not always usable
There are a few things you should know about these bonuses before reading on. For example, there are several casinos where you can't wager the deposit bonus on baccarat. For example, the terms and conditions state that the bonus can only be used on slot machines. This limits your play considerably. If it is not clear what games the bonus can be wagered on, then it is a good idea to ask the customer service if it can be played on baccarat as well.
Also important is the fact that bonuses can often only be cashed out after certain conditions have been met. Other bonuses may not be paid out at all. It doesn't matter if your main concern is to play longer, but you should know about it before you start. The terms and conditions of play will be discussed later in this article. For now, you should know that there are certain requirements to be able to play the bonus and that you should take a good look to see if the bonus is wagerable at baccarat.
Physical casino or online casino
At a land-based casino, you don't have the opportunity to get a bonus for baccarat. However, here you have the opportunity to sign up for the players club. You'll get a card in your hands, which will allow you to earn bonuses by playing at the casino. For big players there are often luxury bonuses available, including for example hotel stays or flights. For smaller players it will mainly be free meals, drinks and a certain percentage over the bet.
The bonuses are always a good way to get the most out of your budget. Therefore, you have to deal with different scenarios and you can always enjoy longer at the online casino using the bonuses. For example, you can get a 100 percent deposit bonus, where you will be wagering 5 euros per hand. You will be playing 200 hands per hour. In this case you will have a balance of 1000 euros. The expected loss when playing baccarat is 10.60 euros per hour. You can then play 94.3 hours with your budget. If you halve the number of hands per hour, you can even play 188.7 hours.
If there is a 200 percent deposit bonus, where you bet 1 euro per hand and play 200 hands per hour, you get an extra 1000 euros. Your budget will be 1500 Euros. Per hour you will be risking 200 euros, so the expected loss amounts to 2.12 euros per hour. Eventually you will be able to play 707.5 hours with this. By also halving the number of hands, you can play up to 1415 hours with your budget.
Conclusion
It is therefore always wise to play with the minimum bet. This way you can get the most out of your budget. However, to play for a really long time, it is best to look for free versions. At many casinos you can sign up for a free account and get started right away. The only thing is that you can't withdraw your winnings.
Baccarat will never be the most popular game at the casino, but you can enjoy a low house edge and one of the easiest games there is. By adding a bonus, you can have hours of fun playing. Even on a low budget. You have the chance to win and to replenish your balance.
So if you're looking for a game that you can play without too much knowledge, baccarat is an option to consider.