The online casinos are legal in the Netherlands today. You can go to legal casinos for casino games on the Internet. The live casino is also part of it. The live casinos have games with live dealers, croupiers and hosts, depending on which game you are going to play.
Evolution is a software company that has focused on developing new innovative games for the live casino.
Evolution's new games in 2021
This time Evolution Gaming comes with a few new live casino games. Find a short explanation of each new game on this page and decide which one you want to try out. Also we have searched all legal live casinos online to see where you can play these casino games in a reliable gaming environment.
Lightning blackjack
Live blackjack has been made into many exciting variants by Evolution Gaming. With the 'Lightning' features you will find many live casino games. This time it has become Live Lightning Blackjack. When you play blackjack live in this version you can receive an increased payout when you win in the next turn.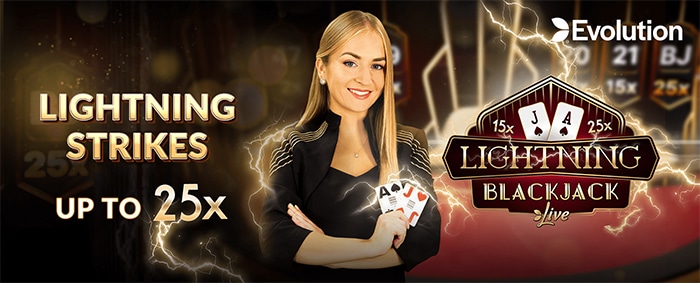 Lightning Blackjack from Evolution
The payout depends on the multipliers that are assigned. Multipliers of between 2x and 25x are present. With a soft 17, the dealer must still pass and a 6 card charlie rule is offered.
Bac Bo Live
Bac Bo tends to be a combination of baccarat and sic bo. Although you would think that the game should then be played totally differently you would be wrong. It is actually just live baccarat, only with dice to determine the outcomes. Apart from the dice themselves, they have nothing to do with sic bo. We recommend you only bet on the bankroll for the best odds and avoid a draw because it comes with a low payout percentage.
Fan tan live
With Fan Tan Live, you have a live dealer who puts beads in a cup and then spreads them out on the table 1 by 1 after you bet money. The idea is that you guess how many groups of four beads will come and how many will be the last group added in the end. You have the choice of 1, 2, 3 or 4 beads. There are other betting options available such as odd/even, big/small, kwok, Ssh and nim.
Golden Wealth baccarat
In Golden Wealth baccarat live, you have the option to receive winnings that are multiplied. Golden Wealth baccarat works the same as regular baccarat in terms of game rules but now has random multipliers that are assigned to 5 cards in the deck each round.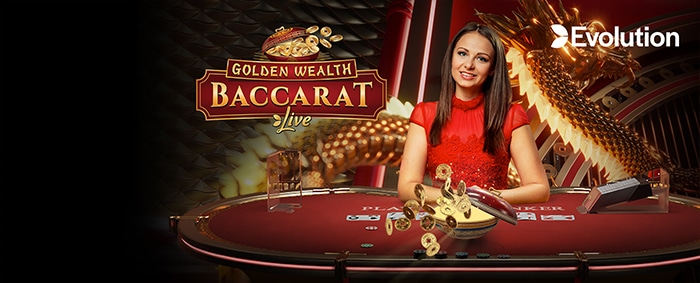 Golden Wealth Baccarat Live
If you have wagered money on the bank as the winner and a card appears showing a multiplier, you win the amount x the number of multipliers.
Cash or Crash
Cash or Crash allows you to take several steps to get higher payouts. It does entail risks to continue playing. If a red ball is drawn then you are out unless you have a golden ball then you are protected. There are also green balls that allow you to climb up the ladder.
Frequently Asked Questions Can I play live casino games for free?
No. Live casino games cost money and you need an account to deposit. Live studios are created and live dealers have to be hired. Those are directly the main reasons for why live casinos cannot be accessed without an account.
What is the most popular live casino game?
Evolution Gaming has designed some of the most popular live casino games. Currently, Live Lightning Roulette, Crazy Time, Live Monopoly and Deal or No Deal are very popular. Play at an Evolution Gaming live casino to get acquainted with other fun casino games.
Why choose Evolution?
Evolution has a lot of experience in the gambling industry and owns such well-known companies as NetEnt and Bigtime Gaming. Although the latter two mentioned focus more on video slots, Evolution Gaming has chosen live casino games.