Fond of playing games at an online casino? At first, gamers often chose to gamble on a sport but nowadays the so-called eSports are also popular to do and are played by more and more people.
Fantasy Sports are also very popular in the United States. Don't know yourself which game you will choose? Then take a look at the following list so you will know which games are popular and you will also find a fun game that captivates you.
The most popular eGames and eSports
The fast internet has made it possible to fight virtual battles with the whole world. Because so many people are fans of these games, the creators of games invest millions in the development of the most beautiful games. Whether a game will eventually catch on remains of course a guess. But there are a number of games where the gamble has turned out very well. These are the most popular eGames in the world:
League of Legends
At the top is League of Legends. That one is without a doubt a hugely popular game. The game is also known as LoL. When a world championship was held in 2018, it was watched by around 100 million viewers so that actually says it all. The game is also very suitable for novice gamers and the battles involved are better to do as a team than in many other games. There is less to be won than in other games but that does not threaten its popularity in any way.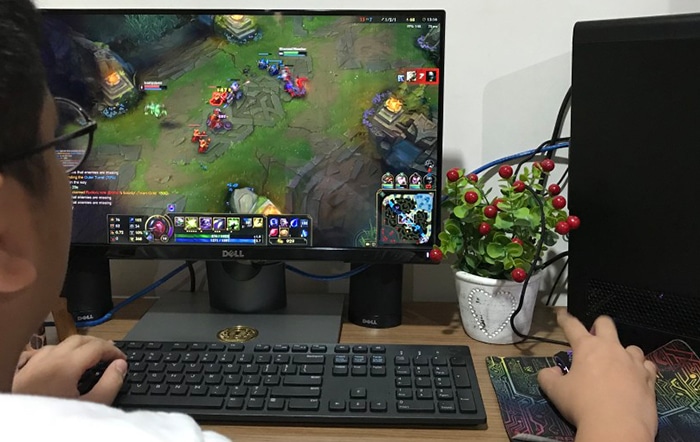 League of Legends is popular
Fortnite
A widely known game, even to people who don't even play it, is Fortnite. When the game was offered competitively for the first year, there was already $100 million to be won and that was even doubled the following year. Not surprising then that many gamers also try to win with it. The goal of the game is to be the last gamer left standing and thus win the prize pool.
Dota2
Dota2 became very popular soon after it appeared and is loved by many gamers. The game is a clear example of the games in which you are engaged in a battle with other gamers. Not surprisingly, it includes professional competitions and events that are broadcast on television. The game has become very popular due to the tournaments that are held with it. The prizes that can be won also play an important role in this.
It won't be long before similar games can be played at these online casinos bet365
100% betting credit up to €100
BetCity
£20 Free Bet at your first deposit

Bingoal
100% bonus up to €250 + 100% Odds Boost
PUBG
PlayerUnknown's Battlegrounds (PUBG) was released in 2017 and is developed by a South Korean studio. The game can be played through Windows, Android, iOS and on the PlayStation 4. In this game, you as a gamer are on a remote island where your only goal is to be the last player left standing. Tournaments are held with this game but the number is minimal if you compare it to Fortnite, for example. This game will also be discussed in this overview.
CS:GO
The game CS:GO (Counter-Strike: Global Offensive) came out in 2012 and is the sequel to the first Counter-Strike game released in 1999. The game is played by millions of players and is made so that it can be played with a team. Therefore, there are also many tournaments organized with which very nice prizes can be won. The game is very popular and sometimes tournaments are even broadcasted live on television.
Free Fire
The next game in the list is Free Fire. This game is one of the most downloaded games for Android devices. In 2019, the game was at the peak of its popularity with about 450 million players registered. The game is all about shooting and as a gamer, you will be looking for the right weapons to be able to defeat your opponents. The weapons are found on a small island where up to 50 players can be at the same time. The game is also played in competition.
Overwatch
The next game we will mention is Overwatch. With this game it is not so much about tactical play but mainly about fun. With this game which itself resembles a cartoon, it has hit the mark quite nicely. The game is particularly attractive to the youth who can play it on various devices such as Xbox, Playstation and Nintendo, but also on the PC via Windows.
StarCraft II
Another extremely popular game is StarCraft II. This game is the successor to Brood War. The game is also known by the name SC II. It is so popular among gamers because it is done a lot by a loyal group of fans. There are also tournaments organized on which the game can be done even all over the world. Not only can big prizes be won, but the excitement of gaming also plays a big role, of course.
Hearthstone: Heroes of Warcraft
In the next place is Hearthstone: Heroes of Warcraft. This game can be played for free and is based on a card game. It can be done on any device. It is both suitable to play through Windows, Mac, Android and iOs so the game is accessible to almost everyone and can be played anywhere in the world. There are also tournaments for this game that you can participate in but not as many as for StarCraft.
World of Tanks
In tenth place in this list (which certainly does not mean that it is not popular to do because after all it is in the top ten) is the game World of Tanks. The game quickly gained popularity among gamers after its release. This may have several reasons but at the time of release these games were quite popular so it will certainly have something to do with that. Now that the game has been on the market for quite some time, its popularity has decreased but it is still worth playing and continuing your battle with the tanks. Chances are that an update is on the way so the game will only become more attractive.