When you sign up at a new online casino, you want to make sure that the assortment of online video slots, the customer service availability, and several aspects are right.
Another important thing is the deposit and withdrawal methods at online casinos, and perhaps even more important, the speed of payouts at a casino. How fast and how secure can an online casino make sure you receive your cash prizes won? In this article we discuss the basics of the most secure and widely used deposit and withdrawal methods at casinos on the internet.
iDEAL: The Netherlands' most trusted deposit method
In the Netherlands, iDEAL is the most trusted among the Dutch who like to gamble on the Internet. At an online casino with iDEAL most people play.
It is important to know that deposit methods like Trustly are very suitable to transfer the money quickly and safely with your own bank. Moreover, a Trustly casino has the advantage that you can also use it to pay out winnings. This was not possible with iDEAL before.
E-wallet: one of the safest options
When you choose to deposit money at a casino in a certain way, or even cash out at a casino, you should take into account that you choose a method that can fulfill both wishes. An e-wallet is capable of making both deposits and withdrawals. Make sure you have deposited the money with the right method to use this service.
For example did you deposit money with iDEAL? Then the online casino may refuse to allow you to pay out using Paypal, Neteller or Skrill. Another thing to consider when using an e-wallet is the fact that the bonus terms often state that e-wallet deposits are not eligible for a casino bonus. So do you really want to benefit from a great casino welcome bonus? Then we recommend you to go for another alternative, like Trustly or iDEAL.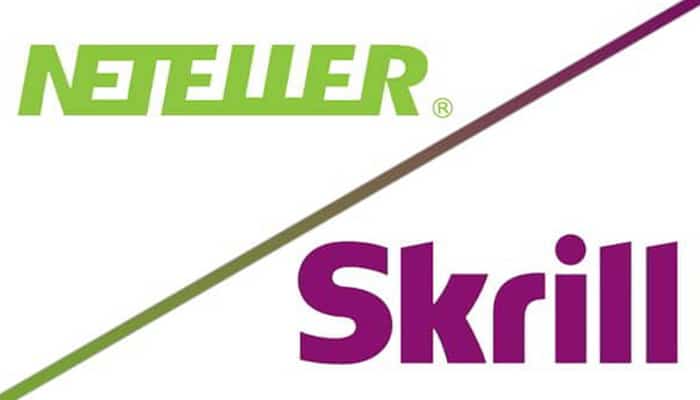 Neteller and Skrill are very popular at online casinos
Neteller: fast, safe and reliable
Neteller is one of the oldest of all payment services and still a very popular online wallet. Ever since Neteller was founded and when the gambling industry was still in its infancy, deposits were already being made with Neteller at online casinos. If you go back in time you will find out that most people made deposits using this method. Today, more than 220 countries have already joined Neteller, and this continues to grow.
What makes Neteller so safe is the fact that your account balance and sensitive information are protected from identity theft on secure websites. Opening an account only takes a few minutes, so frustrations won't run high or anything like that either. If you want to play at a Neteller casino, it's good to know that the most reliable casinos accept Neteller as a payment service. It is still one of the most widely used deposit method at an online casino.
Paying with Skrill: a safe option
Skrill (formerly Moneybookers) is undoubtedly one of the most widely used online wallets in the world. It's not surprising why. Skrill accepts deposits and payments in over 40 currencies for all major credit cards. Creating an account is easy and all you have to do is verify your credit card, or if you want to top up your balance with your own bank, you can make a small deposit of $0.01 to prove that you are who you say you are.
Once you have a Skrill account, you can make quick and secure deposits at online casinos. Furthermore, exclusive casino bonuses can be found regularly and you can almost be sure that Skrill is present at all online casinos. It is a deposit method that will almost never be missing.
These casinos have all the popular payment methods New!
Casino777
Welcome bonus 100% up to €250 Jacks Casino Online
100% Welcome Bonus up to £100
bet365
Deposit min €10 and receive 100 free spins
BetCity
Welcome bonus up to €100 free spins
Our best bonus! Circus
Receive a bonus credit up to €250
All kinds of cards
Of course, online wallets are a great way to deposit money. And cashing out is just as easy. But they're not the only deposit method you can easily use to deposit money at online casinos. Credit cards as an example. There really isn't a gaming provider out there that doesn't allow you to transfer money with Visa or Mastercard. It is therefore one of the most widely used methods of depositing money.
Not only credit cards are very popular among Dutch players. The Paysafecard allows you to deposit or pay out money without revealing any information about yourself. If you're not familiar with the Paysafecard yet, read on. You don't need your own bank account or credit card to deposit money with this.
All you need is a prepaid card, which allows you to safely deposit the money into your player account in no time. The code on the back is activated after you have purchased it in one of the thousands of cigar stores or gas stations.
The classic: bank transfer
Last but certainly not least, the bank transfer. In a nutshell, it's an obvious method where you use your own bank as an intermediary to transfer the money to your registered account at an online casino. It's how it's been done for years. Of course, you do need to have the details of the casino itself. These can easily be found on payment pages on the websites themselves.
Paying out is even easier with a bank transfer. All you need for this is a bank account number, SWIFT, IBAN or similar, depending on where you live. While this isn't the fastest way to withdraw money at an online casino, it's definitely one of the safest ways to use.
More on The most common payment methods at an online casino
Safe Deposit Conclusion
Find reviewed online casinos on GamblingID.com where you can deposit money in a safe way. Use methods such as Trustly, Paysafecard, Neteller, Skrill, Visa, Mastercard or Bank Transfer. Decide well in advance where you want to withdraw potential winnings before registering an account at any casino. On our website you'll find providers that have a valid Dutch license and where only trusted deposit and withdrawal methods are accepted.