Besides all the online casinos, there are also the many landbased casinos. Casinos today are more than just a space where you can gamble and have a few drinks. Starting from their architecture to the extraordinary opportunities they have to offer their visitors, they are nowadays real works of art.
In this article you will find a collection of destinations of world-class casinos for gamblers and non-gamblers. People looking to immerse themselves in luxury, entertainment and opulent design are sure to be impressed.
Sun City Resort, South Africa
Sun City Resort is a unique family resort with an oasis of luxury in the North West Province of South Africa. It has four beautiful hotels to choose from and each one will leave a speechless impression on its guests. This resort was founded by South African hotel magnate Sol Kerzner during the dark days of apartheid.
This was when the government deposited independent homelands or "bantustans" for the various indigenous peoples of South Africa. One of these homelands was called Bophuthatswana and was intended to be an independent homeland for the Tswana people.
Gambling was illegal in South Africa at the time and Kerzner devised an imaginary kingdom. Complete with a fanciful legend of a lost city and a lost tribe as the basis for his resort. It has an artificial beach, complete with a 1.6 acre wave pool with a 6ft wave every ninety seconds.
It gives you the impression that you are actually vacationing on the sunny coastline of South Africa and not in the remote northwest. It is just one of the amazing attractions available to both children and adults at the Valley of the Waves. It also includes slides, rides and a food court.
Today, the resort is located in a tranquil basin of an extinct volcano in the Pilanesberg, adjacent to South Africa's rich platinum belt. It features 4 hotels, an award-winning golf course and many other attractions for tourists of every kind.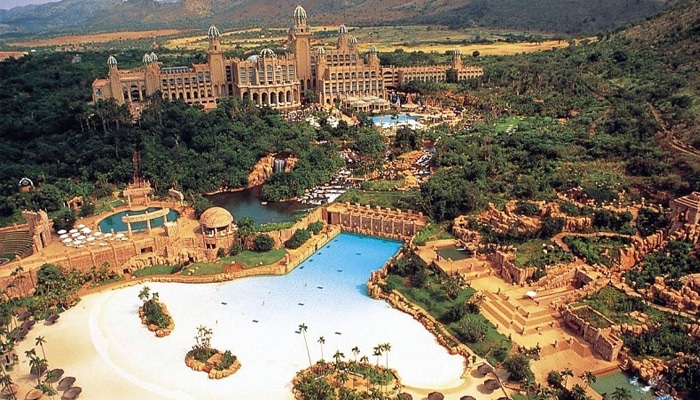 Sun City Resort was founded by hotel magnate Sol Kerzner
Casino Barrière Deauville
By day, the immaculate facade with its tall windows, rounded wings and majestic entrance always impresses. At night, enhanced by the lighting effects that cover it in gold, it is truly enchanting. Inside, crystal chandeliers, marble, mirrors and a ceiling height of more than 20 meters highlight Jacques Garcia's rich red and gold decor.
Let the magic carry you away and get lost in the world of slot machines. An opulent room where giant columns and a gilded statue watch over the players. With bright flashing lights and the ringing of the jackpot, the atmosphere is electric.
Bathed in light, the Table Games Room immerses you in an opulent empire style. With walls in reddish-brown hues, soft red lighting and velvet-covered chairs, this cozy atmosphere is perfect for putting your most sophisticated strategies into play. At Casino Barrière Deauville, playing is truly a unique experience.
The Bellagio
Bellagio is a luxury casino resort in Las Vegas, Nevada. It features a fantastic hotel with a beautifully designed casino floor and more than 14 restaurants that are among the best.
One of the main attractions is the Bellagio fountain. Located in an 8-acre artificial lake, this magical musical fountain has 1,200 nozzles that dance to the rhythm of music in shows that take place twice an hour.
Visitors hoping to dine with a view can enjoy their meals while enjoying a pristine view of the world-famous show Fountains of Bellagio. If you look beyond the exterior of the Bellagio, you will see a patch of greenery blooming on the resort's roof.
Bellagio has an herb garden on its roof that provides fresh herbs to a number of restaurants on the property. In addition, Bellagio's concert hall has hosted exceptional music and performing stars such as Cirque du Soleil, Cher, Madonna, Britney Spears and many more.
Also take a look at these casinos New!
Casino777
Welcome bonus 100% up to €250 Jacks Casino Online
100% Welcome Bonus up to £100
Grab the bonus
bet365
Deposit min. €10 and receive 100 free spins
BetCity
Welcome bonus up to €100 free spins
Our best bonus! Circus
Get a bonus up to €250
The Monte Carlo Casino, Monaco
No list of the world's finest casinos would be complete without mention of The Monte Carlo Casino. The first thing that comes to mind when you think of gambling in Monaco is this casino.
One room that is entirely for slot machines and has incredible decor is the Salle des Amériques. The iconic private room of Salle Médecin is for table game lovers, but also for James Bond fans, as this is the room Pierce Brosnan visits in Golden Eye.
Café de Paris is located right across from the Monte-Carlo Casino. So if you want to break up your trip to the casino for a spot of sunshine and people-watching, this is the place to be. Whether you're looking for an espresso or a slap-up lunch, the brasserie has an extensive menu.
Remember, the shiny leg of the horse on the statue of Louis XIV will give you luck if you rub it.
This 19th-century building houses some of the most remarkable gambling experiences in the world. In addition to its gambling greatness, Monte Carlo Casino offers the best view of F1 racing on the streets of Monaco. It also boasts gourmet restaurants and cafes that no other city can mimic.
Marina Bay Sands
Marina Bay Sands is an integrated resort on Marina Bay in Singapore, owned by the Las Vegas Sands company. When it opened in 2010, it was announced as the world's most expensive stand-alone casino property at $6 billion.
Immerse yourself in a world of art, science, magic and metaphor through a collection of digital interactive installations. This permanent exhibition is created in collaboration with teamLab, a renowned interdisciplinary art collective.
Future World takes visitors on an exciting journey of discovery through these important stories: City in A Garden, Sanctuary, Park and Space. The Sands SkyPark Observation Deck is 57 stories high in the heart of the Marina Bay area.
It offers picturesque views of the panoramic vistas of Marina Bay and Singapore's world-class cityscape. Enjoy panoramic views of Gardens by the Bay and the impressive Supertree Grove. Or admire the sea views that stretch from Marina South Pier to the Singapore Straits.
Be sure to check out the capsules on the Singapore Flyer and the durian-shaped domes of the Esplanade. Also, don't forget to admire the Merlion statue, another major tourist attraction in Singapore. Also note the orange tiled roofs of the storefronts along the Singapore River.
The Ritz Club London
This club is located at one of London's swankiest addresses, the Ritz. It is certainly one of the most luxurious and exclusive private clubs in the world to be found there with magnificent gaming parlor and discreet salles privées. Those looking for an exclusive gaming club will be attracted to the Ritz Club in London.
Located at 150 Piccadilly Street, The Ritz London has earned the distinction of being known as the world's largest hotel. This pretty much sets The Ritz as the benchmark for all other hotels. Visitors to the Ritz Club can stay in equally grand and opulent rooms and suites of the historic Ritz London hotel.
The world-class main salon is located in the former ballroom. This is embellished with a vaulted ceiling and painted walls featuring a panoramic scene with guests depicted in formal attire. The ambiance of the casino, which hosts gamblers around the clock, is both classic and modern.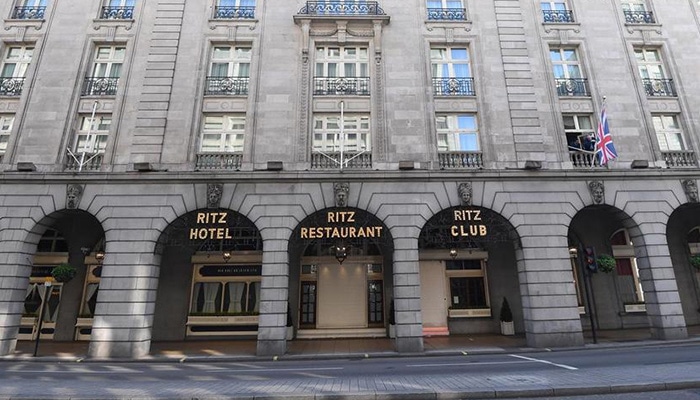 The Ritz Club London is located at one of London's swankiest addresses
The Venetian Resort Hotel Casino, Macau
The Venetian Resort Hotel Casino Macau, like its twin sister casino in Las Vegas, is amazing in every way. Visitors are greeted with world-class service in the style of true celebrities at The Venetian Macao. It offers first-class and spacious rooms, a luxury casino, famous-brand stores, an outdoor pool and 30 stylish dining options serving a variety of cultural dishes.
All rooms were renovated in 2017 and have an elegant tone and decor. It is equipped with a flat-screen TV, closet, seating area and private bathroom with a bathtub. Convenient amenities include slippers, bathrobe, hairdryer and a minibar.
As one of the largest casinos in the world, it is modeled after the city of Venice and contains most of its architectural wonders. The replicas of the canals of Venice and the gondola rides take you on a cultural journey to remember. The concert hall also hosts many headliners throughout the year with excellent performances.
Conclusion
The gambling community has much to look forward to when visiting casinos around the world. The hotels discussed in this article provide an immersive experience. The accommodation and impeccable service is what sets the best casinos apart from the rest.