Online slot machines can seem complicated casino games as a novice player. Let us clear up this confusion for you.
In this article, we're going to explain the paylines and payout tables of slot machines. As you finish reading, you'll know enough to visit a reliable online casino yourself. Slot machines can be played for free or with real money.
The lines and pay tables
No matter which online casino you visit, you will most likely find out that their most popular games are online slot machines. But if you've never played them before, then you may have wondered how exactly lines and payouts work on a slot machine. Although our extensive explanation of slot machines has been discussed before, in this article we are going to focus on the lines and payout tables.
The payouts or lines of a slot machine can sometimes be tricky to understand, depending on the game of course. The classic slots of the past are simpler when they came with 1 basic line or up to 5 paylines. You can also find these classic slot machines at reliable online casinos.
However, when we start talking about the modern slot machines online, there are a lot more of them. Sometimes there are thousands of ways to make combinations and payouts can be enormous. We'll do our best to get you started. After you know how the pay tables or win lines work, then you can get started right away. Skills are often not needed when playing online slots. Your win or loss is purely dependent on luck. It's also not a matter of playing at the right time or at the right place, because every spin on an online slot machine is 100% random and powered by Random Number Generator software.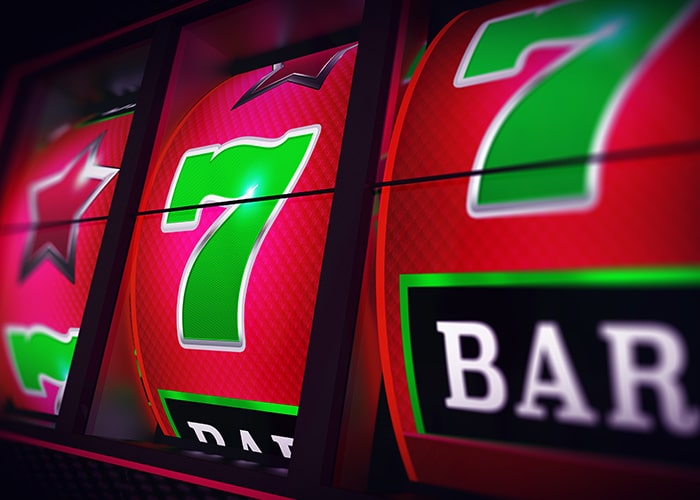 Each spin at an online slot machine is 100% random due to the RNG software
What is a payout table and how do the lines work?
Below we explain how a pay table and the lines on an online slot machine work. Read on.
What is a pay table on an online slot machine?
The payout table is one of the most important aspects of a slot machine to check before playing. It shows you how much money you will receive when you form specific combinations. Each symbol has its own value, color or shape and often you need to get three symbols minimum on active paylines for a payout.
Every online slot machine is different and comes in various shapes and sizes. The one thing they have in common is that every slot has a payout table. Every game has one and they are essential because it tells you how the game works. A paytable will not automatically open the moment you access a slot machine.
Be aware of how to access the paytable before you play. There will be a button somewhere on the reels, such as a 'question mark icon' or the letter 'i'. Add this to the list to always keep in mind when playing online slots, and be sure you've taken a few moments to go over everything thoroughly. It can be the key to your success and determine how your playing sessions go in the long run.
A paytable can't help you win money, but it explains how the slot machine's bonus features work. Once you've opened a paytable, you'll be faced with common information like:
Symbols: how much value each symbol has
Bonus features: How the bonus features work and how to activate them
Free spins: how the free spins work and how to activate them
Details: about the jackpot
Game rules: of the slot machine
Winlines: used to be shown in a detailed diagram with every possible
combination
Of course, it is difficult to say in advance which bonus features will be described in a paytable. This depends on the game itself, but it is common that at least some of the above aspects are indicated. Online slot machines often name the RTP, which refers to how much money you win on average in the long run with a given bet.
Checking the paytable is an important part of any gaming session you plan to conduct. When it comes to some bonus features or free spins rounds, there are several options available. If you haven't read through the paytable properly, then it will be difficult to make a choice. As mentioned earlier, the paytable will not help you win, but it will give you a step in the right direction. Moreover, you should keep in mind that you can distinguish the high paying symbols from the low paying symbols. If you don't look at the pay table on a slot machine and think you've won a great prize, you may be left with a bad feeling.
Card symbols for example, these usually offer lower payouts as symbols related to themes of slot machines. The main characters, subjects, buildings, animals, whatever symbols, these often yield more money. The card symbols come as A, K, Q, J, 10 and 9 and in some cases even lower.
How do the lines of online slot machines work?
When you remove the bonus features, free spins and all symbols from the reels of a slot machine, you are left with the paylines. These lines indicate the positions on the reel where a symbol can land to pay out. The payout can be viewed in the paytable. Nearly all online slot machines have paylines, so it's important to understand how paylines work.
The combinations that are formed on a slot machine end up on paylines. The paylines are also often called bet lines or win lines. When the first slot machines were invented, you could only find one, but today you have the multi payline slots, also called slot machines. While it gets trickier the more paylines you have, you then get the chance to rake in your winnings in more ways.
The paylines of slots online vary between 1 and 1,024 or more. The pay tables indicate exactly how many paylines there are in total on the game you are playing. These lines pay the most from the leftmost reel to the rightmost reel on your screen, but there are slots that allow from both sides.
The lines on a slot machine are important to know because you need them to land similar symbols on these paylines. The symbols that do not land on an active payline, but are in view, do not pay out. Ask yourself how many lines the slot has before you start betting your own money.
In order to play with optimal odds of winning, you must place a predetermined minimum bet. This will activate all of the paylines. It is recommended that you always play with the maximum number of lines on slot machines if you can afford it. Often you can then get a faster chance at a winning combination, staring reels above or activating additional bonus features. Of course, it's up to you how many paylines you're going to play with.
The most recent online slot machines have fixed paylines, which means that you are not able to change them in any way. They are automatically activated and you pay a specific stake for them. For example, a slot machine has 20 fixed lines and you have to play with a minimum of €0.01 per line. Then it will cost you €0.20 per turn minimum to spin the reels. All symbols must land on active paylines to win. The only symbols that are exceptions are the scatter or bonus symbols. These can often land on other spots of the reels and trigger a fun bonus feature. This information can of course be found in the pay table of the slot machine itself.
The lines of an online slot machine explained
While we've already briefly discussed which paylines pay out the most on online slot machines, there are plenty of other ways you can make combinations. The following are some of the more common ways you can win money today:
Left to Right: Most slot machines offer lines from left to right only. This means that you can start forming combinations with the symbols from the leftmost reel. Each symbol must be similar in order to succeed in completing a combination from left to right.
Right to Left (Right to Left): The opposite of left to right, but this one often offers both ways, allowing you to play with more winning ways. A well-known slot machine is NetEnt's Starburst, one of the first with this feature.
From Both Ways (Win Both Ways): As mentioned above, if you can form combinations from both sides then symbols can be combined in multiple ways. There are very few slot machines that only pay out from right to left and not from left to right. Other notable slot machines with Win Both Ways are The Invisible Man and Fisticuffs.
Win All Ways: On the online slot machines that feature Win All Ways, you can get over a hundred win ways. As long as you get similar symbols on each reel from left to right or right to left, then you get paid out.
As an example, it is easier to make a 5-of-a-kind combination because the symbols may appear on any position of the reel. At that point, it's common to have 243 ways to win, but it can also offer 720 ways. The best known Win All Ways slots are Avalon II from Microgaming or the Siberian Storm slot with 720 win ways and a Stacked Wild symbol on the reels, allowing for higher potential payouts.
Adjacent Symbols (Cluster Pays): The first slot was launched by NetEnt on March 22, 2016, namely the Aloha Cluster Pays. The mechanism behind the Cluster Pays slot machines is that the paylines can come in groups from any side of the reels. A minimum number of 9 symbols is required and they must appear vertically or horizontally next to each other on the reels. The best way to determine if a slot offers Cluster Pays is to look at the number of reels and rows. They usually come as 6 reels and 5 rows. Two other well-known online slot machines with Cluster Pays are The Legend of Shangri-La and Twin Spin Deluxe (both produced by Netent).
The Megaways slot machines use one of the newest ways you can make a combination. Often, these slot machines come with 6 reels and 4 rows, with an additional box below the second to fifth reel that displays a symbol. It may also be the case that these four boxes appear above the reels, as on Big Time Gaming's Bonanza Megaways slot.
Triple Reaction: The newest way for players to get a win in the online casino is the Triple Reaction. Opal Fruits by Big Time Gaming offers you three separate reels on which there are each a certain number of paylines. The reels in the middle slide down. The reels above slide from left to right, and the reels below slide from right to left. This creates even more winning opportunities and delivers exciting moments!
Play the online slots at one of the following casinos New!
Casino777
Welcome bonus 100% up to €250
Jacks Casino Online
100% Welcome Bonus up to £100
bet365
Deposit min €10 and receive 100 free spins
BetCity
Welcome bonus up to €100 free spins
Our best bonus! Circus
Get a bonus up to €250
Bonus terms
Read review