Blackjack is one of the most popular casino games and due to its simple rules anyone can participate in it.
However, what the house edge at a casino is in blackjack depends on the type of game and the number of decks being played with. Here you can read more about that.
House edge in blackjack
The house edge in blackjack is somewhat complicated. First of all, as a player you can request as many cards as you want, but then you run the risk of busting, i.e. your total value exceeds 21 points. In the case of a bust, the house edge is 100%. For anything below 21 points, there is a complicated calculation to be done to determine the house advantage per game round. This has to do, among other things, with the probability calculations for each possible combination in relation to the maximum value of 21.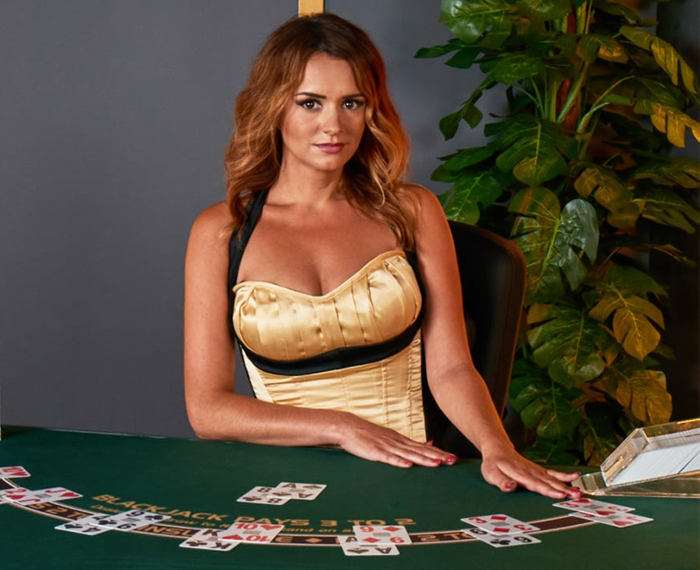 The house edge in blackjack
Number of decks is essential
How many decks are played with in blackjack is essential when we talk about a casino's house edge. Generally speaking, the more decks in play, the higher the house edge of the casino. It can also make a difference if you use the right strategies within the game, or if you play entirely by feel.
The house edge in blackjack, under various circumstances, can vary from well over 7 or 8% to a minimal house edge of 'only' 0.5%. Depending on the right blackjack table, you can, for example, count cards and thus increase your chances of winning, with the house edge also decreasing as you learn to count cards better.
Play at these online casinos! New Casino!
Casino777
Welcome bonus 100% up to €250 Jacks Casino Online
100% Welcome Bonus up to £100
bet365
Deposit min €10 and receive 100 free spins
Grab the bonus
BetCity
Welcome bonus up to €100 in free spins
Our best bonus! Circus
Get a bonus up to €250
Blackjack strategies
In order to keep the house edge as low as possible, the right strategy is of great importance. For example, you can follow the dealer's strategy. This means making a "pass" on all combinations with a value of 17 or higher. The chances are high that you will bust on an additional card after a value of 17; 29% of the time. Overall, you have a 42.4% chance of winning from the dealer, while the chance of losing is 49.1%. As a strategy, you can also take a little more risk and pass everything after a value of 18 or higher, for example.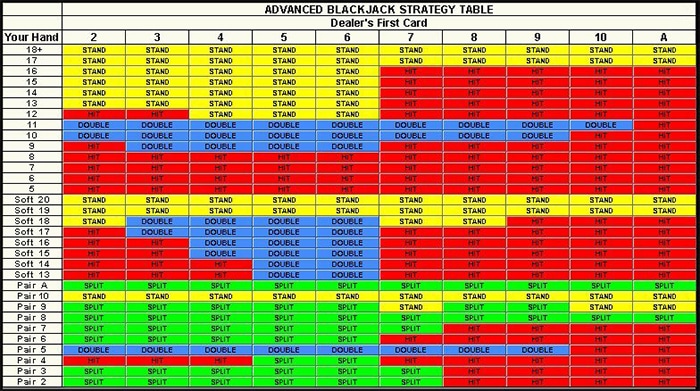 Stick to the strategy chart to keep the house edge in blackjack as low as possible
Number of decks in the game
Counting cards in a casino is semi-prohibited. This means that you are allowed to do it, but again not too conspicuously. Suppose a casino is playing blackjack with one or two decks, then it is possible for you to count cards. By counting cards, you can lower the casino's live edge. Should the casino catch on to you, or should you win remarkably, you will come to the attention of floorwalkers, and in extreme cases, counting cards can even get you kicked out of the casino.
To minimize the chances of card counting, many land-based casinos use as many as 8 decks at blackjack, with the dealer continuously shuffling them. The chance of counting cards is therefore minimal, which in turn increases the house edge. In online casinos, cards are reshuffled each round, making card counting pointless. So always pay close attention to how many decks you are going to play blackjack with and whether there is a possibility to count cards. If there is, do it in a subtle way.
House advantage in perfect blackjack strategy
As mentioned above, the house advantage that exists in the game can vary depending on the number of decks. In the example below you can see your own winning chances when playing with a perfect blackjack strategy and the number of decks you use;
1: 100.02%
2: 99.69%
3: 99.57%
4: 99.52%
5: 99.48%
6: 99.46%
7: 99.45%
8: 99.43%
Summary
Blackjack is generally one of the casino games where you can exert the most influence on the house edge. If you play with the perfect blackjack strategy, you'll see in the above example that the winning chances for you as a player become more or less stable at a certain point in combination with the number of decks. This is why many land-based casinos opt for a maximum of 8 decks. Think you're ready to play blackjack, but want to keep the house edge as low as possible? Then pay attention to the number of decks and make sure you have mastered the perfect blackjack strategy; you're ready to go.