Atlantic City is located at the southernmost tip of the state of New Jersey, in the United States. Gambling was legalized here in the 1970s. Atlantic City is the second largest gambling city in the US after Las Vegas. The city itself is only small and has barely 40000 inhabitants but the resorts are certainly well known and visited by many tourists.
You can walk for miles past all the casinos and visit them if you wish. You can easily reach the city by road but you can also fly or take a train. Atlantic City was known for its resorts long before gambling was legalized. But how did the city actually become so popular?
History and perils of Atlantic City
Atlantic is very conveniently located geographically and is really in the heart of the state of New Jersey. It is strongly influenced by the presence of Philadelphia but also by New York. The locals speak a readily recognizable dialect that is much like that of Philadelphia. This part of the US is well worth a visit anyway.
It is perhaps less well known to most tourists but you will find beautiful beaches, water sports and nature in full bloom. Not for nothing are all kinds of products such as vegetables (especially tomatoes) and fruit grown. When the sun shines, the beach is the place to be.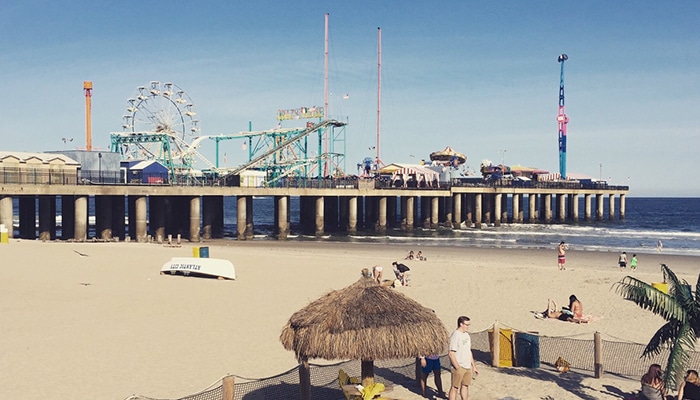 Beaches near Atlantic City
Origins of the city
The area was inhabited in earlier times mainly by Quakers and today is home to some 2.5 million people. This group consists of people from very diverse backgrounds. The school system is very good and there is also much to see and do. As early as 1850, it became clear that Atlantic City was a prime location for resorts. Consequently, the first hotel stood there before the city itself existed.
The official date of incorporation of the city was on May 1, 1854. Dr. Jonathan Pitney is considered the founder of the city. He was a physician and saw in the city an ideal place to create a medical haven where people could retreat to heal themselves of all kinds of ailments. The presence of salt water and sea air would have a beneficial effect on patients.
Major structures on Absecon Island
When the railroad opened there, it was also easier to reach the city. Within twenty years, the town became more and more famous (among the locals it is usually known as AC) and more and more visitors came there. More and more hotels were added and the United States Hotel was the largest in the country for many years.
Consequently, in the first fifteen years of the last century, there was a tremendous amount of construction on Absecon Island. The construction of a second railroad brought more and more tourists to the city and the hotels provided entertainment, both legal and illegal.
You don't necessarily have to go out the door to gamble. You can do that at these online casinos as well. New!
Casino777
Welcome bonus 100% up to €250 Jacks Casino Online
100% Welcome Bonus up to £100
bet365
Deposit min €10 and receive 100 free spins
BetCity
Welcome bonus up to €100 free spins
Our best bonus!

Circus
Get a bonus up to €250
The prohibition didn't cause many problems
However, when prohibition became a reality it didn't mean the best move for Atlantic City you might think, but that's not true. The city flourished precisely because of the corruption that existed in every authority that had anything to do with it. Local governments certainly did not follow the prescribed laws and simply carried them out as they saw fit (and for their own benefit).
Want to know what it was like in those days? Then watch the television series Boardwalk Empire to find out. The underworld ruled in AC with the driving force behind it being Nucky Johnson, a politician who had control over liquor, prostitution and all sorts of other criminal activity in the city. He arranged himself which members of the Republican party got a say so that they all fit into his scheme.
Less and less popular destination
World War II, however, brought a major change to Atlantic City. The train (until a long time the only way you could get there) became less popular and car owners from nearby cities moved further and further from home for entertainment and vacations. Long stays became less popular and sometimes people stayed only one night in AC.
More prosperity at home
However, this was not the only reason why things got worse. People who had returned from the war began to see the joy of living in the suburbs where they could build their own gardens, swimming pools and other luxuries. This made a visit to Atlantic City unnecessary because why go when you have all the comforts of your own home?
The main reason the city became less popular was that people had more and more money to spend as the economy picked up. Therefore, instead of taking a vacation to Atlantic City, people increasingly chose distant and exotic destinations that you could reach by plane.
Atlantic City in a downturn
All of this meant that AC in the 1960s did not have an easy time of it. There were even hotels and resorts closed for lack of customers and hardly anything new came in its place. Of the largest resorts near the famous Boardwalk, only three managed to survive.
The turnaround came in the 1970s when the population voted in a referendum to hold a lottery. In 1974, a referendum to legalize gambling was held and narrowly missed. Another referendum followed two years later and then it was determined that the legalization would only apply to the city itself. This referendum was just about approved and so followed the opening of the first casino there, the Resorts Atlantic City.
Atlantic City in a boom
This was quite something because at that time gambling in casinos was only legal in Nevada and there was hardly any experience with it on the East Coast. In the years that followed, fifteen more major casinos were built, several of which are still open today. Billions went into the gambling industry in Atlantic City until its peak in 2007.
Yet again worse
After that, things took a turn for the worse for the casino industry in the city. The number of tourists only decreased in the years between 2007 and 2014 and the airport also saw fewer and fewer travelers appear. Of course, this had a reason. One of the main reasons is that Las Vegas became more popular again and more and more gamblers and tourists went there. All this at the expense of Atlantic City. Las Vegas had also suffered a long time of decline but by profiling itself better, more tourists came to it. Bad luck for AC.
Competition nearby
In addition, in the early 90s two casinos opened in Connecticut. This meant stiff competition for Atlantic City and many times closer than Las Vegas. Gambling on sporting events in neighboring towns was becoming increasingly common so there was little reason to come to AC. Consequence: the closing of casinos there. In addition, at the end of the first decade of the 21st century, there was a major and global recession that put Atlantic City in even more dire straits. A trip there became too expensive for many people but also less attractive as crime reared its head again in the city. Hurricane Sandy also decided to pay a visit to New Jersey which made the disaster complete and kept the tourists away.
High unemployment and high crime rate
Currently, AC has one of the highest unemployment rates in all of the US and there is also little prospect of a good job for many people. With the closure of many casinos, many people lost their entire income. The only thing that can still save the city is money. Lots of money. The city looks antique, buildings are neglected and there is little modern to be found. Crime is high and many people are already leaving the city to build a new life elsewhere.
Plans to save the place
There is currently an idea to save the whole place. Suggestions are being made to open casinos in other towns in the state and create opportunities to gamble on sporting events elsewhere. The other cities could then remit a portion of the revenue to Atlantic City so that the city could be rebuilt in all its glory with it. However, the state will then be in control of the city.
Atlantic City is much more than just gambling
There is more to Atlantic City than just gambling. Absecon Island has beautiful nature to enjoy, beautiful beaches and coves, and still the famous Boardwalk. Make sure these are in demand again and spend your money wisely is the current thinking then. At the moment all taxes collected on rooms and entertainment go directly to the state.
If you pumped some of that back into the city itself, a lot could be fixed up. It is expected, however, that tourists will find their way back to the city and that the state of New Jersey will try to stem the decline in the coming years.
What will the future bring?
Although there is a lot of money involved in the gambling world it has not been able to save AC to date. There is hope that it will but there is little certainty in this area. The city did not even exist as a gambling paradise a few decades ago and now that it is almost completely grounded it will not be easy to restore everything to its former glory. The corona crisis certainly won't help that either.