Gamblers come in all shapes and sizes. Some are well-known, others prefer to remain anonymous. Some win a lot, others have luck rarely on their side. There are many people who like to gamble and behind everyone is a special story.
This is certainly the case with William Lee Bergstrom. Doesn't his name ring a bell? Then read his story to find out how special it is.
The Sky's the Limit applied to Willam Lee Bergstrom
Bergstrom started gambling when he was in Las Vegas for the first time. Before that, he had never even set foot inside a casino. At that time, a special promotion called The Sky's the Limit was being held in Las Vegas at the casino called Horseshoe. In this action, the gambler could bet as much as he wanted and either lose or win everything, there was nothing in between. Should you win, the profit was of course enormous, also depending on the amount you bet.
Only valid the first time you wager money
The only condition for participation was that the promotion was only valid for the first bet you made. Bergstrom had heard about this promotion and wondered what was true. To put it to the test, he left for Las Vegas where he had the original plan to bet one million dollars but could not get more than $770,000 together and then bet that amount.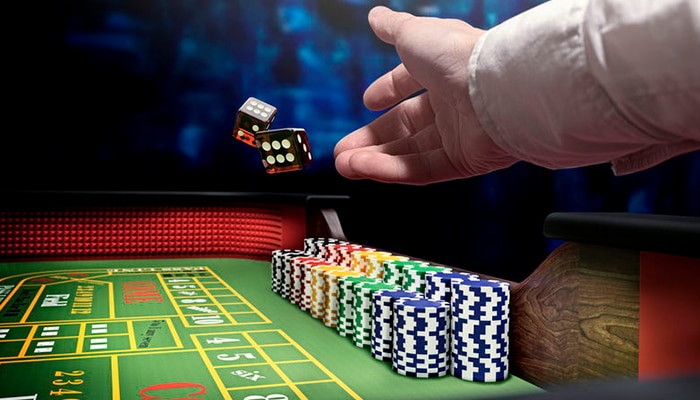 Bergstrom decided to bet it all at Craps
The Suitcase Man
Bergstrom entered the casino with two suitcases, one contained the full amount he was going to bet. The other suitcase was empty. He didn't bother exchanging the money for coins but just bet it on the "Don't Pass Line" at Craps, and he…. won! This meant that he had won the same amount on top, and with that, the second suitcase was filled, even with the help of the owner of the casino. The fact that Bergstrom entered the casino with two suitcases earned him the name The Suitcase Man.
The Phantom Gambler
After this win Bergstrom disappeared into anonymity and was not seen for years. When he returned to the casino he bet a high amount on his first gamble and won…again! After that, he won large sums of money several times as well. After winning the large amount of money Bergstrom disappeared from the scene again and nobody knew where he went or what the money was spent on. This behavior did earn him a new nickname: the Phantom Gambler.
Back for the last time
To everyone's surprise, Bergstrom returned to the Horseshoe for the final time in 1984 to place $1,000,000, just as he had wanted to do the very first time but did not have the funds to do so. This time he did have the funds and to the encouragement of the audience who (re)knew him, he placed his first bet and he…lost! This of course to the chagrin and disappointment of all present. After this loss Bergstrom was never seen in the casino again. However, the legend surrounding his win, loss and persona still lives on, to this day.
These casinos have good bonuses New!
Casino777
Welcome bonus 100% up to €250 Jacks Casino Online
100% Welcome Bonus up to £100
bet365
Deposit min €10 and receive 100 free spins
BetCity
Welcome bonus up to €100 free spins
Grab the bonus
Our best bonus! Circus
Get a bonus up to €250
Little known about his young years
Not much is known about Bergstrom's early years, and even his birth date is a mystery. What is clear, however, is that he was born in 1951 and grew up in a not particularly high-functioning family whose parents also later divorced. He trained at the University of Texas as an Electrical Engineer but dropped out in 1974, for unknown reasons. He held various jobs, including being a waiter and a private pilot, and also worked as a real estate agent.
Bizarre and complicated life
Bergstrom's life was probably not exactly rosy on more levels because in 1985 he took his own life. It is suspected that he came to this act through a rift in the relational sphere but one is not even sure. The man was a legend and there are still many mysteries surrounding his life and death.
His name is still known in the Las Vegas area because of his spectacular wins (and eventual losses) that were never achieved by anyone after him on a first bet. This is also no longer possible because not as much money may be wagered at once these days. Significant amounts are still allowed to be wagered but not as high as back then.
The legend still lives on
Bergstrom's fame led to him even being named in the famous television series CSI. In an episode that dealt with professional gamblers his name was mentioned and at the Horseshoe itself they still honor the man. They have never had another one like him inside and that is why his legendary story is still being told.