If you're visiting a casino for the first time you're bound to have all sorts of questions. It doesn't matter whether it's a land casino or an online casino.
You have a variety of casino games to play and many things to consider. The first question that will come to mind for most new players is, "which game is best suited for me as a novice player?"
Which casino game do you choose as a novice player?
A very legitimate question, as some casino games are easier than others. Many casino games have complicated rules that make it difficult for novice players. Other games, like poker for example, require certain insights and skills. We will discuss some games that you can easily choose as a beginner.
Roulette
New players may have to get a little used to the impressive gaming table. Still, roulette is a great game to start with. Again, it is best played with the minimum bet.
The safest options to bet on in roulette are the black/red, even/even and high/low series. These give you a slightly lower than 50% chance of winning. But of course it's more fun to just bet on a number so you can collect the maximum payout.
For new players, however, it is important to start on a roulette with a single zero, the European variant. This is because the American variant, with an additional double zero, has a much higher house edge.
Not unimportantly, roulette is a relatively slow game. If we compare playing roulette with other games, there are far fewer game rounds per hour. And that is beneficial for the bankroll. If things go wrong, you won't lose all your money in a short period of time.
Blackjack
Blackjack is not the easiest game in the casino. You have to make decisions with every hand and the rules vary from table to table. But the game usually has a lower house edge than any other game. And it offers another advantage that the other games do not.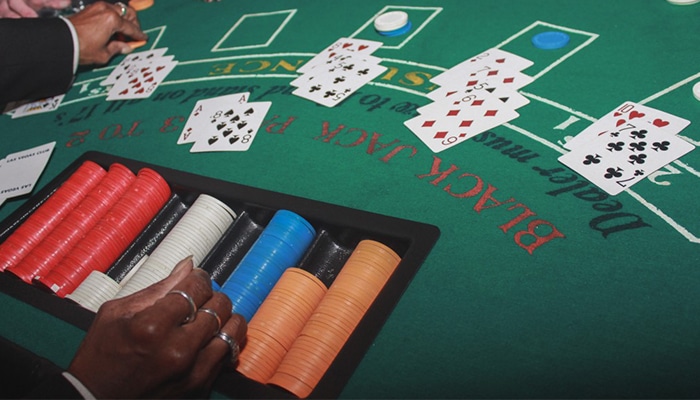 Blackjack has an easy basic strategy
In fact, in blackjack it is quite possible to use a certain strategy. The most well-known is the use of a strategy card. This contains all the conceivable hands one can get plus a recommendation for what is statistically the best decision.
Furthermore, there are a few simple tips one can give a beginning player:
Handle the minimum table stakes
Never use the insurance
Tell the dealer you are playing for the first time and ask him to keep an eye on you.
Use the strategy chart for every decision
Do not use sidebets
Make sure you know what splitting and doubling mean
Never play at a blackjack table where the payout for a direct blackjack (ace and ten) is less than 3:2
Asking the dealer for help may sound a little strange. Yet dealers have enough experience to make sure you don't make any stupid decisions. They can't help you with everything, but they can certainly guide you.
In blackjack, a new player will have to keep track of many things at once. If that is not possible, then one of the other games in this overview might be better to start with. If the player has no problem using a strategy card, however, then quite a bit of profit can be made.
These casinos have all the games for beginning players New Casino!
Casino777
Welcome bonus 100% up to €250 Jacks Casino Online
100% Welcome bonus up to €100
bet365
Deposit min €10 and receive 100 free spins
BetCity
Welcome bonus up to €100 free spins
Our best bonus! Circus
Get a bonus up to €250
Baccarat
One of the simplest games one can find in the casino is baccarat. After all, in this card game, you don't have to do anything but bet. The dealer does the rest.
In baccarat, you can place your bets on only three different betting options. The Bank and the Player plus the Tie. Beginners should leave the Tie and only bet on the Player or the Bank.
Those just starting to play prefer to stick to the minimum table bet. Regardless of whether this is in a land-based or online casino.
Craps
Craps is played in the Netherlands only at a few online casinos. The game has quite a few betting options and you need to take some time to learn the rules. Once you know the rules, it's a simple game to play. Evolution Craps Live is particularly popular.


Evolution Craps Live is very popular
New players really only need to know how to place a bet on the pass-line. This is the simplest betting option in craps and ideal for new players.
As with baccarat, we recommend that new players stick to the minimum table limit. With a higher bankroll, you can bet a little higher for a change. It is wise to do so only after a winning round.
Slots
Experienced players may be a bit surprised to see slot machines on this list. After all, they're not the games that have a pretty low house edge. But in this overview we are not looking for games with the lowest house edge. We are looking for games that are easiest to play by novice casino visitors.
And that certainly applies to slot machines. All one needs to know is how to throw money into the machine and click the start button. The rest is all self-explanatory. Coming up with a strategy is pointless, since one cannot use a strategy on slots.
The best advice to a new player is to look for a slot machine with a low minimum bet. Another tip is to set the player a certain amount in mind that he is willing to lose. After all, the chances of losing this amount are higher than winning a lot of money. When one plays with a low stake, one can be a longer player and thus enjoy the game more.
Keno
Keno has an insanely high house edge, but there are two elements to Keno that are ideal for new players. You can play with very low stakes and there is a maximum number of games you can play per hour.
At Keno you can choose the numbers yourself or you can let the machine draw a number of numbers. This makes no difference to the outcome.
The fact that low stakes games are limited to a maximum number of games per hour means that your losses will be limited. New players will usually lose, but there is always the chance that luck is on your side. If that is the case, there are still very nice amounts to be won with this casino game.
Conclusion
Of all the games in this review, baccarat is the one that requires the least skills and knowledge. Blackjack is a close second, but only if one is willing to put in the effort to memorize some rules. Especially when the use of a strategy card is not a problem, blackjack will certainly appeal to new players.
Blackjack also has the advantage of allowing you to observe other players. In addition, most dealers will be happy to lend a hand to new players.