Online casinos compared with live casinos
Both are played by many people and have their own advantages and unique features. Here we will discuss the differences and similarities between software games and live casino games within the online casino.
Software games
Are you someone who is often to be found at the online video slots? These are the so-called software games of an online casino. Major providers such as Microgaming, Play n' Go and Netent provide online casinos with the most popular video slots of the moment. The variation in these software games is great.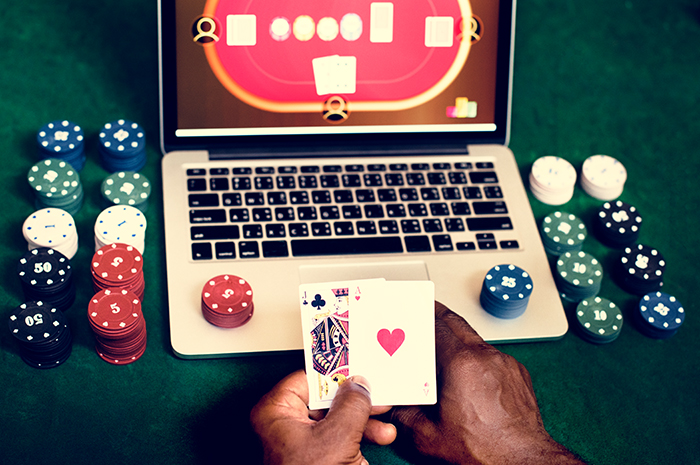 Online casino or live?
So within the segment of software games you can still encounter a standard slot machine, but also video slots with a familiar theme, such as the video slots of ACDC or Guns N' Roses, or the video slots of Gladiator and Planet of the Apes.
The software games are similar to slots that you can also find in land-based casinos, but then the selection online is a lot larger and more challenging.
Live casino games
Besides the innovative software games there is also a large live casino component found at most online casinos. This live casino is often identified by the red 'Live' that many casinos place at the top of the search bar. Live casinos provide a unique form of casino, which you can play from your living room.
One or more cameras are aimed at a live roulette, poker or blackjack table and you can virtually take a seat yourself. Camera images are of the highest HD quality and there is also a dealer at the table. A live casino thus provides the real casino experience, but from the comfort of your own home. You can choose from tables with various stakes.
The difference
While both types of casino games fulfill the same need, which is to gamble and win money, there are distinct differences. An online casino's software games are managed by an RNG, a Random Number Generator. This ensures that every spin you make on a video slot is fair and independent. In addition, the RNG also ensures that each spin is unique from the previous spin and the next spin. In the live casino this is slightly different. You can see the differences below;
You play against or with a real dealer and croupier
The Random Number Generator is not possible in the live casino
You can chat live with the dealer or croupier as well as with other players at the table.
The betting of money is more elaborate and you have to react to the course of the game
The shuffling and dealing of cards or the spinning of the roulette wheel is all done by the dealer
How can I be sure that both types of games are fair?
For both types of casino games, there are factors that ensure that the game is fair and that you have a real chance of winning. In the software games, you play with the RNG, a Random Number Generator, which makes the game fair and independent, while transparently giving you insight into the chances of winning at the online casino. In contrast, in a live casino you can follow directly what is happening, how the cards are shuffled, how the roulette wheel is turned and how fair the game is.
In addition, online casinos are constantly audited by independent casino authorities, which, among other things, issue licenses to online casinos, to determine the safety and fairness of the online casino's offer.
Software Game Benefits
Wide variety of games
RNG for fair and independent gambling
Constant innovations and renewal
Implication of new themes, including for music, film and sports
Advantages Live Casino
Live monitoring of game progress
Can be viewed from different camera angles and in HD
Feel like a real casino, but from your own home
Chatting with other people and the dealer is possible
Read more about this topic
Casino Software

All live casino games

Advantages of a live casino

Casino games Software games versus live casino gambling; which is better?
That's a subjective question, as it obviously has to do with personal preference. There are advantages and disadvantages to both types. Are you asking yourself which one you like better? Don't! Try both the software games and the live casino games extensively, as that is the only way to find out which one you like more though. We have listed a few more advantages and disadvantages of both casino games.
Both casino games are worth playing
As you can see, both casino games are worth playing. It all depends on what you are looking for. Are you someone who wants to gamble continuously and quickly on interesting video slots, or do you want the real casino experience from home? The software games are a godsend for gamblers who like to play alone, while at live casino you can share your experience with other people.
Always make sure that if you want to play at an online casino that you only play at a UK licensed online casino.