Caribbean Stud poker has gone through a lot in the time of its existence. Since its debut in the late 1980s, everyone flocked to the table to play the new game. All the old variants of the other casino games were shaken up.
This variant, the five-card poker game, took over the casino and had an easy-to-learn structure, strategic elements and payouts with bonuses. The game would therefore soon become a favorite.
What you need to know about Caribbean Stud Poker
However, the arrival of Caribbean Stud poker was also an opportunity to come up with something new. Developers quickly went back to work. Thanks to its popularity, variation upon variation appeared. Think Mississippi Stud poker, Let it Ride and Three Card poker. Therefore, many players soon moved on to something else and discovered what was going to be their new favorite. Caribbean Stud poker soon died out and was only played at two locations in Sin City.
Online casinos, however, have breathed new life into this variant of poker. Almost every major provider has included their own version of the game in their product range. Sometimes under a slightly different name to evade copyright laws, but it can still be found. Good news for fans of this variant.
In the process, there are a number of well-kept secrets of this variant to be found. These are explained in the article below. This way you might be able to play your new favorite yourself.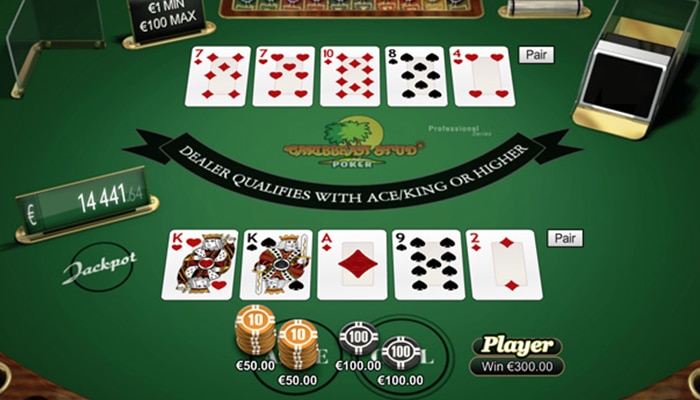 Caribbean Stud Poker at an online casino
Three-time WSOP champion alleged to have invented Caribbean Stud poker
If you're a big fan of poker, you undoubtedly have a copy of Doyle Brunson Super/System: A course in power poker (1978) in your closet full of donkey ears. However, this old Texas Dolly, a 10-time WSOP champion, didn't just write the book. In fact, he also arranged for several other top professionals to contribute.
Consider David Sklansky, who takes up several chapters in the book. Sklansky was passionate about playing the seven card variant high low split. This was one of the most complex variants of poker.
David Sklansky
If Sklansky was at a poker table, you had to be careful. He is a mathematical expert and statistical theorist who knows all the ins and outs of poker. And that in all forms that existed. He took home three gold bracelets and won the WSOP several times. He also eventually wrote the books Hold'em Poker (1984) and The theory of poker (1999). In 1982, however, he reported that he had invented a game and had his sights set on it, called casino poker.
When playing casino poker, players must place an ante bet to eventually draw five cards at random from the deck. In this case, the dealer also draws five cards, two of which remain face up. Based on the information the players had about their own cards and the dealer's cards, they could choose to give up or place a play bet.
This bet was double the ante bet. The one who ultimately had the best poker hand was the winner. If the dealer had an A-K high, the players with the best hands would also receive a bonus payout, which was equal to 100 to 1 on a royal flush.
This look familiar to you? Yet casino poker is not confused with Caribbean Stud poker. In fact, Sklansky claims that he invented this game before it would actually become popular in the casino. However, there is no reason to doubt his claims given his reputation in the gambling world. In doing so, plenty of poker professionals have come up with good ideas, only they never managed to get them to the market due to the strict patent process.
You can therefore bet your money that Sklansky actually invented Caribbean Stud poker. Only because the ignorance about the patents put the rights of the game in other people's pockets.
You can play Caribbean Stud at these casinos New Casino!
Casino777
Welcome bonus 100% up to €250 Jacks Casino Online
100% Welcome Bonus up to £100
bet365
Deposit min €10 and receive 100 free spins
Grab the bonus
BetCity
Welcome bonus up to €100 in free spins
Our best bonus! Circus
Get a bonus up to €250
Caribbean Stud poker created the format of Three Card Poker
For this we go back to the year 1994. Caribbean Stud poker enjoyed a great popularity. Dere Webb was at that time a well-known gambler and a game inventor. He tinkered with the existing table games to see if a new idea could come out of them. And it did.
Webb told Global Gaming Business a few years ago that the principles of Caribbean Stud poker had laid the groundwork for Three Card Poker. In doing so, he wanted to design a three-card bet that combined the best of the other poker game with the best of Let it Ride. In doing so, the design had to include multiple features that could ensure that there would be a low house edge. The players ultimately had to start having a positive experience when playing poker and also be able to win more. Webb's new invention ended up crushing everyone in the casino.
To this day, there are many different casinos where Caribbean Stud poker tables could be found.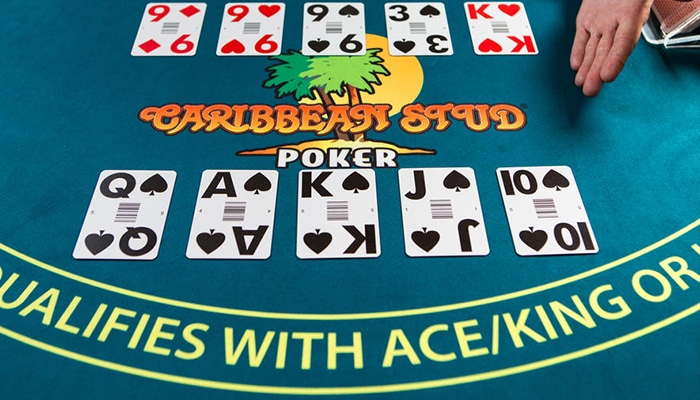 Caribbean Stud Poker at a live casino
Folding half of the hands
Before looking at this in more detail, we need to look at why there was a decline in Caribbean Stud poker. If you take a look at various tables, you'll find that with basic strategy, there is a 47.77 percent chance that you'll have to fold while playing the game. This is almost half of your sessions.
This way of playing is also called the "Tight is right" strategy and comes straight from Sklansky's handbook. Recreational gamblers, however, are not likely to give up their ante bets without competing for the win. And certainly not on half the hands being played.
The only choice you have is to hand the dealer a chip without showing. You also have to make a mistake by placing a raise bet in the bad spots. Therefore, it is not surprising to think that many players looked for a new variant of poker to get their tensions out of.
The perfect strategy is easy to learn
The perfect strategy is very simple. If you start the game with a pair or better, such as a pair of twos for example, you should always raise your bet. If you have A-K-J-8-3 or worse, then you should always fold.
This is actually the entire strategy you need to know to get started with Caribbean Stud poker online. If you use this system, you will face a house edge of 5.32 percent. This is along with a risk element of 2.60 percent.
Practicing the basic skills online
You now know the basic strategy you need to employ in Caribbean Stud poker. However, these skills that you possess as of now also need to be tested. You can do this by using a training tool.
A trainer in Caribbean Stud poker will let you know immediately when you make a wrong move. This is always based on the basic strategy. After a few hours of practice you'll start to recognize your mistakes and you won't have to think long anymore to perform the perfect game.
Summary
At the casino it is especially nice how the caisno always grows with the times. Whereas in the 1970s blackjack was mainly seen as a women's game by the players, leaving the men to roll the dice at the craps table, later on many basic strategies were added. The books that were published on the subject made it all much more exciting and changed things, especially for the new generation.
Caribbean Stud poker came a little later, after which it achieved great success. Up until the 1990s, everyone wanted to play the game. However, it disappeared like snow in the sun. If you still want to place a bet on this variant of poker, you should turn to online casinos. These have breathed new life into poker and will demonstrate to the new generation of players what was so great about the old days.