Taking a gamble is, of course, fun to do at times. You can have a night out with friends and visit a casino or an online casino to gamble. It's up to you what you like doing best.
Whatever you choose, keep in mind that it is not always possible to win. But luck could be on your side and you'll win. It's always nice when you win something because you can buy something special with it. You can also choose to bet again another time.
Getting rich by gambling
Now there are also people who have become filthy rich from gambling. This is obviously not for everyone (be realistic enough). But the biggest winners in the world didn't exactly get poorer when they played a game. Don't know who these are? Then read through the list so you too can get to know the five richest gamblers in the world.
Edward Thorp
One of the richest gamblers is Edward Thorp. This professor of mathematics visited a casino without any knowledge of the gambling world and the games played there. His attention was caught by Blackjack and he decided to focus on it. He recognized that it was essential to understand the game too well in order to win. He later learned the main rules of Blackjack and applied his own tactics and strategy that led to many wins.
He won often and a lot during his visits to the casino until he even managed to reach the point that the casinos asked him not to come anymore. This was because it became quite a losing business for them when he was in the house. He also later became known as the father of card counting. Under the name Beat the Dealer, he published a book in which he talked about his strategies. However, of all the people who used the same tactics, no one was as successful as Thorp.
Zeljko Ranogajec
Zeljko Ranogajec is a gambler originating from Australia. He visited casinos to play various casino games but started with Blackjack. Also this rich gambler is a mathematician by profession but of course he doesn't need to practice that after all the winnings he made. Ranogajec played games such as Horse Racing and Keno in addition to Blackjack. Besides being a businessman, the mathematician is a professional gambler and is estimated to earn more than a billion dollars a year and is therefore also considered one of Australia's biggest gamblers. Ranogajec is also known by his nickname The Joker.
These casinos have wonderful bonuses New!
Casino777
Welcome bonus 100% up to €250 Jacks Casino Online
100% Welcome bonus up to €100
bet365
Deposit min €10 and receive 100 free spins
BetCity
Welcome bonus up to €100 free spins
Our best bonus! Circus
Get a bonus up to €250
Doyle Brunson
A third gambler who certainly didn't get poorer from playing a game is Doyle Brunson. The American started playing poker in Texas but later moved with his entire family to Las Vegas to fully dedicate himself to the game of poker. This has certainly not harmed him as he has made millions playing poker.
He was the first poker player to win a million dollars at a poker tournament and he won more big prizes in his poker career. Brunson played poker for more than fifty years and managed to win several major tournaments in the World Series of Poker. This earned him a spot in the Poker Hall of Fame.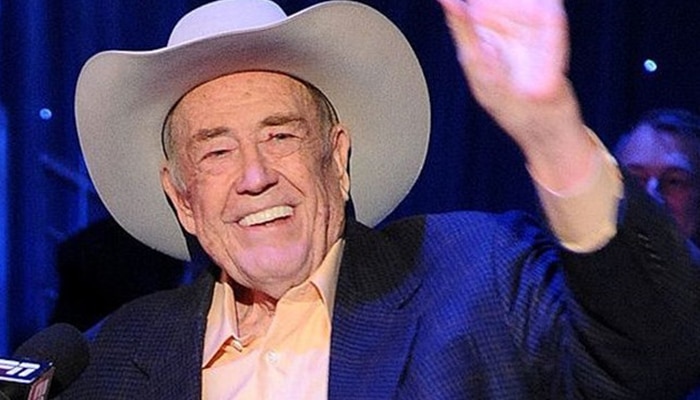 Poker legend Doyle Brunson
Bill Benter
The next gambler who has managed to earn well in his career is Bill Benter. This player, with the help of the book that Thorp wrote, has also dedicated himself to playing Blackjack in the casino. Benter is a brilliant mathematician but also a professional gambler. After a career as a gambler in Las Vegas, he was banned from there after seven years and much profit and moved to Hong Kong.
Here he worked on the development of a program with which predictions could be made about the outcome of horse races. He developed a special algorithm for it that is supported by the program. Benter easily earns millions a day but just as easily spends it again by donating it to charity. The player is therefore known as a great philanthropist.
Billy Walters
The last wealthy gambler in the list is Billy Walters. He is an American entrepreneur, philanthropist and former gambler. Walters has over the years managed to build up quite a fortune through gambling. He is known to gamble using decoys but has certainly won a lot of money with them. Walters has a hard way of playing but is still worth about 200 million dollars today. His image is admittedly quite tarnished by the fact that he has been charged with insider trading.
Isn't gambling just a matter of luck after all?
Now the first thing that comes to mind when it comes to gambling will be that it is mainly a matter of (good) luck and there is no denying that. However, it is true that good gamblers additionally have the necessary experience, skill in the game and the intelligence to bring it to a successful conclusion. With good tactics, luck will still play a big role in gambling but the chances of winning something can certainly be called substantial.