In this troublesome time of the COVID-19 virus, people have to stay home as much as possible. That quickly brings boredom. After all, what do you do when you are no longer allowed to go to work, or when your job is at a complete standstill?
An ideal time to watch some movies together, and why not watch a movie about the casino life?
Ten good movies about casino and gambling
Gambling is a special thing that for many people is associated with glitz and glamour in a fantasy world that is only for the rich people. In addition, people also see the downside of gambling when people are addicted to it. To learn more about gambling, gamblers and all possible games you can of course go to the casino yourself or place a bet at an online casino. But to get a taste of the atmosphere, watching a good movie that deals with the gambling world is, of course, not a bad idea at all.
Casino Royale
Say you gamble in the movies then you say Casino Royale from the James Bond series. In this movie Bond plays the MI6 agent who takes on the bad guy Le Chiffre. In the casino, Bond plays poker against his formidable opponent to prevent him from taking the win. The film shows how business is done at the casino and, of course, nothing beats a good action film with Bond anyway.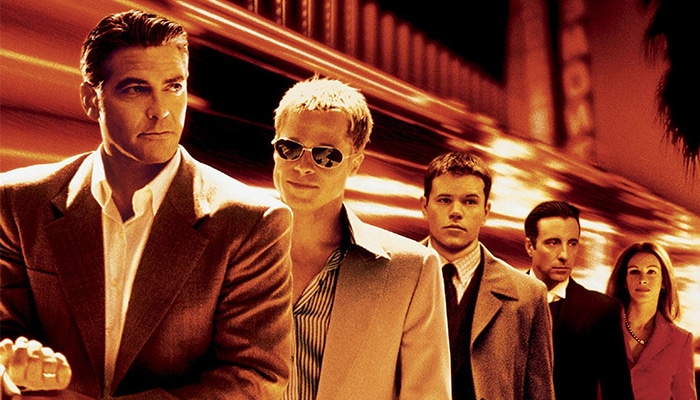 Part of the super cast of Ocean's 11
Ocean's 11
Danny Ocean is a criminal just released from prison. Admittedly a gentleman criminal, always well dressed and neat manners. He concocts the plan to rob some casinos in Las Vegas. He starts looking for a good team and gathers a total of 11 people. Ocean's 11 is formed. Whether Danyy succeeds with his partners is something you'll have to find out for yourself. A fine cast makes for a very enjoyable film. After Ocean's 11 there were 2 more sequels, namely Ocean's 12 and Ocean's 13.
The Hangover
Fancy a comic movie about gambling? Then The Hangover is definitely recommended. The film is set in Las Vegas where a group of friends have traveled to attend a bachelor party. The group is constantly faced with all kinds of bad luck on the road and also at the destination not exactly everything goes according to plan. After a night of which they no longer know exactly what happened, three of the four friends notice that the groom has disappeared and they start a diligent search for him, which leads to many bizarre situations in the fantasy world of Las Vegas. If you want to taste the atmosphere in the casinos of Las Vegas then The Hangover is definitely the right choice.
Casino
A film that shows well that the gambling world and Las Vegas also have a particularly dark side is Casino. In this film petty thief and mafia figure Sam is sent by his superiors to plunder a casino bare. This initially seems to work out quite well until luck turns against him and he loses. He also loses the support of his boss and the viewer of the film gets to know the darkest sides of Las Vegas. The film deals with money, greed, disappointment and the power people can have over another. The film puts the casinos in a particularly negative light and thus in no way resembles most films made about the world of gambling and Las Vegas. A top notch cast makes for a top notch film.
Feel like playing for a while, you can do so at these casinos New Casino!
Casino777
Welcome bonus 100% up to €250 Jacks Casino Online
100% Welcome bonus up to €100
bet365
Deposit min €10 and receive 100 free spins
BetCity
Welcome bonus up to €100 free spins
Our best bonus! Circus
Get a bonus up to €250
21
In the gambling world, the number 21 represents the ultimate score you can achieve at Blackjack. The film is about a specially selected group of students who are trained to count cards so that they can always win in the casino. The main character Ben Campbell has ambitions to become a doctor and is employed by his teacher to go with four others into the casinos to win a lot at Blackjack. A film with a leading role for Kevin Spacey.
Rounders
This movie is all about poker. Mike McDermott is a law student who is good at poker. However, after losing a game of poker to a Russian gangster, he decides to quit poker and focus entirely on his studies. This goes well until his childhood friend gets out of prison with a large debt to repay. Mike wants to help his friend and starts playing poker again in an ultimate desperate attempt to help his friend out of debt.
The Gambler
The Gambler tells the story of professor of literature Alex Feed. He is so addicted to gambling that he loses all his money with it. He asks his girlfriend and mother for money and steals from them to get the means to gamble. Finally, he borrows money from wrong friends but as he loses, he gets further and further into trouble. He leaves for Las Vegas to try to win money to pay off his debt although this involves dangerous situations. However, due to his addiction, he cannot stop gambling.
Rainman
The movie Rainman tells the story of two brothers. Car dealer Charlie Babbitt finds out after the death of his father that he has left his fortune to his older, autistic brother Raymond. After he discovers which gift Raymond has, he decides to travel to Las Vegas with his brother in order to win the necessary money. To do this, he uses his brother Raymond, who is exceptionally good at counting cards, and uses this skill to count the cards at the Blackjack table and thus provide them with the necessary profit. The film breathes Las Vegas but is even more about the bond that both brothers manage to build during their trip to the gambling paradise.
Fear and Loathing in Las Vegas
Las Vegas is, of course, the gambler's paradise so it will not surprise you that this city is mentioned in the title of a film about gambling. In this rather black and at times sarcastic movie, journalist Raoul Duke and his lawyer are on their way to Las Vegas to report on a motorcycle race. However, they are carrying a suitcase full of drugs, some of which they sniff along the way. This leads to the most bizarre and strange situations in which they end up in the world of drugs and also that of gambling that is their final destination.
Croupier
The last film in the list is Croupier. In this film a man who has ambitions to become a writer is a croupier in a casino. In this way, he is completely drawn into the world of gambling and the casino until his work begins to control his life. It even gets to the point where he plans a robbery at the casino and realizes that there is a good book in there. That way he can write about his life as a croupier and what it means to get caught up in this sham world.
Nice movie night
So, these are by no means all movies about gambling and casinos, but they are top movies as far as we are concerned. Chances are that the crisis will continue for a while and you might have the chance to watch them all. If you like gambling it is absolutely no punishment to watch the movies. Have fun with the movies and pay attention to each other in this crisis.