Maybe you've heard of card counting at blackjack. Maybe you've heard about the lawsuit pending against noted poker pro Phil Ivey over Edge-Sorting. You may also be familiar with techniques like Hole-Carding and Ace-Sequencing. If not, this page explains popular techniques used in the casino today.
These techniques often work even better than card counting, which is actually known as one of the few strategies for getting a real edge at the casino. It's not for nothing that the game of blackjack is so beloved. What makes a technique like Edge-Sorting so good is the fact that you can also apply it to other card games like Baccarat and Three Card Poker.
Try to create an advantage
Casinos that worry about card counters may need to focus more on other "advantage gamblers." These come in groups and sometimes occupy an entire blackjack table. Together, they take on the live dealer, making sure to use one of the techniques mentioned above.
By working well together, they can beat the casino with advance information such as what the value of the dealer's closest card is. If you already know in advance what is going to come, then it is unnecessary for us to tell you that this is a huge advantage. It gives the player as much as 21 percent more advantage if he knows which card is coming.
While all of these casino techniques are legal, there is a chance that you could be denied entry if they realize that you are sitting at the table as a pro gambler. You are not allowed to count cards or use a technique such as Hole-Carding or Edge-Sorting.
Phil Ivey
Phil Ivey used Edge-Sorting to cheat a casino out of $12 million. Now there is a lawsuit against him because the casino alleges cheating. In a technique like Hole-Carding you need more players. A player sits as close to the slipper (cards are dealt) as possible, and tries to look at the bottom of the card in a lightning-fast flash.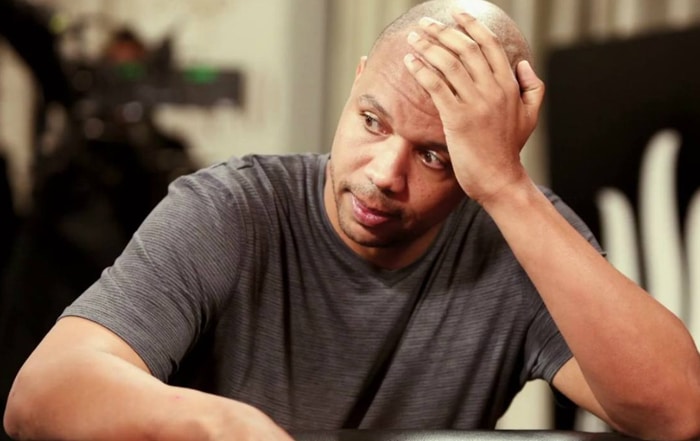 Phil Ivey is an "advantage gambler."
Next, a signal is given to other players at the table. Signals are easily given off through a bet or how chips are placed down on the table. These things the advantage gamblers discuss before they visit the casino, and no one else knows what these signals look like. It only has to be a slight cough while they're placing a bet, or a little finger stuck out or something. You can't make it up as much as you like.
To come back to the techniques used in the casino today. Read below to see how they work and see which one suits your own playing style best. Maybe one day you'll be able to leave the casino with a nice profit in your pocket. Just be sure no one notices that you're using a technique to increase your own advantage. That is really not appreciated!
Edge-Sorting
Edge-Sorting is a technique used in the casino to get ahead. Here the player determines whether the card is an image (value of 10) or a low card. The player carefully analyzes whether there are any unintentional differences on the back of the cards dealt. Many decks that have been produced have unintentional, and almost impossible to distinguish from each other, deviations in the patterns and edges.
The back of a deck is identical, but the edges of each card are distinguishable from one to another. The back of the pattern is no longer symmetrical when the card is turned 180 degrees (half a full turn).
During play, a player may ask a dealer if the high-value cards can be rotated 180 degrees because it brings them luck. If the dealer complies, the player has an advantage. Furthermore, the player should ask if an automatic shuffling machine is used, so that the pattern remains the same.
The dealer does not have to comply with these requirements, but they usually do, in order to gain the player's trust or remove some suspicion. Casinos view the Edge-Sorting technique as cheating, while many players feel it is a legitimate way to get an edge.
Phil Ivey Used Edge-Sorting at Baccarat
In 2012, poker player Phil Ivey and Cheung Yin Sun, as partners, managed to win a whopping $9.6 million playing Baccarat at the Borgata Casino. In 2014, a lawsuit was filed for their winnings. In 2016, the court ruled that Phil and Cheung must repay $10 million to Borgata.
Although according to the court they had not committed fraud, in doing so they broke the contract with the casino. For example, it was stated that according to the law, they are not allowed to mark cards. Although they did not mark cards, they used the tiny imperfections in the back of the cards' pattern to their own advantage.
Lots of money
In 2012, Phil Ivey reportedly managed to win £7.7 million playing the game Punto Banco (version of Baccarat) at Crockfords Casino in London. Crockford gave him his £1 million deposit and agreed with him to send the winnings, but the payout was eventually refused by the casino. Phil Ivey sued them for this, but lost the case in the High Court.
The ruling was that Edge-Sorting is a form of cheating. It was also accepted that Phil Ivey and others who used this technique did not know about the cheating, and the casino could easily protect itself by coming up with better material (no imperfections in the pattern of the back of a deck).
According to the court, Phil repeatedly used his own dealer, making demands that resulted in his being able to use Edge-Sorting while playing. In the end, Phil Ivey lost the lawsuit on all counts. The case was dismissed on the basis that dishonesty is not necessarily an element of cheating.
Hole-Carding
The technique Hole-Carding refers to obtaining information that should normally be hidden in card games such as Blackjack, Three Card Poker and Caribbean Stud. If no use is made of, for example, a mirror or touching the cards, then Hole-Carding is considered legal in most jurisdictions. In Blackjack, if a player is aware of the dealer's Hole-Card, they can get a theoretical lead of 13% instead of the casino having a 0.5% lead.
In casinos where the card is not dealt to the dealer until the end, it is not possible to know the bottom of the card. In Hole-Carding, you need more players. Often one player sits on the far right, as close as possible to the slipper from which the cards are dealt by the dealer. When the dealer takes the card out of the slipper, the "advantage gambler" knows exactly how to know the value of the card at a glance. They are trained in this and it takes a lot of practice.
Ace-Sequencing
Ace-Sequencing is another technique that players use to gain an edge in Blackjack. This technique allows the player to track the order of the cards or specific cards. This method is commonly used in Blackjack, but can also be applied to other types of card games. Games where a dealer shuffles himself is easier to keep track of than the complicated shuffling machines that casinos use.
Keeping track of shuffling is usually done in Blackjack variants with six to eight decks because they often shuffle themselves in these cases instead of using a shuffling machine. In Ace-Sequencing, the idea is to determine when Aces are or are not dealt. When an "advantage gambler" is aware of whether an Ace is dealt as the first card, it gives the player a 50.43% advantage. This is because the player has a 30% chance of getting a natural blackjack (pays out 3 to 2) and a good chance of getting a good hand if the hand does not result in a natural blackjack.
Order
To practice Ace-Sequencing, the player must first know the order in which the deck is when cards go back into the deck, and it remains intact. The player must then observe carefully whether the Aces are still in place after the cards are discarded. The player must also remember which 2 or 3 cards are placed on top of the Ace in the deck.
The cards are also called "key cards. After the cards are shuffled, the advantage gambler must look for these cards. The probability of an Ace coming is then higher, and by increasing the bet at that point, the player puts himself in a good position.
Combination
A player can be good at card counting and Ace-Sequencing at the same time. However, to be good at tracking the Ace in the deck, you need some extra qualities. The player must be able to concentrate well. Determining the order of the Aces is much more difficult than counting cards because it requires more time and concentration. When you use Ace-Sequencing in combination with card counting, it can serve as a very effective Blackjack strategy.
Related
Blackjack

Counting cards in blackjack

Punto Banco

Baccarat What do we think?
In the casino, players will always do everything they can to have a better chance of winning money. Hence, over the years, different techniques have emerged to get an edge at a specific game. Blackjack is one of the casino games where players like to use their techniques to gain an edge.
Some of these include Ace-Sequencing, Hole-Carding and Edge-Sorting. Card counting is also a good technique, but it is more familiar in the casino – and also easier to recognize. If you plan to use a strategy, we recommend that you practice it well first.
On our website you can find useful tips for blackjack or learn how to count cards. It is advisable to always use a basic strategy while playing, unless you have obtained information beforehand that says it's better to deviate from the strategy.