Roulette is very simple at its base. You bet on a number or one of the sidebets. A ball is then swung through the roulette and you wait for the outcome. A fine concept that was sufficient to attract players over the years.
But roulette has existed in its current form since 1796. Those who enjoy playing it might be interested in playing some variations of the game. There are plenty of opportunities for that these days.
Strange variations of roulette
Online casinos nowadays offer all kinds of opportunities to play variations of roulette. Many more than you can find in land-based casinos. With the software that is used sometimes the strangest variations can be created.
In this article you can read more about the most unusual roulette variations. A few can be found in land-based casinos, but most are only available online.
Have you ever thought about playing multiple roulette wheels at the same time? Or try a game with multiple balls spinning around the wheel? If that appeals to you, the following games are really made for you.
Multiroulette
Roulette tables have one wheel, the roulette. Before the advent of online casinos, no one ever dreamed of a two-wheel roulette. However, thanks to modern gaming technology, this is now very feasible. Features of the Multiroulette are:
Up to 8 roulettes in play
A single bet is placed on all active wheels
Any type of bet can be made on all active wheels
Each wheel produces its own results
The exciting thing about this game is that you can place a particular bet and watch it play on multiple wheels.
Double Action Roulette
Double Action roulette is one of the games that can be found in both land-based and online casinos. This variation stands out for its unique roulette wheel. These are the features of Double Action Roulette:
Outer numbered track on wheel (just like in regular roulette)
Inner numbered track on wheel
Two different areas on the board for outer and inner bets
Double Action roulette essentially lets you play on two games at once. If the outside bet doesn't pay off, you can still win on the inside bet or vice versa.
At these casinos you can play all kinds of variations of roulette New!
Casino777
Welcome bonus 100% up to €250 Jacks Casino Online
100% Welcome Bonus up to £100
bet365
Deposit min €10 and receive 100 free spins
BetCity
Welcome bonus up to €100 free spins
Our best bonus! Circus
Get a bonus up to €250
Multiball Roulette
Multiball Roulette is exactly what the name suggests. With each spin of the roulette, not one but multiple balls are thrown through the roulette. This variation is only available at online casinos and is perhaps the most exciting variation.
In this variation, up to 10 bullets can be hurled into the roulette at the same time. All balls have different colors, to avoid confusion.
Multiball roulette works like regular roulette at first. You place your chips on the board and select the spin button when you are ready. All available bullets are flung through the roulette the moment the roulette starts spinning. So with up to 10 bullets you can also get 10 results.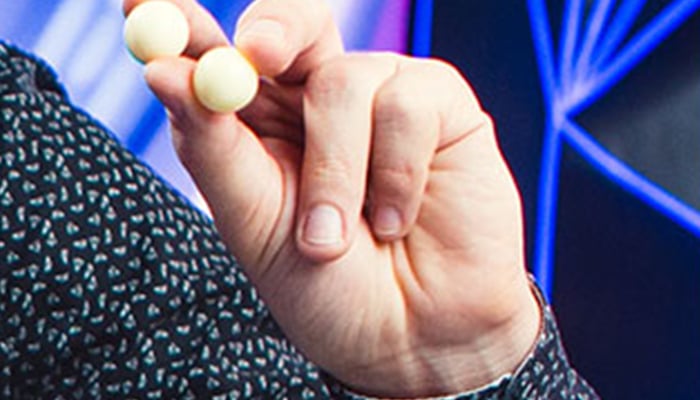 Multiball roulette
Pinball Roulette
This online game combines pinball and roulette for a unique gaming experience. However, the game works differently than regular roulette or a pinball machine.
Rounds begin as normal. You place your chips on the board and indicate when you are ready to play. Then a new screen appears with the following features:
A pinball machine but without flippers
Numbered track at the bottom
Only 15 to 20 numbers are always visible
The numbered track rotates across the bottom to make sure all the squares are available
You shoot the bullet into the pinball area
Ball bounces on the bumpers until it stops
Unfortunately, the missing pinballs take away any skill element to this game. However, it is very amusing that you get to shoot the bullet through the roulette pinball machine yourself.
Mini roulette
Besides Double Action, mini roulette is the other game that can be played in both land-based and online casinos. The roulette has a wheel with only 13 digits, including the zero and the numbers 1 through 12. This is in contrast to the traditional American and European wheels, which have 38 and 37 digits respectively.
The nice thing about mini roulette is that the wheel looks completely different from standard roulette. However, the only drawback is that it has a high house edge.
Mini roulette without the la Partage rule has a house edge of 7.69%. La Partage pays back half of your bet on sidebets when the ball lands on zero. With la Partage, the house edge drops to 3.85%. Still a very high house edge compared to traditional roulette which have a house edge of 2.70%.
Always play new roulette games for free first
As you can see, there are quite a few variations on roulette. For those who like to play roulette, they are also absolutely worth trying. If you want to give a game a try, use the free versions of the game first. These are available online and require no account or deposit at a casino.
By using this practice mode, you can first see if a game is worth your while. After all, you don't want to waste money on games you don't like.
At almost every online casino you can try out games for free. The idea here is to give players the opportunity to practice a game with fictitious money. This way they don't risk losing money unnecessarily by being unfamiliar with a game.
Why are casinos introducing new roulette variations?
As indicated earlier, roulette has been around since the late 18th century. In a way, this longevity gives the game a historical mystique that is hard to match.
On the other hand, this game can feel rather dated, especially when compared to innovative video slots. Both online and mainland casinos are aware that innovation happens throughout the industry. They cannot sit idly by as their competitors attract gamblers with more interesting games.
Therefore, casinos are always willing to try something new in hopes of attracting and retaining more players. Roulette variations are part of this process.
Double Action or mini roulette are not yet causing players to flock to the casino floor. But they are certainly appealing to people who want something different. As with any new and daring casino game, some of these experiments don't work. Only a single variation grows into a great success.
Do roulette variations pay off more?
The odds on each variation of roulette differ and are clearly displayed with the game. Those looking for the most advantageous version of roulette should try the French Roulette. This variation gives you the best chances to beat the casino. This, because it is played on a European wheel with the la Partage rule.
Again, European Roulette has a house edge of 2.70%. But when la Partage is added to the game, French roulette offers a house edge of 1.35%.
There are no known variations yet that play with the la Partage rule. Instead, variants have a house edge of 2.70% or 5.26%. In the case of mini-roulette, the house edge can be 3.85% or even 7.69%.
Casinos rely on the novelty effect, rather than great odds, to attract gamblers. But if you're all about the experience, you won't mind braving a higher house edge.
Conclusion
Playing roulette is a completely different experience from, say, playing slots. There are no themes, special features or sound effects. However, both types of games now offer all kinds of variations.
Everything starts with the classic variants, such as American, European and French roulette. But you can go even further if you are looking for interesting experiences.
Try one of the variants in this article. Each game has the potential to let you experience something completely different from traditional roulette. Multi-ball, Double Action and multi-reel roulette are great if you like excitement and action. They all give you the opportunity to place multiple bets in each round.
Pinball roulette is a really fun hybrid game with a heavy pinball element. Mini roulette offers a cool little wheel with only 13 numbers, but does offer a very high house edge.
Before you try any of these games, you'll definitely want to try them out for free. Online casinos give you that option. You can try each game without having an account or making a deposit.