For those who love Blackjack, all kinds are offered. For that, you can decide what you want to play. Do you prefer live gambling? Then Speed Blackjack might be something you should definitely try.
Speed Blackjack Live from Evolution Gaming
Evolution Gaming has developed Speed Blackjack to increase the speed of play directly. Conveniently, the rules of the game are the same as for normal live Blackjack. So what is the difference? It is in the order of play. The partial order of the cards is determined on the basis of the eligible hands.
This way you don't have to wait for players who can only pass to indicate this. Statistics have shown that Speed Blackjack can be played 30% faster this way.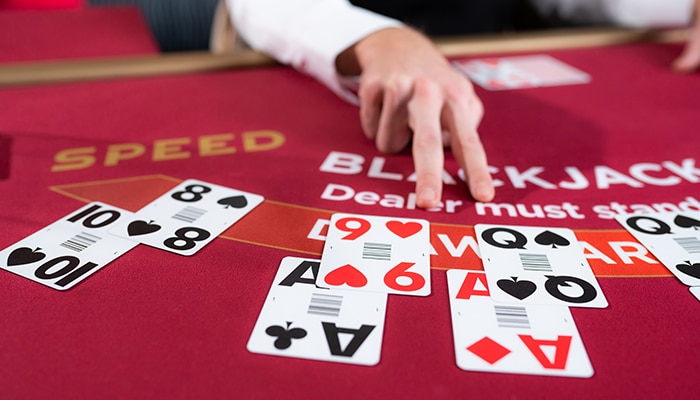 Speed Blackjack Live is super fast
Game play
To get started playing Speed Blackjack one must know the rules of the game. The basic rules of normal Blackjack are used. So first make sure that you know these rules by heart and that you can apply the right strategy blindly. If you can't do this, it's better not to play Speed Blackjack for the time being.
The big difference in this variant is the speed of the game. Regardless of your position at the table, as soon as a player makes a decision, the dealer will play that hand first. The advantage is that as a player you never have to wait for your fellow players. Ideal for players who want to play many hands per hour.
Evolution Gaming games can be found at these online casinos New Casino!
Casino777
Welcome bonus 100% up to €250 Jacks Casino Online
100% Welcome Bonus up to £100
bet365
Deposit min. €10 and receive 100 free spins
Grab the bonus
BetCity
Welcome bonus up to €100 free spins
Our best bonus! Circus
Get a bonus up to €250
Speed Blackjack has many options
There are several options. If you think you have insufficient points to win, you can take an extra card at Speed Blackjack Live. You can also pass if you think you have enough points or split if you are dealt 2 cards of the same value. As soon as you pass, you pass the turn to the dealer. In Speed Blackjack, the dealer will always take a card if it is 16 or lower and pass if it is 17 or higher.
After the dealer's hand has been played, do you have more points in Speed Blackjack? If you win a Blackjack with your first 2 cards you will immediately receive 2.5 times your stake as a payout.