Although you may think that in Las Vegas everything is possible and allowed, this is not true. Even there you have to abide by certain laws and there are certainly things that are forbidden to do.
Gambling may be plentiful but that doesn't mean that this freedom applies everywhere. Read the following rules and laws that apply there so you know what you need to keep in mind when you're there.
Special laws in Las Vegas
While on the one hand "The Sky Is The Limit" really applies, this city does have some very exceptional rules. It is also wise to be aware of these rules if you ever want to bring to this great city.
Consumption of alcohol
In Las Vegas it is allowed to consume liquor in public, for example while walking along The Strip. Partly because the city is alive 24 hours a day (especially in the evening and at night) and because of the large numbers of tourists who come here, there is no ban on drinking in public. There are, however, a few rules attached to this. There are no glass containers on The Strip and you get your drink in a plastic cup that you can throw away after use. You also may not drink while in a vehicle or if you plan to drive yourself. Pick a BOB or have a soft drink in that case.
Keeping Exotic Animals
The state of Nevada, where Las Vegas is located, has a not particularly strict law when it comes to keeping animals. Of course you can keep a dog or cat as a pet but other types of animals are often allowed as well. Among other things, you can keep tigers, lizards, crocodiles, foxes and raccoons. An elephant or monkey is not allowed by the way.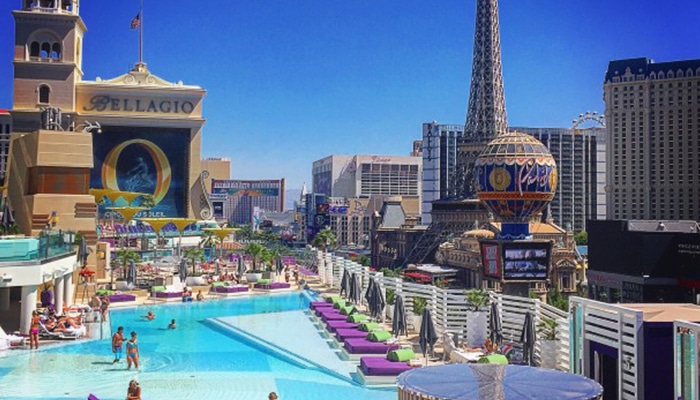 Not all pools allow topless sunbathing
Nudity in public
Although for many people America seems to be the country where a lot is possible, many Americans are on the prudish side and a naked body is not always appreciated. In Las Vegas, walking around topless is not allowed because it is not so neat but in some places it is allowed. Consider swimming pools that are only open to adults. The ladies are encouraged to wear only shorts but a top is of course allowed. Stick to the rules or you risk a hefty fine.
Prostitution
In the state of Nevada, there are quite unusual laws regarding prostitution. In the rest of the United States it is simply prohibited, but in Nevada brothels in places with fewer than 700,000 residents, it is legal. Now Las Vegas is in the part of Clark County that has a higher population and so prostitution is prohibited there. Bringing an escort to The Strip is not allowed either. The fact that prostitutes can regularly be found in the bars of the hotels proves that this law is being used creatively.
No time to go to Las Vegas but do feel like gambling here: New!
Casino777
Welcome bonus 100% up to €250 Jacks Casino Online
100% Welcome Bonus up to £100
bet365
Deposit min €10 and receive 100 free spins
BetCity
Welcome bonus up to €100 free spins
Our best bonus! Circus
Get a bonus up to €250
Homeless
In Las Vegas live many homeless people. Many people think that providing these homeless people with something to eat or drink is the right thing to do but it is not. This is because it also carries certain risks such as the spread of disease or that the food is not stored properly and attracts pests.
So this is prohibited by law in Las Vegas. Would you like to help people? Then find another way to do so because there are plenty of those too.
No bubble bath in your hotel room
Do you like to take a bath? Then don't expect to find a wide selection of bath salts or foams in your hotel room. This is because in the past, these have been used for purposes other than just bathing. Some people chose to snort, inject or smoke the stuff, which of course is not meant to be, dangerous and also illegal.
Only cabs at official taxi ranks
In almost all cities in the US, you can hail a cab on the street. In Las Vegas you can only do this at special cab ranks. It is important to keep this in mind when you want to go from one casino to another that you cannot take a cab everywhere. This rule applies to all cab companies in the city. The Strip is long so if you don't want to walk all the way check where the stands are.