If you're looking for a game that offers the greatest chance of actually winning money, choose blackjack without a doubt. The game has a very low house edge and that can be even lower if you play blackjack according to a certain strategy.
Blackjack can sometimes get a bit monotonous
Playing according to a strategy does mean that the game of blackjack can sometimes become a bit monotonous. After all, if you deviate from the best blackjack strategy, it immediately means that the house edge increases and thus also the chance of losing more.
Those who have had enough of blackjack for a while can choose to play another game. In doing so, one has to be careful not to choose a game with an extremely high house edge. So in this article you'll read about five games you can play when you've had enough of blackjack.
Let It Ride
The first game we take a closer look at is not so much like blackjack as it is related to poker. Later we'll cover some games that are closer to blackjack. In Let It Ride you have the opportunity to have a bit more influence on the amount of your bets in particular.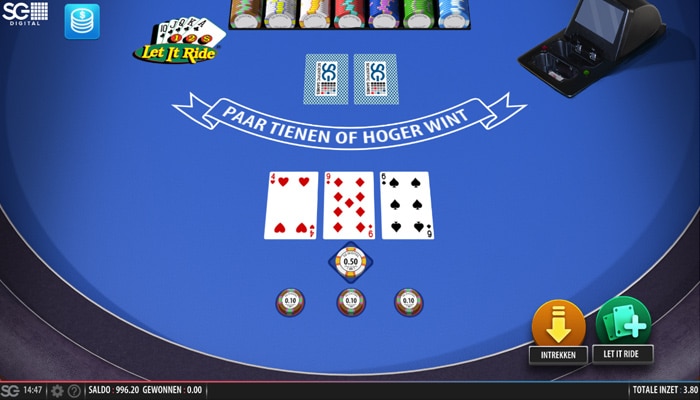 Let It Ride is related to poker.
The game begins with the dealing of three cards with each card being placed in its own compartment. After these cards have been dealt, you can choose to pass or let the game continue. If you continue playing, the dealer places two cards in two other compartments.
One of these cards is placed face up, after which you can choose to remove a bet or continue playing. With the five cards now on the table, you have to make a winning hand to win something.
The nice thing is that you have three moments where you can adjust your bets. The game does not have as low a house edge as blackjack does, but it is certainly an entertaining alternative for when you want something different.
Mississippi Stud Poker
As with Let It Ride, in this poker-related card game you have much more influence over the bets you make. You can even double your bet up to 10x, depending on the hand you get.
In this game, you are dealt two cards by the dealer that you can look at. At the same time, three cards are laid out that you cannot see. You place an initial bet which is similar to the Ante in poker.
After this is done the three cards are turned over one by one and made visible. Each time a card is turned over you have the opportunity to double your bet 1, 2 or 3 times. A payout table then determines the amount attached to a particular winning card combination.
This game is particularly favorable because in the long run you can win a lot of money and you can determine your bet in between (at each step). Nevertheless, it's still a game of chance and you can also lose a lot if you play too eagerly.
Play something else than blackjack? Try these casino games! at: New!
Casino777
Welcome bonus 100% up to €250 Jacks Casino Online
100% Welcome Bonus up to £100
bet365
Deposit min €10 and receive 100 free spins
BetCity
Welcome bonus up to €100 free spins
Our best bonus! Circus
Get a bonus up to €250
High winnings at Video Poker
Besides blackjack, playing video poker games is one of the most sensible choices you can make in an online casino. Video poker has an even lower house edge than blackjack, at least when you know how to choose the right video poker games, such as Jacks or Better.
Important in determining the right video poker game is the pay table of the particular variant. The variations that video poker has to offer is obviously an advantage over the sometimes boring regularity in blackjack.
However, not every variation is recommended. Before making a choice, be sure to familiarize yourself with the variations available. Pay special attention to choosing a video poker game with an attractive pay table.
Texas Hold'em
Blackjack is a wonderful game, particularly because it can be beaten by players who are serious about it. The same is also true with the Texas Hold'em game. However, you need to put in the necessary energy and time to learn how best to play these games.
Learning the right strategy to play is much more complicated than learning the basic blackjack strategy. However, those who take the time and know how to discover weak opponents in particular can win a lot more money much faster.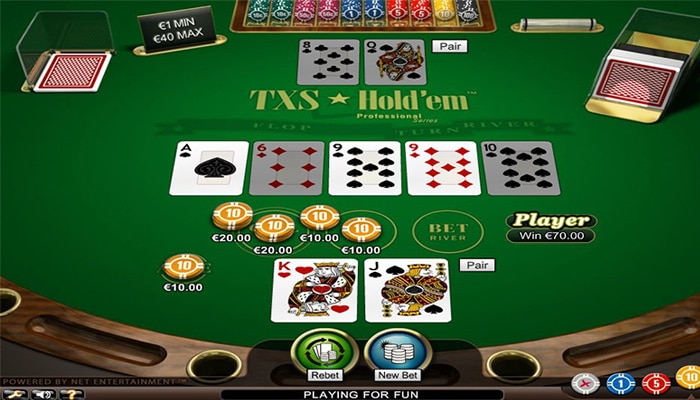 Texas Hold'em is a poker game in which you have to make the highest possible card combination.
So you will have to study well the strategy in Texas Hold'em. Read books, try out some games (including mobile games) and above all practice a lot on free practice software.
Anyone smart enough to learn basic blackjack strategy will also be able to learn the strategy needed to master Texas Hold'em. Pick weak opponents and always keep playing according to the recommended strategy. You will then absolutely be able to make a profit.
Spanish 21
Spanish 21 is a variation of blackjack. So it's a good choice when you want to get out of the rhythm of traditional blackjack for a while, but still want to play blackjack. The house edge is similar to regular blackjack, provided you play according to basic strategy.
So it is basically a blackjack game, but with all the advantageous rules. In addition, this blackjack variant has no Tens in the game. This does reduce the chances of getting blackjack, but with all the other rules working in your favor, it is an excellent alternative to traditional blackjack.
Another reason to play Spanish 21 if you have mastered counting cards is that it is easier to do so than in traditional blackjack. The counting process may be slightly different, but you can still use it to your advantage or even gain more than you normally would.
Conclusion
Texas Hold'em is the best alternative for when you have had enough of blackjack. You will have to learn the strategy for Texas Hold'em in order to take advantage of all the benefits this game has to offer.
If you are looking for a change, but within the blackjack game, then Spanish 21 is recommended. The rules are somewhat different, but work to your advantage rather than your disadvantage. Again, however, this is only the case when you play according to basic blackjack strategy.
Video Poker is always recommended, provided you choose the right games. These can have a house edge as low as 0.44%. Let It Ride is also a very fun and exciting game to play just once in a while. You can vary your bets and have the chance to win big.