By now you might recognize Slotvision from fun video slots like Immortal Gladiator, Flaming Fruits or Buffaloes Duel. Because Slotvision is still relatively new, you will not see this software provider everywhere yet.
Despite that, we expect that this will happen in the future. Within this review we will tell you more about the functionalities of software provider Slotvision.
Slotvision Review
If there is anything we can rightfully say about Slotvision, it is that they make surprisingly beautiful slots. The slots are supported with HTML5 and JS technology. The slots are also excellent to play on desktop, laptop and mobile. The themes of the various slots vary. For example, Flaming Fruits takes you to a traditional fruit machine, while Immortal Gladiator highlights a relatively new theme.
Obviously based on the movie, but not many other providers have dared to venture into this theme yet. In 2019, Slotvision, operating out of Cyprus, has made a definitive step in the online casino world. Thanks to its advanced software, you will enjoy the best graphics and the most interactive gameplay.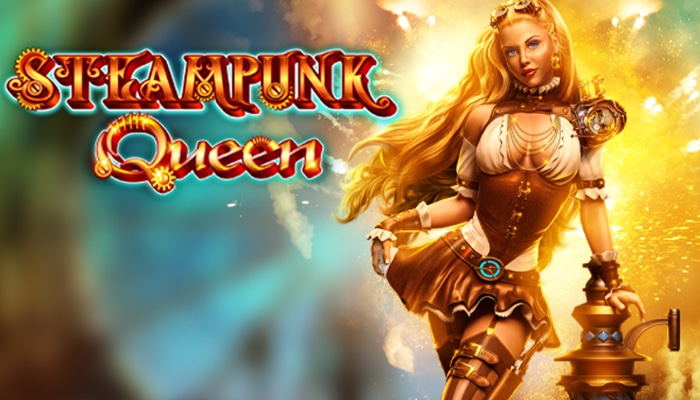 Steampunk Queen will be the latest release from Slotvision
Focus on quality rather than quantity
Slotvision has a clear vision; the focus is on quality in gameplay rather than quantity. This means that their main focus is on gameplay, graphics and unique features. With many other software providers, we see that they like to focus on quantity in the early stages and only then submit the focus to quality.
Slotvision clearly opts for quality and hopes to force growth this way. They do this well, as the current slots all have the beautiful graphics and active gameplay you want to see within a slot.
Cooperation with iGaming
When optimizing and developing slots, Slotvision makes use of the knowledge and experience of iGaming. iGaming has been active in the world of online casinos for years and can therefore help Slotvision to build up awareness among players. iGaming also puts itself in the market as an affiliate partner in the development of themes, graphics and content of online slots.
Slotvision's best slots
At the moment Slotvision has 14 slots. Among them are some well-known and some lesser known slots. Nice to see is that most of the slots have as votality 'high'. This means that there is a lot of diversity and that you can play several features in the gameplay. Features include free spins or bonus rounds with interactive functions. We are going to run through the best slots of Slotvision with you. Maybe you know them already or you will be playing these slots yourself soon.
Immortal Gladiator

Also known as immortal gladiator. This slot takes place in the harsh world of the Coliseum. Immortal Gladiator is thus largely based on the movie Gladiator. The slot has 5 paylines and several bonus games. On top of that, the votality is high. The slot was only released in August 2019, but nevertheless has already made a big impression. During the free spins feature, you have an extra chance to win high. The gladiator himself and the queen are the main symbols from this recognizable and challenging slot from Slotvision.

Buffaloes Duel

In Buffaloes Duel you will not only encounter buffaloes, but also various other animals from the wilderness, such as wolves and lions. This 5×4 slot has as many as 50 different paylines, giving you various opportunities to win and bet more money on a winning combination. A surprising and fun feature of Buffaloes Duel is, that the top symbol of each reel is exactly the same as the bottom symbol on the reel. Once again, the votality is high.

Flaming Fruits

The fruit machine has passed by more than once in the slot machine offerings. Flaming Fruits is a classic 5×3 slot with 5 possible winning lines. The game features an expanding wild on the 2nd, 3rd and 4th reels. The scatter is the Dollar symbol, with which you are guaranteed to win a lot of money. The star symbol is also a scatter, which returns exclusively on the 1st, 3rd or 5th reel. With this you can unlock the free spins feature. A unique option to win extra money. Flaming Fruits has an autoplay feature, which means you don't have to play continuously yourself, which is very nice with a fruit machine. The votality of this slot is also low; an exception for Slotvision.
Playing Slotvision
Would you like to try out a Slotvision game? In principle you can do so at all casinos with which iGaming is connected. Since iGaming has a huge platform and a portfolio full of online casinos, there is a big chance you will encounter one of the above slots or other names of software provider Slotvision soon. The most fun, of course, are the slots with high votality, or variety. For all Slotvision slots, the gameplay and graphics are always striking and beautiful.