Slingo Starburst is a hybrid slot and bingo machine that features 12 ways to win with a maximum win of 1500 times your stake. Starburst is the most popular online slot machine and is considered iconic in the online gambling world. This Slingo variant offers players a mix of two very famous forms of gambling.
You get fun bonus features with this game and lots of gameplay details that make playing a lot more interesting.
Slingo Starburst Review
As you can expect from Slingo games, you start with a 5 times 5 card with random numbers. These numbers you need to strip off by spinning on the 5 times 1 reel. Of importance is that you unlock Slingos. You get a Slingo by crossing off 5 numbers in a row. The more Slingos you get the more chances you have of winning larger amounts of money. You get 10 spins to achieve as many Slingos as possible.
From 3 Slingos onwards you will enter the bonus feature called Win Spin. This is a spin on the Starburst slot where you are guaranteed to win. If you get 3 Slingos then you get a blue gem where you can earn up to 25 times your stake back. The more Slingos you have higher the maximum bet you can earn back.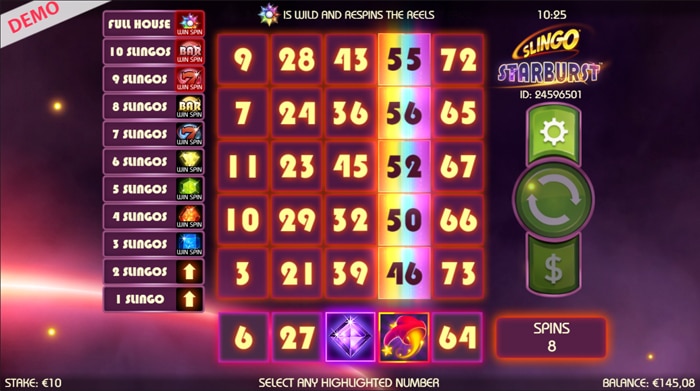 Slingo Starburst from Slingo Originals
Theme
Even if you are new to playing online slots you have undoubtedly come across the original Starbust slot. Slingo Starburst is from the same creators and they have remained completely faithful to the original game. So it's no surprise that it has a space theme with beautiful galaxy graphic design and vast galaxies.
This makes playing Slingo Starburst extra appealing and there is plenty to enjoy in terms of looks. The design of Slingo Starburst thus completely sticks to the original. It does so in all areas, including the same music, the same symbols and the same theme. If you've played the original game a lot you'll find yourself in a warm bath and the game feels very familiar.
Prizes
The action of Slingo Starburst mainly takes place on the card, but there are also pay symbols within the game that award winnings. These winnings can be achieved during the bonus round. If you reach the bonus round then blue, orange and green gems give you a low chance of winning. Higher chances of winning cash are with yellow gem, red 7 and bar.
The number of Slingos determines which gems and other bonuses you get. This means that if you have achieved 3 Slingos in the game you get a blue gem. If you have 7 Slingos then you get a red 7. The more Slingos the more chance you have of winning higher prizes.
Possible extras
Besides being able to spin numbers in the game, you can also spin symbols. For example, you have the Starburst Wild that causes you to be allowed to strip one number from the column above. The same applies to a normal Wild symbol. If you spin a Super Wild then you may strip a number anywhere on the map. A free spin symbol gives you an extra free spin on top of the 10 you already have.
Landing on a purple gemstone earns you a cash prize. Three purple gems are good for half your bet, 4 for one time your bet and 5 for 2.5 times your bet. Finally, there are the block symbols and they do nothing at all.
Buying Extra Spins
When all the regular spins and any free spins are done you have the option to buy extra spins. The price of such an extra spin depends on the chance of a bigger prize. The better the prize, the higher the price for an extra spin. So it's weighing up each time whether it's worth taking extra spins.
Try Slingo Starburst for free here
Play the game Frequently Asked Questions What is the Return to Player percentage of Slingo Starburst?
The percentage is 96.66%. This can only be achieved if you play with an optimal strategy by using your Wild symbols in an effective way.
What are the biggest winning chances if I play Slingo Starburst?
That is 1500 times your stake. You do need to unlock 11 Slingos for this.
How does Slingo Starburst work exactly?
All Slingo games have the same concept. You have a 5 times 5 card with random numbers. By spinning the card you have to cross off as many numbers as possible. Slingos are important here. You get them by crossing off five numbers in a row. The more Slingos the bigger your prizes.
Who are the makers of Slingo Starburst?
The original game Starburst comes from NetEnt. Slingo Starburst is not from NetEnt, but from Slingo Originals. Much of the original game remains, such as the same theme and play style.
Summary
Slingo Starburst is revamped by Slingo Originals, but remains incredibly fun to play. A close look was taken at NetEnt's original Starburst game and many gameplay elements have remained the same. As you would expect from a Slingo slot game, you have a 5 times 5 card with random numbers. By spinning the reels you need to unlock as many numbers as possible on the card. You get 10 spins to do so.
Slingo slots are all about the Slingos and Starburst is no different. Slingos are earned by clearing five numbers in a row. The more Slingos you achieve the higher the chances of winning. These can be up to 1500 times your stake.