Slingo is the latest craze at online casinos. It is a combination of slots and bingo. Actually, it has been around for quite a while, but in recent years it has started to gain more and more popularity.
That's one of the reasons why new Slingo variants are added almost every month. Today the announcement came that March 22, 2022 Slingo Racing will be released. What can we expect from this?
Slingo Racing Review
As with all Slingo variants, Slingo Recing is a combination of Bingo and Slots. This time they have added something extra, namely horse racing. Horse races are inextricably linked to the gambling world so as far as we are concerned a great theme. As soon as you open the game you will see a Slingo card with 25 numbers on it.
Below the card are 5 boxes that represent the reels of a slot machine. With this, 10 spins are made each game and numbers then appear on the reels. If these numbers match numbers on the card then they are crossed out, just like bingo. The goal is to get as many lines of crossed out numbers as possible. The more lines, the higher your prize.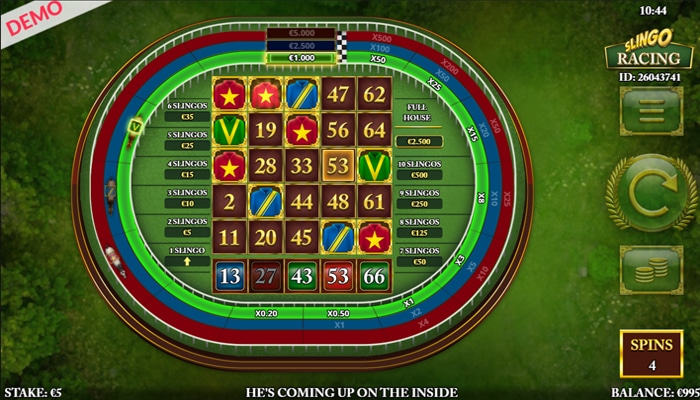 Slingo Racing from Slingo Originals
Special symbols on the reels
Special symbols appear on the reels from time to time. These can help you fill up the card faster. In Slingo Racing you have the following special symbols:
Jokers:

If you get a "Wild" on a reel then you get to strip off any number in the column above it.

Free Spin Symbols:

If a "Free Spin" symbol appears on the reel then you get an extra free spin.

Super Jokers:

This is an image of Santa Claus. Now you can select any number from the grid and strip it off.

Coins:

Coins on the reels give an instant cash prize

Joker Bonus:

Get 3 or more Jokers or Super Jokers on one spin yield a cash prize.
Racetrack
On the outside of the Slingo Card, a virtual racetrack is depicted. Here 3 different horses are running. On the reels box numbers in a certain color. If the number corresponds to a number on the card, this number is removed and, depending on the color, a horse can also move up one square on the track. If the horse covers a certain distance in its track, it can earn bonuses, a nice extra feature in this Slingo variant.
Prior to the game, the player can choose a color that belongs to one of the horses. If this horse reaches certain squares then multipliers come into play. If the horse reaches the end of the track then an additional bonus is paid out.
Here you can play Slingo games Jacks Casino Online
100% Welcome Bonus up to €100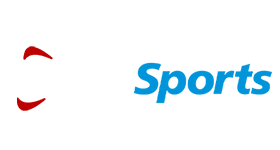 BoyleSports
No Dutch license yet
Read review
Try Slingo Racing here for free
Play the game Extra Spins
Also in Slingo Racing you have the option at the end of the game to buy extra spins for more chances to win. You get 10 spins at the beginning of each game. After that, you can buy additional spins. But as with any Slingo variant, the extra spins do get more and more expensive as the chances of winning a bigger prize increase. So pay close attention to whether it's worth it to buy that extra spin. Sometimes it is better to take your loss and start a new game.
Basically, the rule is, the greater the chance of getting extra rows, the higher the price for an extra spin. So it's a matter of weighing up whether or not you should do this. There's no real strategy for it, it's a bit of gut feeling. When you get a wild, always choose the number that completes a line or a number that is on multiple lines. This is most beneficial in the long run.