The name of this fun variation of Slingo gives it away – it's a combination of Slingo and 88 Fortunes. But that's not all, it also has an element of Deal or No Deal.
Slingo Fortunes takes you to the Far East, which means that some of the game elements are slightly different than what you are used to. It is however a very nice variant of Slingo.
Slingo Fortunes Review
In Slingo Fortunes you have 10 spins to unlock as many Slingos as possible. The game starts with a choice of envelope. Then Slingo starts with a card of 5 times 5 random numbers. A Slingo is a row of 5 numbers that you can mark off by spinning. When you strip off a number (envelope), the amount that was in it also disappears on the side of the game.
The most beneficial thing is to keep as many high amounts as possible. From 4 Slingos onwards you will be offered an amount of money from the game. You can accept or refuse this. If you continue to refuse the amount each time then you will win the amount that is in your pre-selected envelope. The rule here is the more Slingos you have the higher the amount to be won.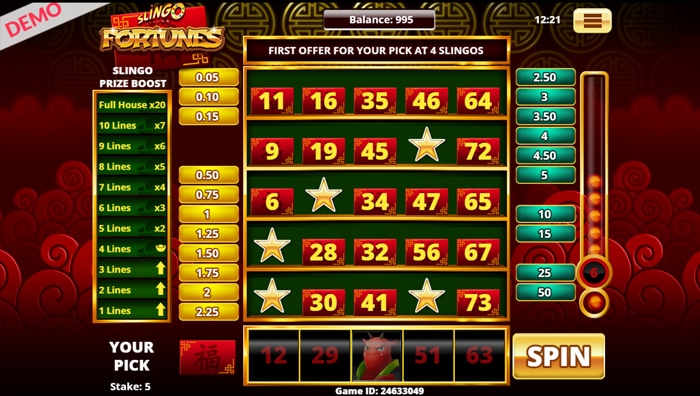 Slingo Fortunes from Slingo Originals
Theme
If you are familiar with the program Deal or No Deal then you will quickly understand the principle of Slingo Fortune. You start with a 5 times 5 card with all envelopes. With Deal or No Deal they are suitcases, here they are envelopes, also called lucky envelopes. The design of Slingo Fortune is completely in the design of the Far East and while playing you find yourself in these atmospheres.
The game looks a lot like Deal or No Deal, but also has unique elements that are slightly different from the game from the West. Besides the fact that it looks very nice graphically, this game also has sound effects that transport you to the Far East.
Prizes
At the beginning of each round, you are presented with 26 traditional envelopes. Hidden in these envelopes are various prizes. On each spin, the numbers that match are crossed off above the playing field. When an envelope matches a number you spin, you also immediately see what cash prize is in that envelope and you can't win it again.
The ultimate goal is to achieve as many Slingos as possible so that you can win the highest possible cash prize at the end of the game. You can win lots and lots of money with Slingo Fortune due to the Return to Player percentage of 95%, which is why this online game is also very popular among online gamblers.
Possible extras
The game does not only have envelopes to strip on the 5 times 5 card. You also get to deal with symbols during the spinning of the reels that offer additional benefits. For example, you have the Joker symbol where you may strip an envelope from the column above. If you spin a Super Joker symbol then you get to strip an envelope from the entire card. With Free Spin symbol you get an extra spin on top of the 10 spins.
Finally, you have the Devil symbol and it basically does nothing, think of it as a Block symbol. These extras are the same as in all other Slingo games, but just in a slightly different guise. If you spin these symbols you will usually benefit from it.
Buying extra spins
When all regular spins and free spins have been played you have the opportunity to buy extra spins. The price of such an extra spin depends on the chance of a bigger prize. The better the prize, the higher the price for an extra spin. So it's weighing up each time whether it's worth taking extra spins.
Here you can play Slingo Fortunes for free
Play the game Frequently Asked Questions Can you play Slingo Fortune on smartphones?
This online slot you can also play any device. Whether smartphone, tablet, PC or laptop and works everywhere very smoothly and properly.
Is it possible to download Slingo Fortune?
It is not necessary. You can play the game very easily in your web browser.
Can you win real money at Slingo Fortune?
It is possible to play with real money at this online slot. If you decide to play Slingo Fortune for free, no money is involved.
What is the RTP of Slingo Fortunes?
The RTP of this Slingo variant is 95%.
Summary
Slingo Fortune is an online slot game from Slingo Originals with a Deal or No Deal concept. It has a Far East theme with beautifully designed Oriental graphic design and sound effects. The principle of this game is the same as with other Slingo games. You have a 5 times 5 card where you get 10 spins to strip off all the numbers (envelopes). The ultimate goal is to achieve as many Slingos as possible.
These are five numbers in a row that you cross off. The more Slingos you have after 10 spins, the higher your chances of winning. In addition to spinning numbers, you can also spin symbols that are extra beneficial to you. At the end of the game, you'll be given the choice of accepting the game's cash offer or the envelope you've pre-selected. It's just like playing Deal or No Deal with Slingo Fortune.