Fans of Slingo have been spoiled in recent months. As a result of its great popularity, new Slingo games are constantly being brought to the market. January 25, 2022 Slingo Fire & Ice will be released on the market. We already took a sneak peek.
For the novices: Slingo is a combination of Slots and Bingo. You have a bingo card and you have reels of a slot machine. The reels spin and the numbers that appear are crossed out on the card. That, in a nutshell, is the principle of Slingo.
Slingo Fire & Ice review
This Slingo variant is based on the popular slot machine Fire & Ice. Slingo is also both glowing hot and ice cold. Therefore, this variant also has 2 slingo cards instead of 1 card. And yes, one card is fiery red and one brrrr-brilliant blue. Symbols on the reels are either red, blue or mixed, and each colored symbol removes numbers from its respective card. Mixed symbols strip numbers from both cards.
Completing Slingos on the red grid moves you up a ladder of multipliers and completing Slingos on the blue grid moves you up a payout ladder, to which multipliers are applied. There are also incredibly cool fixed jackpots to win.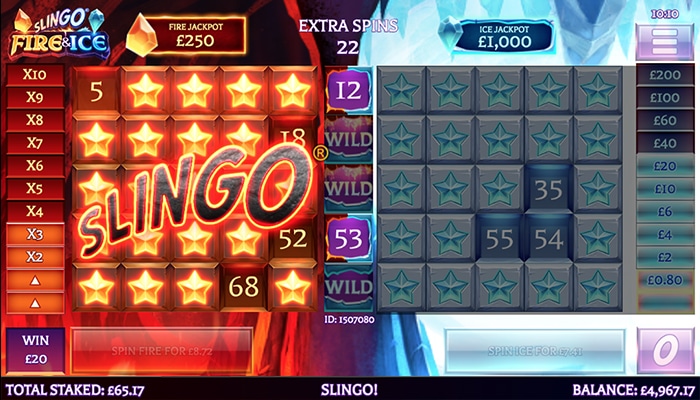 Slingo Fire & Ice has 2 cards
Attractive jackpots
If you complete a far-out Slingo across both grids, that reel turns into the Jackpot reel for the remaining spins. The only symbols that can then appear on a jackpot reel are:
Blue Gemstone:

This gives the blue fixed jackpot.

Red gemstone:

This one gives the red fixed jackpot.

Blank:

This does nothing.
Once a jackpot has been hit on a reel, it remains for the remaining spins. Up to 5 jackpots can be won in a single game, so let's hope you can strike some (number of) matches and keep the fire burning. When a full house is reached, the remaining spins are played out and additional spins are offered to try to win fixed jackpots. The game ends when a full house is reached and 5 jackpots are won.
Here you can try Slingo Fire & Ice for free
Play the game Here you can play Slingo games Jacks Casino Online
100% Welcome bonus up to £100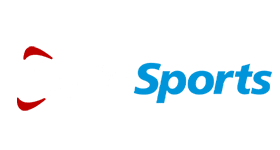 BoyleSports
No Dutch license yet
Read review
Extra spins
In every Slingo variant you have the opportunity at the end of the game to buy extra spins for more chances to grab a win. You get 10 spins at the beginning of each game. After that you can buy extra spins. There are separate SPIN buttons for the red grid and the blue grid, and each button shows the prize for the next spin and the potential win for each grid. But as with any Slingo variant, the extra spins do get more and more expensive as the chances of winning a bigger prize increase. So pay close attention to whether it is worth it to buy that extra spin. Sometimes it is better to take your loss and start a new game.
Basically, the rule is, the greater the chance of getting extra rows, the higher the price for an extra spin. So it's a matter of weighing up whether or not you should do this. There is no real strategy for it, it's a bit of gut feeling. When you get a wild, always choose the number that completes a line or a number that is on multiple lines. This is most beneficial in the long run.