As you can tell from the name, this variant of online Blackjack is played with only one deck of cards. This ensures that you have a better chance of winning, since the house edge goes up with each additional deck of cards.
Betting Rules for Single Deck Blackjack
Single Deck Blackjack follows the house rules of traditional Blackjack. There are differences in how much money you want to bet at one time. If you choose not to bet too much, you can choose the 'low bets' style of play. In low bets you are given chips of 10 cents, 50 cents, and one euro, and you can bet up to four euros per round.
When you have practiced enough and you think you can play a little for profit, you can choose the standard form of play. In this form, the chips are one euro, five euros, and ten euros, and you can bet a maximum of 40 euros per round. Finally, if you're playing Blackjack for the win, and want to bet big each round to make it big, you choose the 'high bets' game mode. This is where you get chips of 25 Euros, 50 Euros, and 100 Euros, after which you can bet up to 500 Euros per round.
These safe casinos offer Single Deck Blackjack New Casino!
Casino777
Welcome bonus 100% up to €250 Jacks Casino Online
100% Welcome Bonus up to £100
bet365
Deposit min €10 and receive 100 free spins
BetCity
Welcome bonus up to €100 free spins
Our best bonus! Circus
Get a bonus up to €250
How to play Single Deck Blackjack
If you want to play this variant of Blackjack you will first need to open an account at an online casino. When you have placed your bet, you and the dealer are both dealt two cards. Your cards are both face up, but the dealer has one face up card and one face down card. If that face-up card is an ace or a ten-point card, the dealer looks at the face-down card to check whether he has blackjack. If he does, he automatically wins. Before he does, you can bet an insurance policy at half your bet. If the dealer indeed has blackjack, you lose your bet, but win your insurance back twice. That way you end up losing nothing. As with all variants of Blackjack, the goal is to reach 21 points. Up to fifteen points you should always ask for cards, after that you may choose to stop.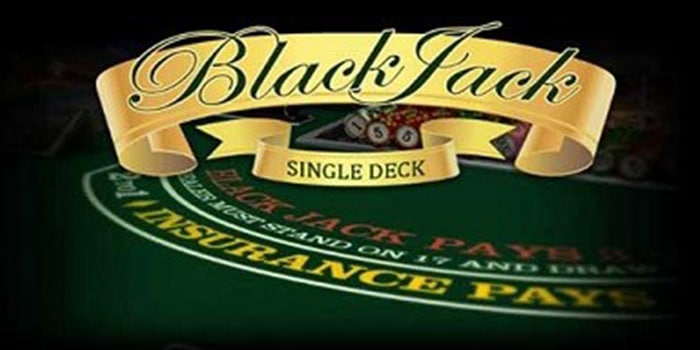 This variant of Blackjack is becoming increasingly popular
In case of two identical cards you can choose to split them. Then you place an equal bet on the second card, and then you can continue playing with two hands and two bets on which you can both ask for additional cards until you have enough. If one of your first two cards is an ace, or a card worth ten points, you can double it too. Then you double the bet on your hand, but you only get one more card after that. This way, with a hand you might get blackjack with, you would make an extra profit. The round ends if you or the dealer have blackjack, if you or the dealer go over 21 points, or if neither of you want an extra card. Then it's determined who got the highest number of points, and that person has won.
Specific Rules
In Single Deck Blackjack, if both a hard and a soft seventeen are hit, the dealer must draw an extra card. Thus, he cannot stop. You can split a hand up to three times, but if you split aces you only get one extra card on each ace, and you are not allowed to re-split. A split ace with a card worth ten points does not count as blackjack, but is simply worth 21 points. A won hand doubles the bet, and blackjack doubles the bet by one and a half.
More about Single Deck Blackjack
7 tips to learn to play winning blackjack

House edge in blackjack

Types of Blackjack Pros and cons of Single Deck Blackjack
Although many players swear by Single Deck Blackjack because it offers them the highest chance of winning, there are also disadvantages to this version. Indeed, the house edge for online versions is only 0.15%, one of the lowest values of all Blackjack versions. However, in many real casinos that have Single Deck Blackjack in house, the rules change so that they themselves have a higher chance of winning. Some casinos allow a bet after winning at blackjack to be doubled only 1.18 times instead of one and a half times.
This gives them a house edge of up to 1.45%, instead of the 0.15%. This is countered by the fact that players who count cards are better off playing this game in real casinos than online. Since the game uses only one deck, counting cards allows you to quickly calculate your odds for that round. Online this is not possible, as the cards are automatically shuffled after each hand played. This makes it sometimes not worthwhile to go to casinos looking for this variant.