In the world of gambling there have been famous figures that people still remember. This is not always because they were such nice and friendly players but also because they used tricks and deception to work their way through the casinos and win big prizes.
Not in an honest way but in a particularly memorable way. A true master swindler is Richard Marcus. Who was this genius?
Gambling was in him from an early age
Gambling was in his blood from an early age, because as a child he would gamble with his parents as to what color the next vehicle would be. He also collected and traded baseball cards, and after dropping out of college he devoted himself entirely to gambling.
Swearing revenge on the casinos
As a teenager, he went to the horse races for a day and bet some money. He managed to win and collected his money in order to travel to Las Vegas with it. Unfortunately, luck was not on his side and he immediately lost all his money. After a few months of living without money or lodging he came up with a plan to take revenge on the casinos. To do this, he first decided to work as a croupier at Blackjack and Baccarat.
This way he could study how things were done and what tricks were used. In addition, his colleagues made sure that they told him tips and tricks on how to handle money and how best to cheat in that area.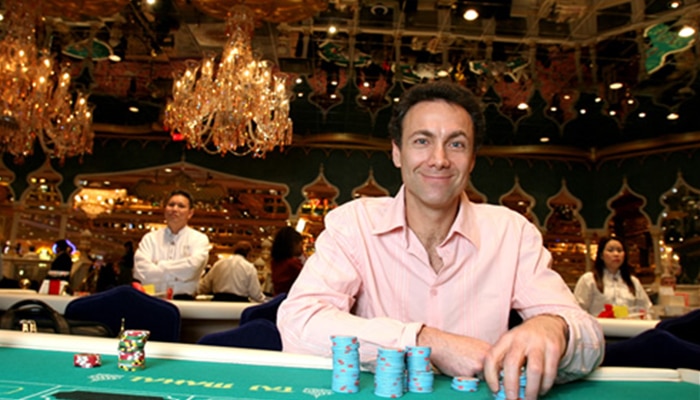 Richard Marcus in action at the casino table
Collaboration with Joe Classon and a team of his own
Meeting Joe Classon was the beginning of a twelve-year collaboration focused on cheating. Classon was a cheater and asked Marcus to work with him. He agreed to this and managed to fool his bosses in such a way that he shuffled the wrong way while dealing and knew which cards were dealt this way. They won a lot of money by doing this and shared the loot. Later he joined Classon's team and they did the big switch trick.
Once they knew they had good cards, a few extra chips were quickly added to increase the profit and the dealer was distracted so that he did not notice. After twelve years of working together, Marcus had had enough and wanted to form and lead his own team. He founded his own team with two friends and the lying and cheating continued.
These casinos have great bonuses New Casino!
Casino777
Welcome bonus 100% up to €250 Jacks Casino Online
100% Welcome Bonus up to £100
bet365
Deposit min. £10 and receive 100 free spins
Grab the bonus
BetCity
Welcome bonus up to €100 in free spins
Our best bonus! Circus
Get a bonus up to €250
How did the story get out into the world?
Now you may be thinking, how did this story get out into the world and at some point might Marcus have been caught in his scam? Well, that is not the case but he himself wrote a book about it that came out in 2004. The book was titled American Roulette: how I turned the odds upside down. He describes how he and his fellow crooks managed to defraud the casinos and how they approached it. They traveled with their team to casinos in London and Monte Carlo and operated not only in Las Vegas. They also defrauded at multiple casino games. Besides blackjack and baccarat, they also knew how to play all sorts of tricks at roulette.
The reason they were never caught cheating was that they did it in such a subtle way that it was not obvious to the casino. All they saw was a group of lucky gamblers with stakes that were not at all low.
Marcus was a genius
Now you think, I can do that too? Then take into account that Marcus was extremely intelligent and his deception was based on a solid and well-developed plan. It is also clear that it is not allowed to cheat a casino in this way and that his way of working is highly illegal. That it worked and that they got away with it is of course sensational and therefore worthwhile to read his book. This way, you'll also find out right away how certain games work and why there's always a home field advantage for the casino.
Clever trick
It is probably easy to understand why Marcus was out to rip off the casino and the whole fake world that surrounds it. What he did, together with his team, is not to be condoned, but it is remarkable to see how they managed to do this without anyone getting suspicious for a moment. The book he wrote about it is therefore not only exciting but also extremely revealing. Thanks to his clever and well thought-out plan, they simply got away with it, no matter how unimaginable it may seem.