Since October 1, 2021, online gambling has been legalized in the Netherlands. For many players, this is a gift from heaven. The Netherlands was one of the few European countries where online gambling was not yet regulated by law.
But that time is over. As of October 1, 2021, there are 10 companies licensed to offer online gambling in the Netherlands. There will be many more in the future.
CRUKS one of the spearheads in the policy
It gives a long time to the Act Koa, which stands for Wet Kansspelen op afstand, was approved by the Second and First Chamber. One of the most important issues in legalizing online gambling was the protection of the players. After all, many parties cried about the risk of gambling addiction lurking. For this purpose, CRUKS was created. CRUKS stands for Central Register Exclusion of Gambling.
This is a database of players who have been denied access to games of chance. This exclusion may have been requested by the player himself, or requested by a provider or family member of someone. But how do you do that? How do you register yourself or another person with CRUKS?
How to register with CRUKS 1. Choose register on the homepage of cruksregister.nl
On the site www.cruksregister.nl you can choose to register, manage your registration or choose for more information. If you want to enroll, choose "I want to enroll".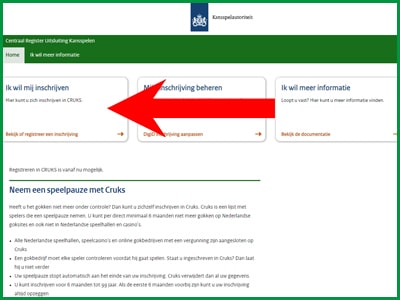 2. Choose your way of subscription
If you click on enrollment you come to a new page. Here you can choose the way you want to enroll. You can either fill in a form and print it out or you can enroll using DigiD, which is online. If you prefer to fill in a form physically and send it by mail then you choose the form.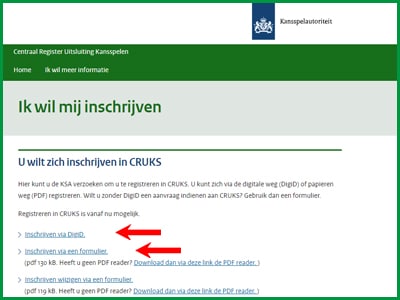 3. Registration via a form
The form you have to fill in and send consists of 2 pages. All questions should be filled in truthfully. After filling in all the requested information, you should sign the form and send it to the Kansspelautoriteit.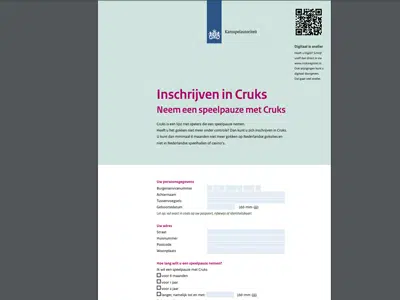 4. Register via Digid
If you choose to register via Digid you will be redirected to a new page. A large green button will appear with the text "Register with DigiD". You must click on this button.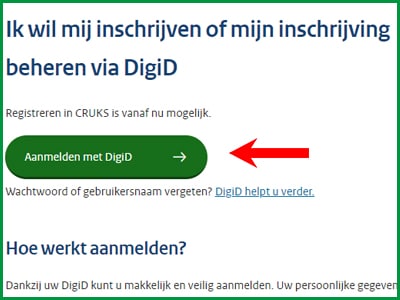 5. On the DigiD page choose how you want to log in.
On the DigiD page you can choose how you want to log in to DigiD. Via the app or via your username and password or with your ID. We experienced a notification of a malfunction but were still able to continue filling in the form.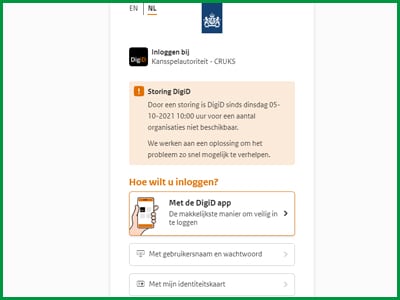 6. Step 1: Registration
At step 1 you indicate how long the period that you can no longer gamble is. The minimum period is 6 months. You may also fill in longer. After 6 months, you can cancel a longer term if necessary. So 6 Months is the minimum exclusion.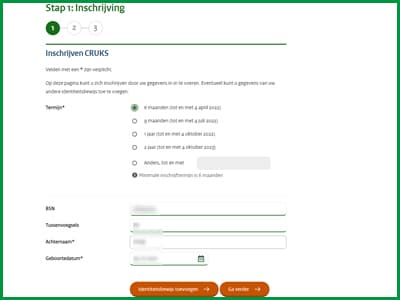 7. Step 2: Confirm the summary
If you have filled out everything, you can go to step 2 and here you will find a summary of everything you have filled out. Click on confirm and your registration in CRUKS is a fact. You will no longer be able to gamble at land-based and online casinos with a Dutch license during the period indicated by you.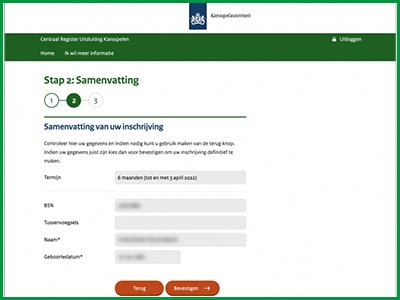 Hide explanation
Frequently Asked Questions What is the shortest withdrawal period in CRUKS?
An enrollment in Cruks is for a minimum of 6 months and a maximum of the rest of your life.
Can people who are registered still gamble secretly somewhere?
At all legal casinos in the Netherlands, landbased and online, this is no longer possible. In casinos abroad, for example in Las Vegas, these people can still play. Also, there will always be an illegal supply on the Internet. These illegal casinos are also open to people with a listing in CRUKS. We strongly advise against playing there.
Can I see for myself if someone is registered in CRUKS?
Only the organizations affiliated with CRUKS can see if a player is registered. This data is not publicly available.
Registration in CRUKS is irreversible
Please realize that if you decide to register yourself or a family member in the Central Register of Gambling Exclusion, this is irreversible. At least, for 6 months. If you have set a longer period but you think after 6 months that you have everything under control again then you can undo any longer period than that 6 months after that.
Get professional help if you find yourself out of control with gambling. On our page about responsible gaming, you'll find a number of knowledgeable authorities who can help you.