This card game is a combination of 'goal posts', poker and acey-deucey. Like Texas Hold'em Poker, two cards are dealt. It is a simple game.
It doesn't matter what cards you get, it's all about the card that completes. PAst this card between the two previously dealt cards or not. That is the decision a player must make.
The best Red Dog strategy
To make the right decision for this is a simple and straightforward strategy. Red Dog, like other casino games, depends on a certain luck factor. As a player, you don't have to do much except decide on a round-by-round basis whether you want to double down or not. As you come to understand the game better and play more rounds, you will see that there are good winning chances. Also, you will probably dare to double your bet more often and therefore your profits will increase.
To increase your chances of winning, there are very few specific strategies for Red Dog. The one strategy that does exist is easy for any player to apply.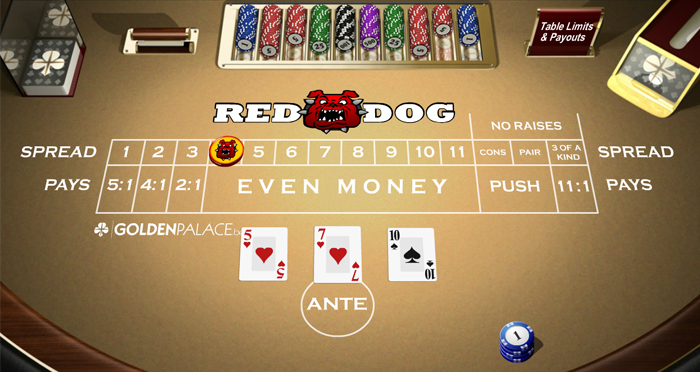 Strategy for Red Dog
This strategy involves the spread, or goalposts of Red Dog. If your card falls within them then you win a higher amount. Not all spreads will give you a profit, so it's a risk to double your bet when you get a spread. If the spread is higher than 7, however, it is calculated that it is profitable to always double. In addition, there is unfortunately no recognizable profitable strategy in Red Dog, but this also has advantages for the excitement and unpredictability of the game.
Why double at a spread of 7?
Ever played goalposts? Then the chances of losing with a spread of 7 are minimal. Suppose you have a 2 and a 10, then you have a great chance that "the ball" will come between the posts, or a card with a value of 3 through 9. The spread is then 7 out of a total of 13 cards and that means more than a 50% chance of winning. If the third card falls within the spread, you win twice your stake back at Red Dog and the odds are therefore higher than 1 in 2. On average, this strategy should win you money in the long run, but of course you can never be sure when gambling.
Who likes to gamble?
Don't want to stick with the only strategy Red Dog knows, but rather gamble to win extra money? That's human nature. Also at Red Dog, you can take the gamble to double down on the spread with a lower probability of winning. For example, you can do this at a spread of 6 (out of 13). Here you have a slightly lower than 50% chance of winning, namely 46%. While your winnings may increase, it is also statistically possible that you will therefore lose more than half of your bets on a spread of 6.
Do you really want to gamble? Then you can bet on a spread of 1, 2 or 3. You will win 5, 4 and 2 times your bet, respectively. There is no strategy behind these betting options, but you can earn a lot and it certainly adds to the excitement of the game. Who doesn't want to gamble to win a little more?
More about Red Dog
Red Dog

Red Dog game rules

Free Red Dog

Holland Casino Multiple decks
The fewer decks in Red Dog, the greater the banker's chances of winning and the smaller your chances of winning. So, to name one more strategy for Red Dog; look for games that use as many decks as possible. Normally Red Dog uses 8 decks which is ideal for you, but you can also find games where only two or 3 decks are used. Each additional deck increases your chances of winning. The house edge is 2.75% for 8 decks and 3.2% for 1 deck. These are tenths.